A brand new poker hand-matching mobile puzzle game just debuted today and it got me all excited. It's called Vegas Aces – High Stakes, and you can download it on Google Play. Before I get into reviewing and explaining this game, I need to give you a little background about yours truly.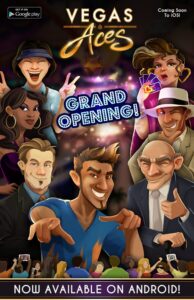 Everyone has that person in a group of friends that's always on his phone – always texting or playing games while the rest of the group converses. I'm that guy. It drives my girlfriend insane, as I'm totally addicted to many different games such as Bejeweled Blitz, 1010, and Words With Friends. So when I was approached with the opportunity to review the app, my initial sarcastic thought was, "oh, joy, another game that's going to consume my time!"
About the Game
Vegas Aces is sort of a Tetris-meets-poker game. If you didn't play Tetris growing up, you had a deprived childhood. The object of the game is to conquer more than 150 puzzles. The game starts off with easy puzzles. In fact, the first 15 levels are a piece of cake. The Vegas Aces tutorial basically walks you through the first few levels. You can't advance to the next level until you've successfully conquered the current level.
Early on, my impression of this game was that it is a kid's game. But, like many puzzle games, levels become increasingly difficult as you progress. By the time you achieve Level 18, you have to start using your brain. So how do you beat each level? By eliminating the required cards. Each level's object is different. Sometimes you have to move drink glasses from top to bottom by making poker hands to remove cards that free up space for the glasses to fall. In some levels, the object is to eliminate a certain amount of a specific suit of cards.
Let me illustrate with some examples, below.
Clear the Gold Dust! Level
In this level shown on the image to the right, the object is to eliminate all 12 cards that are highlighted in gold. To eliminate cards, they must be a part of any poker hand, minimum of one pair. As you can see, I can't make a qualifying poker hand that would eliminate any of the gold highlighted cards. So, my first move would be to make a hand from the group of cards below. What this does is remove cards from below and then drop the gold highlighted cards down a notch. What you hope for now is to have a playable hand on the gold rows. The 12 gold cards must be removed within 20 moves or you have to redo the level.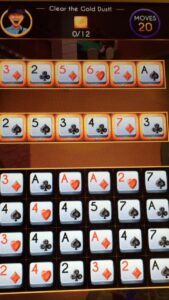 Let's take a look at another example.
Get to the Bottom! Level
The object of the level shown on the image to the left is different. To win the level, I must drop 5 glasses (2 green, 3 orange) from top to bottom. To eliminate cards, you simply connect 2, 3, 4, or 5 connecting cards together depending on the type of poker hand you are playing (pair, two pair, straight, etc.). The cards you play are removed from the board, which then drops the cards or glasses from above down a notch. I started this level off by playing the 6-6-2-2-2 (full house) cards from the upper left corner. This brought the orange glass on the left down a row. Make sense? This level must be completed within 25 moves.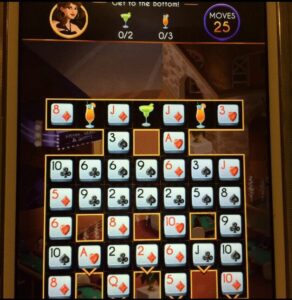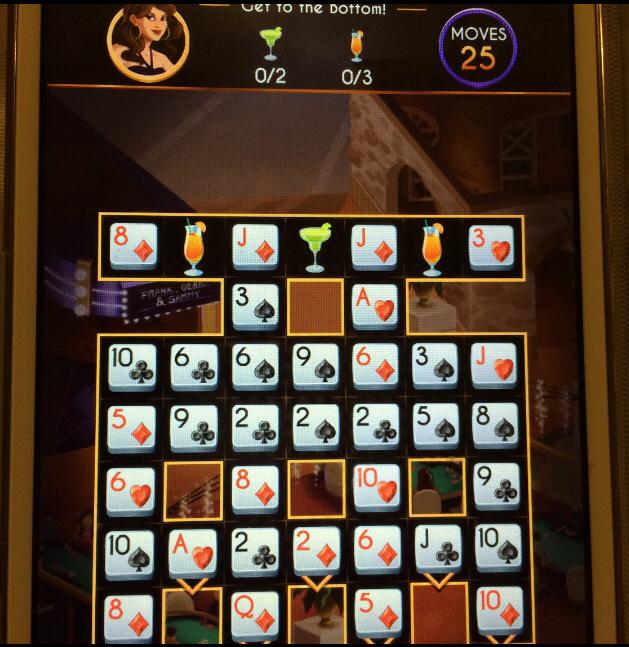 My Opinion of Vegas Aces
I consider myself to be an expert on mobile games. I enjoy puzzle games and poker, especially mastering the statistics. So, needless to say, a poker puzzle game is quite intriguing to me. Vegas Aces starts off with easy levels, but I like a challenge. Fortunately, within a half hour or so of play, the levels become quite challenging, even for a puzzle and poker master.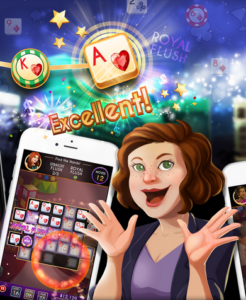 To succeed in this game, you must make as many monster hands as possible (i.e., flush, full house, quads, etc.). By frequently playing just one pair, you will often struggle to achieve the goal within the allotted moves. The game moves fast and becomes addictive quickly. I eased through 20 levels in about 30–40 minutes.
The game is enjoyable not only because I love puzzles, but also because the graphics are quite shiny and the software appears to be flawless. There's a lot more to this game than I've shared. I don't want to give it all away. So I'm just going to suggest that you download Vegas Aces for free at Google Play. You can also find more info about the game on the Vegas Aces Facebook page. I apologize in advance if you end up getting addicted to this game!