Video poker has evolved as a perennial favorite in the world of casino gaming. The game's unusual combination of skill and chance, along with the appeal of possible rewards, has made it a fixture in both online and offline gambling venues. This article delves into the online versus offline argument, examining the benefits and drawbacks of each game mode.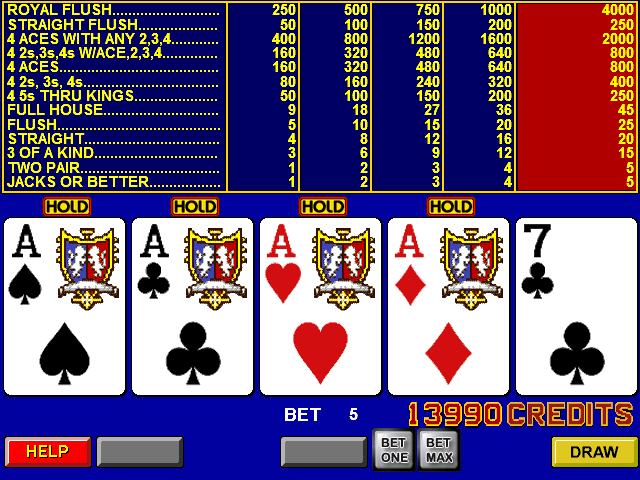 The Online Video Poker Experience
Convenience and Accessibility
Playing video poker online offers unparalleled convenience. Gone are the days of dressing up and driving to a casino. Online platforms allow you to indulge in your favorite game from the comfort of your home, or even on the go via mobile devices. The availability of online video poker 24/7 ensures that you can play whenever you desire.
Game Variety and Software Quality
One of the compelling aspects of online video poker is the extensive array of game variants. From classic Jacks or Better to more exotic options, online casinos provide a plethora of choices to suit all tastes and you have to find the ones that have the best odds online for your poker gameplay type. Moreover, the quality of software and graphics is exceptional, creating an immersive gaming experience that closely mirrors the real thing.
Bonuses and Promotions
Online casinos are renowned for their bonuses and promotions. New players often enjoy welcome bonuses and ongoing promotions that can significantly boost their bankrolls. These incentives can be a game-changer, providing extra opportunities for winning and extending your gaming sessions.
The Offline Video Poker Experience
Social Interaction and Networking
A trip to a physical casino offers more than just a gaming experience; it's a social event. The bustling atmosphere, lively conversations, and the chance to meet fellow gamblers provide a level of interaction that online gaming can't replicate. For many, this aspect of offline play is irreplaceable.
Authentic Casino Atmosphere
The authentic casino atmosphere is a major draw for those who prefer offline video poker. The sensory experience of a brick-and-mortar casino, from the sounds of slot machines to the clinking of glasses, adds to the overall excitement. There's something about the buzz of a physical casino that online platforms can't quite capture.
Lost a couple hundred at the @Joeingram1 PLO game… decided to play $15 worth of video poker. Wise decision 😃 #lifeisgood pic.twitter.com/n7gjJ47nsJ

— Robbie Strazynski (@cardplayerlife) June 8, 2017
Skill Development and Reading Opponents
Offline playing provides an exceptional opportunity to hone your poker skills. Reading opponents, determining their cues, and making strategic poker judgments based on in-person encounters is a skill that online play just cannot mimic. Offline play can be a beneficial instructional experience for those wishing to improve their poker skills.
Pros and Cons of Playing Video Poker Online
Advantages of Online Play
Online video poker is associated with several advantages. It provides unparalleled convenience and flexibility, allowing players to enjoy their favorite games at their own pace and on their own terms. The vast array of game choices caters to every preference, and the bonuses and promotions can significantly boost one's bankroll. Online play is accessible on various devices, ensuring that you can partake whenever the mood strikes.
Disadvantages of Online Play
Despite its numerous advantages, online play also comes with its downsides. The lack of social interaction can make it feel isolating, and some individuals might find themselves susceptible to gambling addiction. Moreover, a stable internet connection is a prerequisite for smooth gameplay, potentially causing disruptions.
Pros and Cons of Playing Video Poker Offline
Advantages of Offline Play
Offline video poker offers its own set of unique advantages. The social interaction and networking opportunities are unparalleled, allowing players to connect with others who share their passion. The authentic casino atmosphere immerses players in a sensory experience that's hard to replicate. Skill development, reading opponents, and the sheer experience of stepping into a casino all contribute to the appeal of offline play.
Disadvantages of Offline Play
Yet, offline play is not without its limitations. The access to game variants is generally more restricted, and players may need to travel to find a suitable casino. Operating within casino hours can also be constraining, limiting gameplay to certain times.
Making the Right Choice: Factors to Consider
Several considerations must be considered while deciding between online and offline play. Personal tastes and priorities, gambling goals and budgets, skill levels, local casino availability, and the ability to balance online and offline gaming all contribute to making an informed selection.
Navigating the Video Poker Terrain
Finally, whether you choose to play video poker online or offline, you must consider the benefits and drawbacks against your personal tastes and goals. Responsible gambling is essential, and grasping the nuances of each mode guarantees that you can fully enjoy this timeless game. As the gaming scene advances, the future promises a harmonious cohabitation of online and offline play, providing players with more options than ever before.