PokerBROS are delighted to announce another new addition to their wide line-up of poker games on offer: the three-card Hold'em variant known as Pineapple. A popular live game that adds an extra decision – which two of three hole cards to play – to the most widely-enjoyed version of poker around, Pineapple makes a seamless transition from kitchen table to Club option.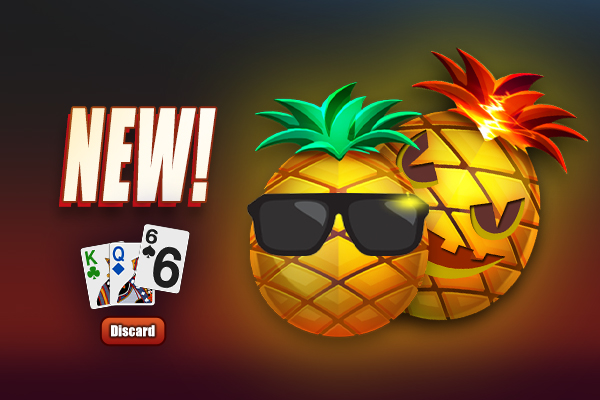 What's the difference between Pineapple and the Crazy kind? It's when precisely during the course of the hand that players make their discard. Every hand starts with players getting three hole cards instead of Hold'em's usual two.  In Pineapple, the hand-slimming occurs right at the beginning, before the first betting round preflop. More choice translates to stronger hands – and bigger action. This is even more the case with Crazy Pineapple, where the discard decision comes after the flop (just before the turn card is dealt). More information makes for more interesting situations – keep a pair, or go for the flush draw?
Apart from this crucial hand boost, both variants of Pineapple play out exactly like Hold'em, with four betting rounds bringing five community cards. As the mechanics will be familiar to anyone who's played the two-card version, it is a perfect addition to an expanding Club that might be looking to introduce more niche games to its repertoire. Convincing die-hard NLH fans to try out Double Board Omaha might be a big leap, but Pineapple is a perfect introduction to the delights of more complex community card games.
You don't find Pineapple and Crazy Pineapple spread too often in brick and mortar poker rooms, but the games do tend to be popular choices in a typical home game mix. That's the fun, friendly, and action-packed vibe PokerBROS is happy to be introducing!
More information on both types of Pineapple can be found on the PokerBROS blog; be sure to check back regularly for updates on other innovations in the pipeline.
Download PokerBROS for free from Google Play or the App Store and play the way you want, when you want!
Follow PokerBROS on Twitter, Facebook and Instagram for the latest news, competitions and giveaways.
*This post is sponsored by PokerBROS