Over the last few decades, the game of poker has tested the patience and skill of countless players around the globe. Thanks to the World Series of Poker Main Event, we now know that a single, high profile poker tournament can last multiple weeks. And thanks to WSOP bracelet winner Phil Laak, we now know that a single poker session can last as long as 115 hours, with another record-breaking poker session lasting more than five entire days in 2021 when Zach Gensler of Colorado broke Laak's record! Read on to learn about the longest games of poker, how long it takes to learn enough to become a poker pro, and more.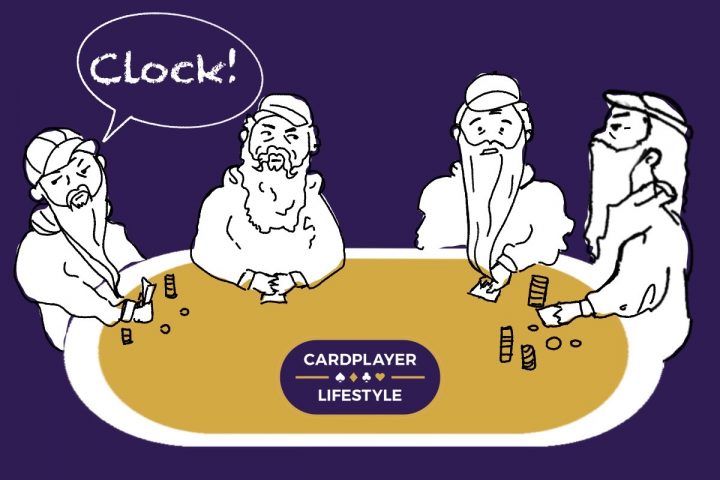 What Is The Longest Game of Poker?
The longest poker game ever played, according to Wikipedia, occurred way back in the 19th Century.
From 1881-1889, the Bird Cage Theatre hosted a poker game that ran 24 hours per day, every day, for eight years.
As you might imagine, the venue located in Tombstone, Arizona, witnessed millions of dollars exchange hands over the course of those eight years. Some of the notable poker players who participated in the $1,000 minimum buy-in game included John Henry 'Doc' Holiday, Wyatt Earp, and Bat Masterson.
Converted into modern day currency, the Bird Cage Theatre poker game had a minimum buy-in of approximately $31,000 – quite the high roller table indeed!
Has The Record Already Been Broken?
Given the overall global appeal and popularity of poker and the number of card rooms that spread the game daily, it is unknown whether the Tombstone, Arizona, record has already been broken, or might be broken in the future.
While it IS true that many venues do in fact host 24/7 poker games, it is unclear whether
the same poker table is used for all poker play
there are any breaks of inactivity due to maintenance, sanitary efforts, or mechanical failures
a current casino or card room would be interested in publicly knocking the Bird Cage Theatre off from its perch atop the list
How Long Does a "Long" Poker Session Last?
The answer to this question may vary per human being, poker game availability (for live venues), or the specific blind structure of a poker tournament.
Suffice to say that there are very few poker tournaments that last more than a few days. However, some of the major live events like the World Series of Poker Main Event can span out over several months in cases where a "November Nine" format is implemented.
From 2008-2016, the $10,000 buy-in WSOP Main Event hosted thousands of hopefuls who entered the tournament during one of the summer months. But when the action had played down to nine remaining contestants, play was paused (for months) until November of the same calendar year.
With the commonplace status of poker live streams these days, the public is aware that a single game or individual poker session can easily last for several hours.
For private games, a player may "write home about" (or post on social media) an individual session that lasted a particularly long period of time. With that said, there aren't really any high profile, public posts that provide proof of (or even claim) a long poker session that rivals Zach Gensler's current record of 5+ days without interruption.
What Are the Longest Poker Games?
The sheer nature of a poker cash game includes the ability for one or more players to get up and leave the table at any time of their choosing.
For this reason, there really isn't that much of a pop-culture link between the game itself and any corresponding "longest poker games."
As a rule of thumb, you can expect a game with more cards involved to consume a longer amount of time per hand than a variant that requires fewer cards to be dealt and/or placed face-up.
The rules of Omaha poker state that each player is entitled to four hole cards, which means a live dealer will be tasked with making two additional "rounds" during the preflop dealing phase.
In Seven Card Stud, a betting round exists not only for the preliminary and final hole card phases, but also for each face-up or "door" card that is dealt to the players who remain in the hand.
For this reason, a six-handed 7 Card Stud game might witness fewer hands per hour on average than a heads-up Texas Hold'em game.
Of course, there are other mixed game poker variants, like draw games — or even other card games altogether — that may last a longer or shorter period of time.
For example, the length of time to play a single card game of War will vary based on how many cards to dealt to each player (the more cards, the longer amount of time the game will take to complete on average).
So, too, a game of Pyramid will take a noticeably longer amount of time to complete in a live setting in which physical playing cards are laid out compared to online. The same can be said for Solitaire.
How Long Do Poker Games Last?
Unless all players have previously agreed upon a mandatory "minimum time commitment" to a particular game (like in a typical home game), you should be able to sit out and leave a poker game at your own convenience. In other words, a poker ring game (cash game) for one individual should last only as long as you are comfortable playing in it.
The exception to this general rule is when players attempt to manipulate a game's fairness by "Sitting In" only when they're in position and "Sitting Out" when it is their turn to pay the blinds.
Overall, most regularly-scheduled home games probably last a few hours while a casino-hosted cash game can endure for at least days or weeks at a time without interruption.
How Long Do Poker Tournaments Last?
As explained above, poker tournaments like hyper-turbo online events can begin and conclude within a few short minutes, while more drawn-out blind structures or outright pauses can mean that a poker tournament takes several months to finish.
If you're concerned about the element of time when desiring to play a poker tournament, you can always consult the event's blind structure to gauge how long a specific tournament might take to conclude. Of course, two tournaments with the exact same structure and amount of entrants can differ in the amount of time they take to finish.
So if you only have three hours to play poker before you will be forced to leave or sign-off, don't register for a multi-day poker tournament!
Yet three hours may be plenty of time to compete in multiple Hyper-Turbo and/or lottery-style online Sit & Go tournaments — which you can zip in and out of games that only take a few minutes to complete.
Typical "daily" or "nightly" live poker tournaments that you'll commonly find in casinos and poker rooms around the world take approximately 5-8 hours to complete.
Online Poker Time Banks and Live Poker Shot Clocks
A player is not allowed to take an unlimited amount of time when deciding how to act during any given poker hand.
For online poker, it is common for "time banks" to be used in a way that set a pre-determined limit on how long any player can take before that player's hand is folded.
Live poker "shot clocks" are also used during select high profile tournaments (some of these, like the WPT's "Action Clock" even have their own trademark). It is also common for players at any given live poker table (cash game or tournament) to "call the clock" on a player who may be taking an excessive amount of time to bet/fold/call/raise.
How Can I See More Poker Hands Per Hour?
It's no secret that online poker sites offer players an opportunity to see many more hands per hour than they would at a live card room or home game venue.
So if you want to see more poker hands, multi-tabling online poker games is the solution.
Full-ring live poker games are notorious for "dragging out" at times. If you want to see fewer hands per hour, then a 10-handed, Fixed Limit Omaha Hi/Lo live game or a 6-handed Seven Card Stud Hi/Lo live game (if you can find one these days) will work quite nicely.
Keep in mind that certain card rooms will not be in a position to spread small stakes fixed limit Omaha Hi/Lo or fixed limit 7 Card Stud Hi/Lo games (or other variants/formats/stakes) due to their relative lack of profitability versus No Limit Hold'em games.
It's unlikely you'll find a $0.10/$0.20 game (of any variant or format) at a live venue, but you WILL find this range of poker game stakes along with different variants available when you play online.
How Do Poker Game Lengths Relate to Poker Strategy?
If you're a winning poker player who has mastered poker strategy, then you'll want to see as many hands as possible against inferior competition in order to maximize your Big Blinds per 100 hands (BB/100) profit rate.
Of course, the greater your edge over your opponents, the more time you should be willing to commit to any given poker game. Below we give examples of playing for three different stake levels, and which is mathematically the most profitable stake level based on number of hands seen per hour.
If your edge in a six-handed NLHE $5/$10 live game is 0.5BB/100, and you see 20 hands per hour, then your hourly rate expectation works out to $1. (Calculation: $10 Big Blind amount times 0.5 BB/100 equals $5 per 100 hands — so 20 hands per hour equals $1.00 when $5 is multiplied by 0.2)
If your edge in a heads-up NLHE $2/5 online cash game is 0.33BB/100, and you see 100 hands per hour, then your hourly rate expectation is $1.67. (Calculation: $5 Big Blind amount times 0.33 BB/100 equals $1.67 per 100 hands — so 100 hands per hour equals $1.67 when $1.67 is multiplied by 1.0)
And if your edge in a three-handed $0.50/$1.00 NLHE online cash game is 2.5BB/100, and you see 80 hands per hour, then your hourly rate expectation will total $2. (Calculation: $1 Big Blind times 2.5 BB/100 equals $2.50 per 100 hands — so 80 hands per hour equals $2.00 when $2.50 is multiplied by 0.8)
How Long Does it Take to Become a Poker Pro?
Rather than measuring this concept in "time," it is more instructive to measure your journey from losing player to winning player by the number of hands it takes to achieve such a goal.
If your self-marketing skills are astute, you might even be able to turn pro before you ever play a single poker hand or invest one second at a live or virtual poker table! You can accomplish this by getting staked.
For those playing on their own dime, the most common way to become a poker pro is to:
grind away at micro and low stakes poker games
become a winning player in those games
rinse and repeat while working your way up the poker stakes ladder
accumulate a sufficient bankroll and become skilled enough to beat higher stakes poker games
become a "full-time" pro only when it becomes glaringly obvious that you're making more money at the poker tables than you are at your day job
aspire to continually increase your expectation in the games you're playing, even if you are already beating them for a sufficient amount
For some online pros who began their poker journey back in the early and mid-2000s, this entire process was completed in just a few short months. However, very few of those players (including myself) remain profitable in the games they used to soundly defeat, as the overall player skill level has improved vastly over the years.
Players can improve. This includes yourself and your opponents. And the corresponding hourly or BB/100 expectation can fluctuate on a daily (or even hand-by-hand) basis depending on your own skills and that of your opponents.
Can I Shorten The Poker Learning Curve?
Even though players tend to be far better today than they used to be, yes you can certainly still shorten the poker learning curve (along with the amount of hands or amount of time) that it takes to become profitable at any given poker game. This is quite simply due to the plethora of learning material available and the ability to play online poker.
Some of the most common resources that beginning players use to improve their poker skills include poker books, poker forums, social media, poker training sites, and other information that can be gained through one's own experience.
As with most endeavors, be patient and strive to constantly improve to increase your chances of success.