William Hill Poker Room Review
Poker Room Reviews > William Hill Poker Room Review
Pros
Supports multi-tabling on desktop and mobile
Licensed in Gibraltar, UK
£100 fixed bonus
£10 worth of tournament tickets and 10 bonus spins (regardless of initial deposit)
Well-renowned, trusted online gaming brand
Rewarding VIP/Rewards Program
Cons
No Live Tournaments
Limited multi-tabling support on Instant/Browser Play
Does not accept US players
Table of Contents
History of William Hill Online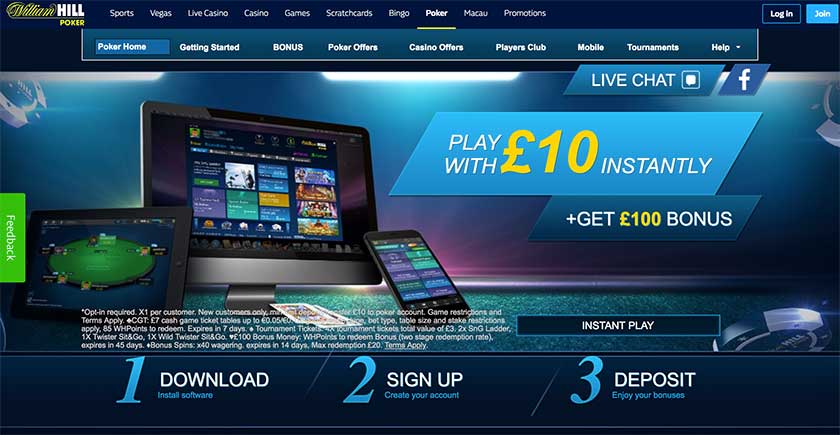 When it comes to UK-facing poker rooms, it's hard to match what William Hill has to offer its players. Compared to its competitors, the poker room started its operations relatively late. Owned and managed by WHG (International) Limited, the poker room first went online back in 2008. Initially, the current William Hill website was owned by a winery (really!) with the same name that was based in California. Somehow, WHG (International) Limited managed to get the winery's domain and now operates its sportsbook, online casino, and poker room through it. Prior to launching its present operations in 2008, the company was developing its own platform called NextGen. Unfortunately, the effort failed, with the company incurring a loss of £22 million as a result. At the time that it started its present operations, the poker room (as well as other sections of the site) made use of Playtech's casino gaming software platform.
William Hill Live Tournaments
Due to William Hill Poker being targeted at the casual crowd, the poker room has held off on sponsoring (or being involved in) any live tournament events. Instead, the poker room has focused its efforts in providing players with numerous online tournaments, as well as cash games.
William Hill Poker Online Tournaments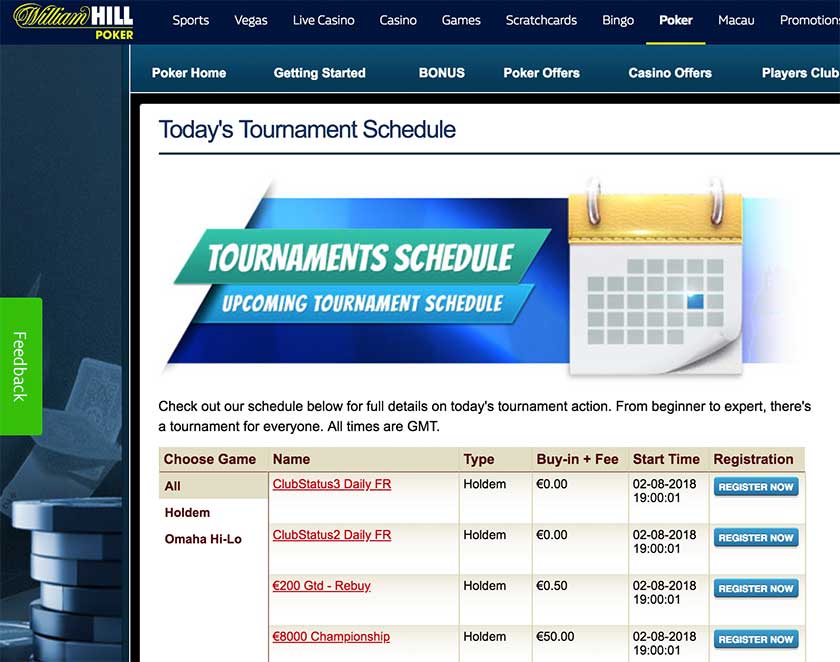 William Hill Poker currently offers online tournaments for the Hold'em, Omaha, and Omaha Hi-Lo poker variants. The majority of these tournaments are mainly for Hold'em with buy-ins that can go as low as €.50. Some of these tournaments are Deepstack Turbos that have guaranteed prizes that range from €200 to €400. Other than this, the poker room also stages guaranteed tournaments (with and without rebuys) that feature prizes that range from €50 to as much as a €1,000. If these weren't enough, players can also try their hands at Sat, Sat Champs, Sat Madness, as well as Knock Out tournaments. There are also Breakfast and Brunch tournaments that players can join for a chance at getting their hands on €1,000 in guaranteed prizes.
Aside from daily/weekly tournaments, William Hill Poker also holds special online tournaments with even bigger prizes. As of this writing, one of these is the William Hill Summer Challenge. This tournament series is made up of two weekly challenges over the course of seven weeks and a total possible guaranteed prize worth a whopping €35,000 that can be won every week.
William Hill Sponsored Poker Pros
Owing to its casual focus, William Hill Poker also doesn't sponsor professional poker players. The William Hill brand has sponsored professional sports teams in the past, though. In particular, the company sponsored Malaga CF, a football team that used to play in the Spanish La Liga. It should be noted that this was back in 2009 when the poker room was just starting out. Right now, the company and the poker room have held off on sponsoring either players or teams for promotional purposes, preferring to invest budgets in promotions and offers that directly benefit the players.
William Hill Poker Welcome Bonus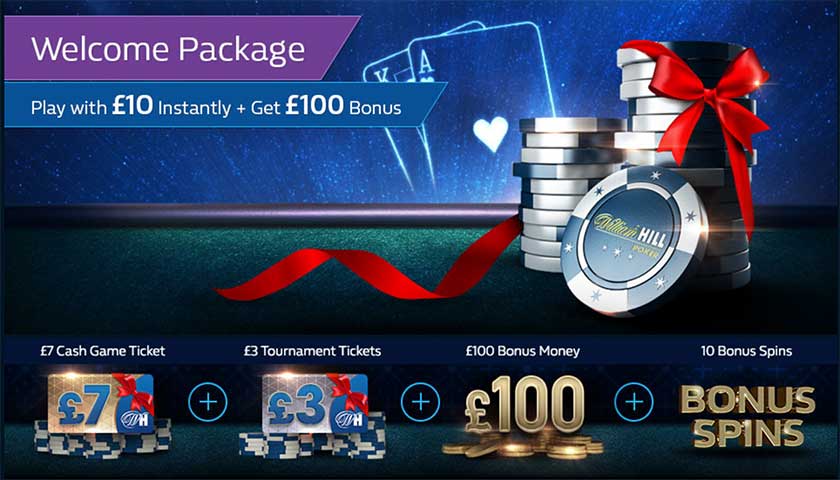 Players who deposit or fund their William Hill Poker account for the first time will get to enjoy one of the most generous welcome offers by any poker room. Upon funding their accounts, players who opt in to this welcome promotion will be given a €7 cash game ticket, 4 Sit & Go tournament tickets, €100 worth of bonus money, and 10 bonus/free spins. As its name implies, the €7 cash game ticket can be used only on cash game tables for Six Plus Hold'em, Texas Hold'em, or Omaha games. For the tournament tickets, two of these are valued at €1.1 and would be for SNG ladder tournaments. The other two tickets are worth €1 and €.50, respectively. These are to be used for Twister and Wild Twister Sit & Go Tournaments, respectively.
Players are automatically going to get their €100 bonus money once they've taken advantage of William Hill Poker's welcome offer. Like most poker rooms though, players can't withdraw the bonus money immediately. Instead, the poker room will require them to first accumulate WHPoints to convert the bonus money to real cash. The poker room will give players 10 of these WHPoints for every €1 in rake or tournament fees they generate. In order to redeem their first €10 (from the bonus money), players will need to accumulate 200 WHPoints. After this, the poker room requires players to accumulate 250 WHPoints for every €5 of the remaining €90 bonus money.
Play William Hill Poker on your devices
Players should have no problems accessing William Hill's poker room. If they're using a Windows desktop/laptop, players can access the poker room by downloading and logging in through its dedicated poker client. In the event that they're unable to download this poker client or if they're using a computer running on Mac OS, then there's a handy Instant Play feature that allows players to access the poker room on their browsers. Of course, the poker room can also be accessed via players' mobile devices. William Hill's poker room currently has dedicated applications for mobile devices that run on either Google's Android or Apple's iOS platforms. Additionally, it should also be possible for players to access the poker room using their mobile devices' browsers (provided these support HTML5).
William Hill Poker Licensing
William Hill has licenses to operate issued and regulated by both the UK Gambling Commission and the Gibraltar Gambling Commissioner. The site also used to have a license issued by the Malta Gaming Authority back when it first started its operations in 2008. Apparently though, this was dropped in favor of the UK and Gibraltar licenses. As for US markets, the company did manage to get a full gaming license from the Nevada Gaming Commission back in 2013. However, it should be noted that the license was mainly for three land-based gambling businesses that the company acquired at that time.
Ownership of William Hill
William Hill's history dates back to 1934. Named after its founder, the company started out as a postal/telephone betting service during a time when gambling was still considered illegal in Britain. Nearly three decades after, the country moved to legalize betting shops in 1961 and the company promptly moved to acquire the businesses that arose from this law in 1966. After William Hill died in 1971, the company then got acquired by Sears Holdings Group. Another change in ownership transpired in 1988 when Mecca Bookmakers' owner, Grand Metropolitan, acquired the company. After the acquisition, Grand Metropolitan then moved to merge the two brands under the William Hill name.
The company saw yet another change in ownership not long after Grand Metropolitan's acquisition. The year 1989 saw Brent Walker finalize the purchase of the William Hill brand, which at that time had a whopping 1,800 betting shops and was then considered the world's largest credit betting operation. The 1990s proved uneventful in terms of company ownership until Japanese company Nomura purchased William Hill (through Grand Bookmarking Company Limited) for £700 million in 1997. The following year then saw the launch of the company's online sportsbook. Nomura then moved to sell the company in 1999, this time to Cinven, a private equity firm. Under new management, the company launched its online casino in 2000 and got listed on the London Stock Exchange in 2002.
Following its IPO in 2002, William Hill proceeded to add more businesses to its portfolio. It started with the Broughpark Greyhound Stadium acquisition in 2003 and the purchase of Stanley Retail PLC's retail bookmarking operations that spanned the Republic of Ireland, Jersey, the Isle of Man, and the UK. After 10 years, the company finally proceeded to jumpstart its then-fledgling online operations. Initially, it sought to develop its own online casino gaming platform from scratch with 2007 as its targeted release date. The project fell through though and the company eventually made use of Playtech's platform for the launch of its new site in 2008. By 2011, the company found its way to begin operations in the US with its acquisition of American Wagering Inc., Cal Neva Sportsbook Operations, and Brandywine Bookmaking. A year after this, the company then became the first Europe-based gambling operator to get approval for a full gaming license by the Nevada Gaming Commission (to be used for the three land-based businesses acquired in 2011).
Frequently Asked Questions
Question: Does William Hill Poker take US players?
Answer: While William Hill does have a gaming license in Nevada, this only covers the operations of its three land-based betting operations. As such, players based anywhere in the US won't be able to avail themselves of the services offered by the poker room.
Question: Does the software allow for playing at multiple tables at once?
Answer: Players should find it relatively easy to buy into multiple games/tables at once provided they're using the dedicated apps for mobile and desktop. The short answer is yes, players can play at multiple tables and resize their table windows if they choose to. Additionally, the multi-table support is rather limited for players who opt to log in to the poker room through their browser/Instant Play.
Question: Is there a VIP & Loyalty rewards program for frequent players?
Answer: William Hill Poker has a VIP program for players who want more value for their deposits and buy-ins. Called the William Hill Players Club, this program has multiple tiers and players automatically become part of it once they register for an account with the poker room. Starting at ClubStatus1, players will then need to accumulate a certain amount of WHPoints within a given calendar month to progress through the ClubStatus2 through ClubStatus7 tiers. Acquiring these WHPoints is relatively easy. Players will only need to generate €1 in rake or tournament fees to get 10 WHPoints (14 WHPoints for £1 or 9 WHPoints for $1). Once they've accumulated enough points, players can then have these exchanged either for cash or for to play in more tournaments.
Question: What are the wagering requirements of the signup bonus?
Answer: In order for players to redeem the £100 bonus money they receive during signup, they'll just need to make sure that they accumulate WHPoints. The poker room will give players 10 WHPoints for every €1 in rake or tournament fees they generate. For the first two bonus installments of £5 apiece (of the £100 total bonus), players will only need to accumulate 200 WHPoints. After this, the poker room will require players to accumulate 250 WHPoints to release every £5 of the remaining £90 bonus monies.
The £7 Cash Game Tickets and the £3 Tournament Tickets both have no wagering requirements and players can automatically withdraw any earnings they manage to win from using them. As for the bonus spins, the poker room will require players to wager 40x the amount of the bonus spins that they received.
Question: Can I wager my welcome bonus on casino games or in the sportsbook?
Answer: As with most of its competitors, William Hill Poker does not allow players to use their poker room welcome bonus in the online casino or sportsbook sections. Even the 10 bonus spins that players receive with the welcome offer are limited to select casino games found on the poker client and won't be usable within the online casino proper. Conversely, any bonus that players may obtain from the sportsbook or online casino won't be usable on the poker room either. Even the Players' Club point accumulation is also limited to just the poker room. With that said, players who are able to exchange their acquired WHPoints to cash should be able to transfer these funds from their poker room accounts to their sportsbook or online casino accounts.