Tiger Gaming Poker Room Review
Poker Room Reviews > Tiger Gaming Poker Room Review
Pros
Generous welcome offer
Accepts players from Canada
Multi-tabling support
Established brand
Cons
Does not welcome US players
No dedicated mobile app
Multi-tabling support is limited to a maximum of eight tables
Table of Contents
History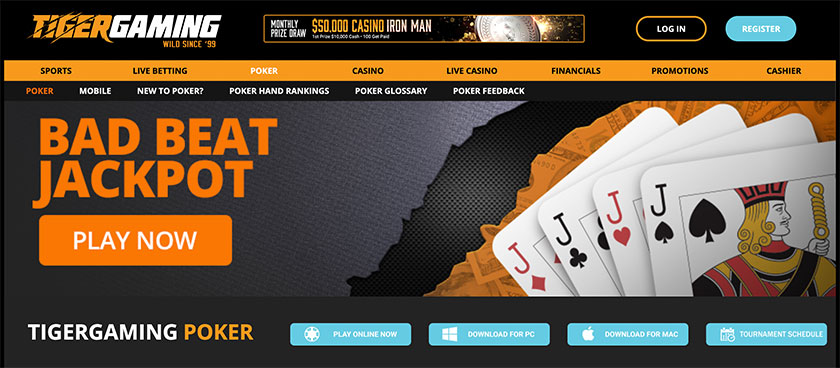 While it can boast a lengthy history as one of online poker's pioneering brands, TigerGaming admittedly doesn't have the same popularity as some of its peers. According to web.archive.org's Way Back Machine, the brand launched its operations back in 2002 though the URL was already around since 1999. When the brand did start its operations, it initially offered Chinese Poker and Big2 Poker games for its players. A year later, in 2003, the brand moved to include other variants such as Texas Hold'em, 7 Card Stud, 7 Card Stud Hi/Lo, Panguingue, Guts Poker, and even Blackjack for its poker room. The brand was not content to offer just cash games though. Eventually, players were regaled with tournaments particularly for Texas Hold'em. It's important to note that at the time the brand was running these tournaments, the poker variant was still in its early stages of growth and popularity.
By 2005, both the Omaha and Omaha Hi/Lo poker variants were added to TigerGaming's growing poker room offerings. Aside from these, the brand added notable improvements like a Buddy List feature. As with a lot of other brands though, the poker room suffered a setback the following year when the the Unlawful Internet Gambling Enforcement Act (UIGEA) was passed. This legislation effectively walled off the powerful US market from the majority of online casino and poker room brands operating at that time. Despite this, the brand maintained a foothold in North America thanks to a license that allowed it to still target the important Canadian market.
As it continued its operations, TigerGaming eventually added dedicated sections for casino games, sports betting, live betting, and even one for financials. With the addition of these sections though, the brand also discontinued support for the less popular poker variants in its poker room. Back in 2016, the poker variants that were available to players were whittled down to Omaha, Texas Hold'em, 32Card Draw, 7 Card Stud, and Americana. With interest in online poker continuing to wane, the poker room eventually settled with supporting just Omaha and Texas Hold'em.
Live Tournaments
In the course of our review team's research, we were unable to find any information pertaining to TigerGaming being affiliated with or sponsoring live tournaments. A big reason for this likely has to do with the fact that the online casino is part of the Chico Poker Network. Unlike the Microgaming Poker Network or Playtech's iPoker, this poker network hasn't been as active in the live tournament scene. In fact, the network hasn't been involved in a live tournament series in any capacity ever. With that said, this shouldn't detract players from the fact that the poker room has good online tournaments available.
Online Tournaments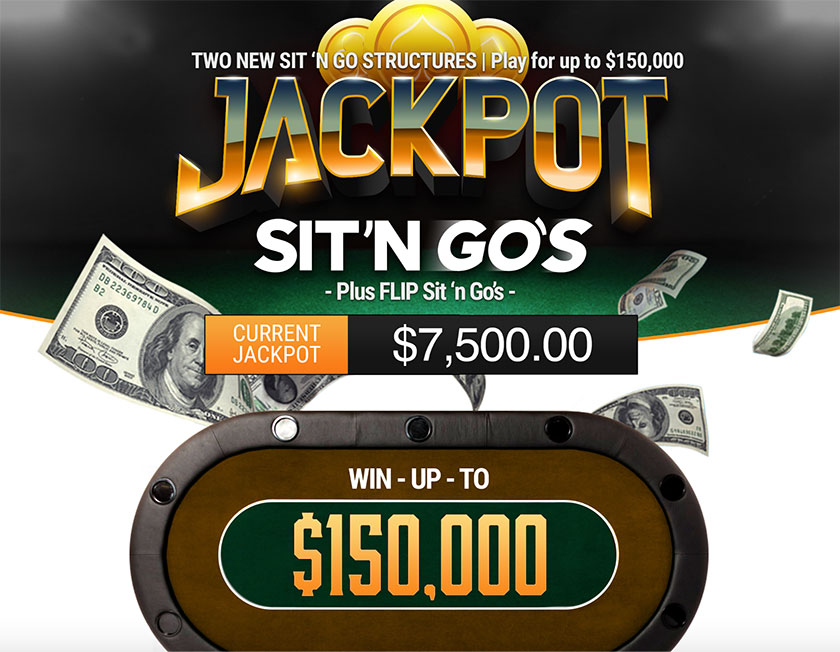 Since it's mainly targeted at the casual crowd, TigerGaming has made sure that its poker room has a steady stream of online tournaments for its players to compete in. Players who just want to test out the poker room and feel out some new competition could try regular tournaments. These have relatively low buy-ins and have non-guaranteed prize pools that are determined by the number of players taking part in it.
If they're ready to take on tougher competition, then players would do well to check out the poker room's major tournaments. The Daily Dozen is a good major tournament series to start since as its name implies, it's available on a daily basis. All of the tournaments in this series feature guaranteed prize pools that start out at $1,000 and top out at a whopping $15,000. It should be noted though that buy-ins for these tournaments are going to be higher. Buy-ins typically start at $11 but can reach as high as $109 on tournaments with larger guaranteed prizes. For more manageable buy-ins, players can try the Mini Dozen tournament series, which runs at the same time and features half the buy-ins for relatively lower guaranteed prize pools.
Other than the Daily and Mini Dozens, a tournament series that players ought to consider joining would have to be Twister Turbos. Tournaments in this series feature guaranteed prize pools of at least $400 with the largest offering $3,000. These tournaments are typically of the re-entry or re-buy variety with progressive knockout, boost, and bounty hunter as gameplay features. Buy-ins start out at $2 and depending on the tournament's guarantee, could climb up to $55.
Now, for players who are confident and their skills and want the best competition TigerGaming has to offer, joining any of the Sunday Majors should be right up their alley. The Sunday Majors is tournament series composed of the Sunday Main Event, Sunday Main Event – Mini, and Sunday Main Event – Micro which have $109, $22, and $2.2 buy-ins, respectively. What makes these tournaments so compelling though is their guaranteed prize pools. For its buy-in, the Sunday Main Event – Micro is well worth joining for its $1,000 guarantee. If they move up to the Mini or the Main Event, players are looking at guarantees of $12,500 or $60,000, respectively. Of course, players should note that the competition is also expected to be tougher.
Sponsored Poker Pros
As you may have figured, based on the information already provided above about TigerGaming Poker's lack of a live tournament presence, the company hasn't ever sponsored any poker professionals. Unlike its contemporaries, the poker offerings this online-only room has focus exclusively on casual players, and it's not the main focus of the parent company's business, so there's no reason for TigerGaming to really invest in this area of pro sponsorships..
Welcome Bonus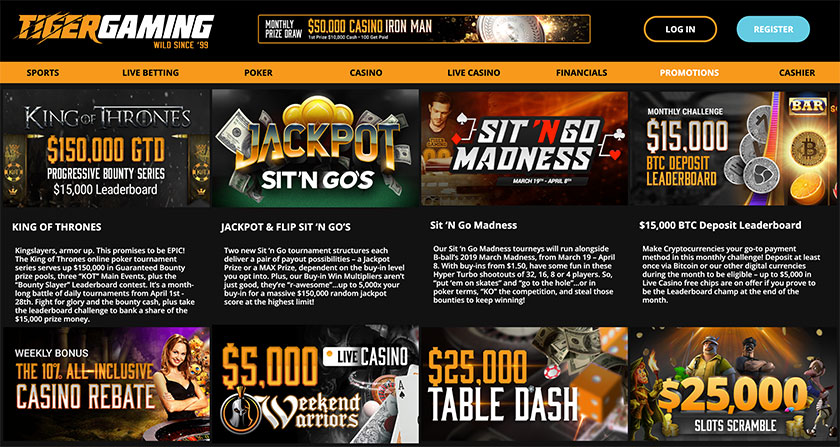 By registering with TigerGaming Poker for the first time, players become eligible for the poker room's welcome bonus offer. If players' initial deposit is at least $50 or more, they can send an email to the poker room to receive a 100% match bonus that can reach up to $1,000. Unlike online casino bonuses though, the poker room won't release the bonus amount upfront. Once the poker room activates the bonus, players will need to make sure that they're earning Comp Points since these are needed to release increments of the bonus. As of this writing, 5,000 Comp Points is needed for the poker room to release a $5 bonus increment. To earn Comp Points, players are required to play real money games and tournaments. Every $1 in fees players generate will reward them with 100 Comp Points.
Devices

Players are going to find it relatively easy to access TigerGaming Poker. To get the most of the poker room, players would do well to download dedicated clients on their Mac and/or Windows devices. If they're hungry for action and don't want to bother with downloads, it's also possible for players to just access the poker room using any modern browser on their Mac, Windows, or Linux machines. Similarly, players on their iOS or Android devices will only need a browser to access the poker room on the go.
Licensing
As of this writing, TigerGaming has a license to operate issued and regulated by the Government of Curacao. Even so, and despite the fact that it doesn't display a Kahnawake Gaming Commission license, the brand's poker room is still able to accept players from Canada. Unfortunately for players in the United States, the poker room does not accept registrations from their country.
Ownership
Information pertaining to TigerGaming's operators is sparse even though the brand has officially been around for two decades now. As it was just starting, the poker room was managed by a company registered in Antigua and Barbuda called Action Poker Gaming Inc. The company itself was a subsidiary that was wholly owned by LasVegasFromHome.com Entertainment Inc. Now called Jackpot Digital, which held the poker room's licenses and which is credited with developing the software that was used on the site.
The year 2006 saw a shift in Jackpot Digital's (then LVFH) focus as a company. It sold off TigerGaming to PlaySafe Holdings and proceeded to concentrate its resources on developing casino gaming software. Then-managed by Ecom Enterprises (a subsidiary of Playsafe Holdings), the poker room became a new addition to the Action Poker Network.
After the events of Black Friday 2011, Playsafe Holdings AS decided to sell the TigerGaming brand again. In 2012, Julian International (part of the Julian International Group) moved to acquire the brand as well as the Action Poker Network. The new operator retained the poker room's branding but did rename the Action Poker Network as the Chico Poker Network. This move was lauded for saving both brands but it also resulted in some controversies. Chief among these were complaints with regard to payouts as well as dealings that were deemed unprofessional. Eventually these controversies were resolved and, in 2013, the brand and the platform introduced support for Bitcoin as a payment method.
The year 2014 saw Julian International changing its name to Action Commerce Limited. In 2016, Thot Management NV became the new operator of the TigerGaming brand. Despite the change, this Curacao-based company was still operating the brand on behalf of Action Commerce Limited. Additionally, the brand is still very much with the Chico Poker Network.
Frequently Asked Questions
Question: Does TigerGaming accept US players?
Answer: Unfortunately, TigerGaming Poker does not accept US players. As of now, the brand's Curacao license only allows registrations mainly from jurisdictions in Europe and other parts of the world that allow online gambling. With that said, it's not as though the brand won't accept players from North America. Players residing in Canada should have no problems registering with the poker room.
Question: Does the software allow for playing at multiple tables at once?
Answer: Similar to almost all top poker software these days, the Chico Poker Network features support for multi-tabling. TigerGaming players who want to level up their skills quickly can opt to join as many as eight tables at once. It should be noted though that eight tables is a hard limit set by the CPN to ensure that games and gaming experience aren't slowed down due to players taking time to complete an action because they were unable to keep track of the numerous tables that they have open.
Question: Is there a VIP & Loyalty rewards program for frequent players?
Answer: There is a Comp Points program in place at TigerGaming that's specifically designed to reward players for their buy-ins. Comp Points (or VIP Points) are a unique currency in the poker room that is rewarded to players in exchange for buy-ins they make on real money tables or tournaments. For every cent that goes into the rake, players will get 1 Comp Point courtesy of the program. A cool 100 Comp Points also awaits players for every $1 in fees they pay in the poker room's tournament fees. The Comp Points players accumulate/collect will then determine a player's level in the VIP Program. Starting out as Bronze VIPs, players will need to accumulate at least 25,000, 50,000, 75,000, and 150,000 Comp Points to progress to the Silver, Gold, Platinum, and Elite levels, respectively.
Question: What are the wagering requirements of the signup bonus?
Answer: Players who avail of TigerGaming Poker's signup offer should know that they won't get the bonus immediately. Unlike with online casinos, players will first need to earn a certain number of Comp Points for the poker room to then release a bonus increment. A bonus increment is worth $10 and players will need to have accumulated 5,000 Comp Points for the program to process a release. It should be worth noting as well that the program will only give players 30 days to redeem the bonus increments completely after the signup offer is activated. Players need not worry if they're unable to completely redeem their bonuses though. In these instances, the poker room will only forfeit the unclaimed bonus amounts and players can continue depositing funds to their accounts and joining real money games and tournaments.
Question: Can I wager my welcome bonus on casino games or on the sportsbook?
Answer: Players who take advantage of TigerGaming's signup offer for its poker room won't be able to use the bonus in the brand's sportsbook or online casino sections. By the same token, bonuses from these other sections won't be usable in the poker room. Of course, this is perfectly understandable considering the sections as well as the requirements and terms for their bonuses are completely different.