Sports Interaction Poker Room Review
Poker Room Reviews >Sports Interaction Poker Room Review
Pros
Licensed in Kahnawake and Jersey
Multi-tabling support
Generous welcome bonus offer
Utilizes Entain's partypoker software
Cons
Multi-tabling limited to maximum of three open tables
US players not allowed
Only available to Canadian players
Table of Contents
History
When it comes to discussing poker rooms targeted at the North American market, Sports Interaction definitely deserves a mention. The sports betting, online casino, and poker brand has been in operation since the early 2000s. To be specific, the Wayback Machine's (web.archive.org) first archive for the URL was recorded on the 26th of March, 2002. Initially offering a sportsbook/sports betting service, the brand has gone through numerous changes since it first started its operations. It has added sections for an online casino and live horse racing, as well as a poker room. There have also been times when the brand stopped operating altogether.
Aside from its unique history, what sets the brand apartis its management. Unlike most of its competitors, the brand is operated by the Mohawk Council of Kahnawake (MCK) through Mohawk Online Limited.
Plans for the Mohawk Council of Kahnawake's foray into online gambling first manifested back in June 2015. Surprisingly, the council took close to a decade to come up with a decision to engage in e-gaming operations. After all, the MCK enacted the Kahnawake Gaming Law, which established the Kahnawake Gaming Commission back in 1996. With the decision, Mohawk Online Limited was formed to run Sports Interactions' operations. Then, on December 18, 2015, the MCK moved to approve the hire of Dean Montour as the CEO of Mohawk Online. Montour was once the head of the Kahnawake Gaming Commission and was likely brought in for both his leadership and knowledge of the industry.
When it started operations under Mohawk Online Limited, the brand offered a sportsbook, live betting, casino, live casino, racebook, and poker room. Unfortunately, information pertaining to the brand's operations prior to 2015-2016 isn't readily available. A cursory search on The Wayback Machine of the brand's URL also shows very few pages recorded by archiver. Pages that were recorded also ended up blank when clicked on.
In February 2022, Sports Interaction was acquired by Entain PLC, best known for its partypoker brand.
Live Tournaments
Sports Interaction currently does not promote (nor is it affiliated with) any live tournaments. This is likely due to the fact that the poker room is still technically new. Currently, the poker room still uses Playtech's iPoker Network software.
Online Tournaments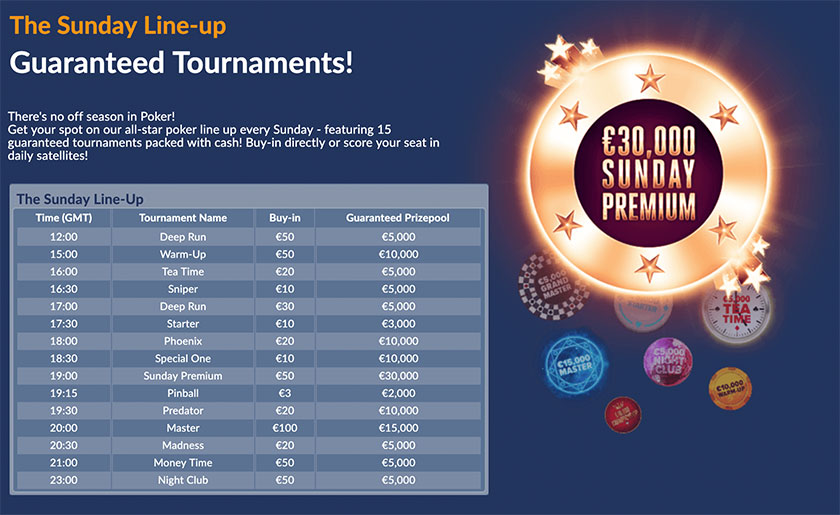 While it might not be affiliated with any live tournament series, Sports Interaction does have a wide range of online tournaments that its players can participate in. As of this writing, the poker room offers real money games and tournaments for three poker variants: Six Plus Hold'em, Omaha, and Texas Hold'em. Each variant has a section in the poker room with their respective tournaments that players can register for. Due to its popularity though, players can expect the majority of the tournaments to be under the Texas Hold'em section. Players who've already tried other iPoker skins will find Sports Interaction's poker room to be more or less the same. Tournaments are classified as (or any combination of) Multi-table (MTTs), Sit & Go (SnGs), Heads-Up, Re-Buy and Add-On, Freeze Out, Shoot-Out, Satellites, and Freerolls.
Similar to a lot of iPoker skins, the poker room has a Daily Lineup tournament series that players can look forward to joining every day. This lineup of tournaments consists of Warm-Up, Tea Time, Sniper, Deep Run, Starter, Phoenix, Championship, Pinball, Predator, Master, Madness, Money Time, and Night Club. As for buy-ins, these tournaments typically require players to shell out anywhere from €3 to as much as €50. With that said, players can expect generous guaranteed prizes as a reward for winning these tournaments. As an example, the buy-in for the Championship tournament is set at €50. Players who end up winning the tournament will get to enjoy a substantial chunk of its €10,000 prize pool.
If their preference is to enjoy poker on the weekends, then players are sure to love Sports Interactions' Sunday Line-up. Much like the Daily Line-up, this series of tournaments starts at 12:00PM (noon) and lasts until midnight. Tournaments in this lineup include Deep Run, Warm-Up, Tea Time, Sniper, Phoenix, Special One, Sunday Premium, Pinball, Predator, Master, Madness, Money Time, and Night Club. Again, depending on the tournament, buy-ins can start at €3 and top out at €50. Compared to the Daily Line-up though, the tournaments in this series have a relatively higher guaranteed prize-to-buy-in ratio. For example, Deep Run's €50 buy-in for the Daily Line-up will have players competing for a €2,000 guaranteed prize pool. The same tournament with the same buy-in on the Sunday Line-up, however, will have players battling it out for a prize pool of €5,000. Plainly speaking, this is because traffic to the site is higher on Sundays with more people having time to play online poker.
Other than these, players can also check out Twister tournaments that feature relatively faster gameplay. What also makes these Twister SnG tournaments exciting is that they have prize pools that are randomly determined and can range from 2x to 1,000x the players' buy-ins. If they want to ramp the excitement up even further, players would do well to check out the Wild Twister format tournaments. These are essentially similar to Twister tournaments with the main difference being the mandatory all-in for all players on every hand dealt to them.
Sponsored Poker Pros
Since Sports Interaction is not affiliated with a live tournament series, it hasn't found the need to sponsor poker professionals. With that said, the brand itself does have partnerships with professional sports teams. As of this writing, these partnerships are with the Toronto Rock (Lacrosse), Toronto Wolf Pack (Rugby), and the Hamilton Tiger-Cats (CFL).
Welcome Bonus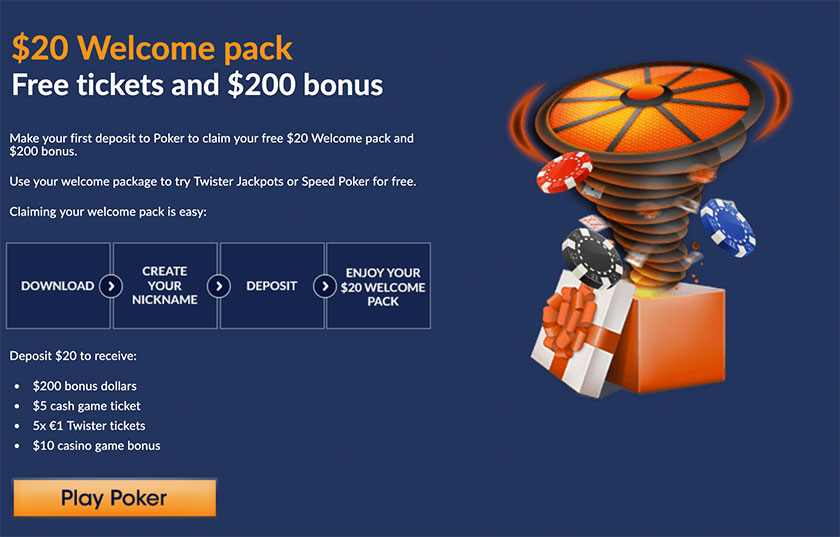 For players who've just registered with Sports Interaction, the poker room has a generous welcome offer waiting for them on their first deposit. After registering, players will only need to deposit at least $10 to enjoy a cash bonus of up to $200, a $5 cash game ticket, $10 casino game bonus, and 5 €1 Twister tickets. As with other poker rooms, the $200 bonus will be released in increments of $5 instead of as a whole amount.
Devices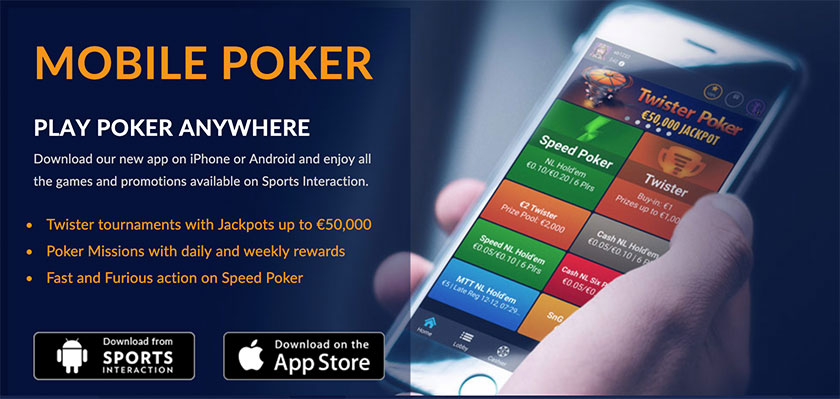 The Sports Interaction poker room is accessible via a number of platforms. If players want the definitive experience then they might want to download the poker room's standalone client on their desktops/laptops running on Windows. Mac is not supported as of now, but players running Parallels on their devices should have no problems downloading and running the poker room client. Like Mac, Linux support is also non-existent so players will need to download WiNE if they want to run the poker room client on their machines. For players who wish to access the poker room on the go, there are dedicated apps that they can download on devices that run on iOS and Android.
Licensing
Sports Interaction has licenses issued and regulated by both the Kahnawake Gaming Commission and the Jersey Gambling Commission. Thanks to these, the poker room is able to operate and take players from Canada as well as countries in Europe where online gambling is legal. Sadly, players from the United States of America won't be able to register an account on the site.
Ownership
Mohawk Online Limited currently owns and operates Sports Interaction. The company started its operations back in 2016 though the brand itself has been around for much longer. With that said, not much is known about the brand prior to 2016. The Wayback Machine has little to no information or archived pages of the brand's URL. A cursory Google search also turns up little information pertaining to the brand and its history.
As for Mohawk Online Limited, the company's beginnings can be traced back to June 2015. This was when the Mohawk Council of Kahnawake decided to announce its intention to enter the e-gaming business. This resulted in the creation of Mohawk Online Limited, which would then operate Sports Interaction brand. A couple of months later in December, the MCK announced that it was hiring Dean Montour as Mohawk Online Limited's CEO.
Once Sports Interaction started operations under its management, Mohawk Online Limited then moved to partner with the Toronto Rock of the National Lacrosse League. The company also involved itself in the local Kahnawake community with donations for immersion programs for the Mohawk Language as well as other projects. During its first year (October 1, 2015–September 30, 2016), the company reported earnings of C$2 million while the second year of operations (October 1, 2016–September 30, 2017) saw the brand take in a still respectable C$1.8 million. As of this writing, the revenue report for the company's third year has yet to be made public.
Frequently Asked Questions
Question: Does Sports Interaction take US players?
Answer: Unfortunately, Sports Interaction does not accept players residing in the United States of America. This is due to the fact that the brand's Kahnawake Gaming Commission license does not cover its operations outside of Canada.
Question: Does the software allow for playing at multiple tables at once?
Answer: Much like most poker rooms that use Playtech's iPoker software, Sports Interaction's also supports multi-tabling. It should be noted though that players just can't open as many tables as they want. With other iPoker skins, players can join as many as 16 tables. As of this writing though, the poker room only allows players to have a maximum of three tables open simultaneously. The likely reason for the limit could do with the poker room wanting to eliminate downtime and make games and tournaments run as quickly as possible.
Question: Is there a VIP & Loyalty rewards program for frequent players?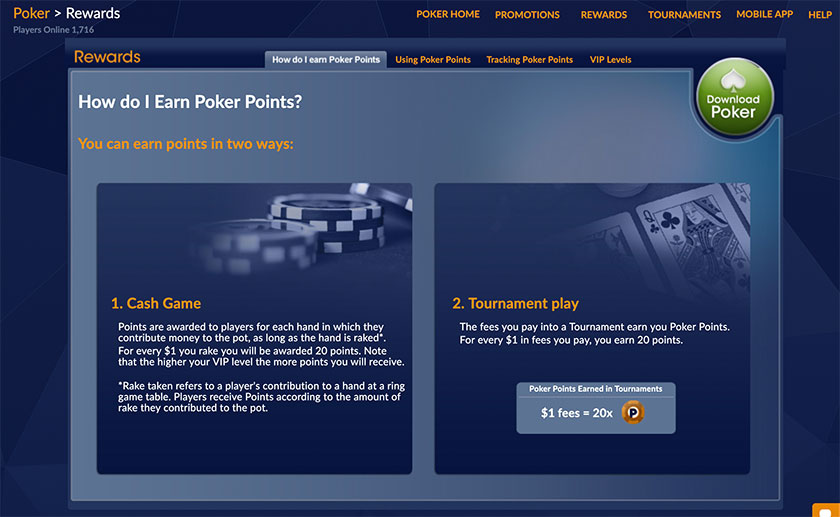 Answer: Sports Interaction Poker has a multi-tiered VIP program that players can take advantage of to get more value for the time and money they spend in the poker room. The VIP Program has three levels with players starting out at Bronze and then progressing to Silver and Gold. To progress, players will need to earn a certain amount of Poker Points for each level after Bronze. As for earning Poker Points, this can be done in two ways. Players are awarded 20 Poker Points for every $1 in rake that they're able to contribute to the pot of a cash game. Another way for players to earn Poker Points is by entering tournaments. For every $1 they pay in tournament fees, the poker room will then award players with 20 Poker Points. As they progress to the Silver and Gold levels, the poker room will also give players better rates for acquiring Poker Points. So instead of 20, players can get 25 (Silver level) and 30 (Gold) Poker Points for every $1 they generate in rake or tournament fees.
Other than being used to determine VIP levels, players can also exchange Poker Points for real money. The poker room gives players two ways of going about this. Once players accumulate at least 13,600 Poker Points, they can have these converted to cash at a rate of 10000 to $10. Aside from this, Poker Points also play a role in redeeming bonus cash. Unlike online casinos, the poker room does not automatically hand out bonuses to its players. Instead, players will need to acquire Poker Points for the poker room to release increments of the whole bonus amount.
Question: What are the wagering requirements of the signup bonus?
Answer: Sports Interaction's signup bonus for its poker room will have players getting $200 in bonus cash, a $5 cash game ticket, five €1 Twister Tickets, and a $10 casino game bonus for a $20 initial deposit. Of these, the $200 bonus, $5 cash game ticket, and $10 casino game bonus have wagering requirements. As mentioned earlier, this bonus is not automatically credited to players' accounts. The poker room will release the bonus in $5 increments provided players are able to accumulate at least 500 Poker/VIP Points. Players can earn 20 of these Poker Points for every $1 they spend that goes towards a cash game's rake or tournament fees. It should be noted though that the poker room will only give players 60 days to completely claim the whole bonus.
The $5 cash game ticket also won't be available to players right away. Instead, the poker room will require players to accumulate at least 100 Poker Points before it releases the cash game ticket. As for the casino bonus, this will be subject to a 30x wagering requirement before the poker room converts the amount to real money/cash.
Question: Can I wager my welcome bonus on casino games or on the sportsbook?
Answer: The $200 cash bonus that players get from Sports Interaction's poker room's signup offer is not usable on the brand's online casino and sportsbook sections. With that said, the signup offer does include a $10 casino bonus that players can use to wager on the casino games available within the poker room. Like the $200 cash bonus though, this casino bonus can't be used to bet on any odds on the sportsbook. By the same token, bonuses offered by the sportsbook and online casino sections won't be usable on the poker room.