Run It Once Poker: A Thorough Online Poker Room Review
Poker Room Reviews > Run It Once Poker Room Review
Please note that Run It Once Poker is currently not operational, as they transition to becoming available in the United States.
Pros
Licensed in Malta and UK
Poker client for Windows and Mac
100% Welcome Bonus up to €600
Up to 75% rakeback via "Splash the Pot" + Road to Legend
Dynamic avatars + forced anonymous tables
Cons
Does not accept US-based players
Cap on multi-tabling (6 tables maximum)
No tournaments available (cash games only)
Only No Limit Hold'em and Pot Limit Omaha spread
History of Run It Once Poker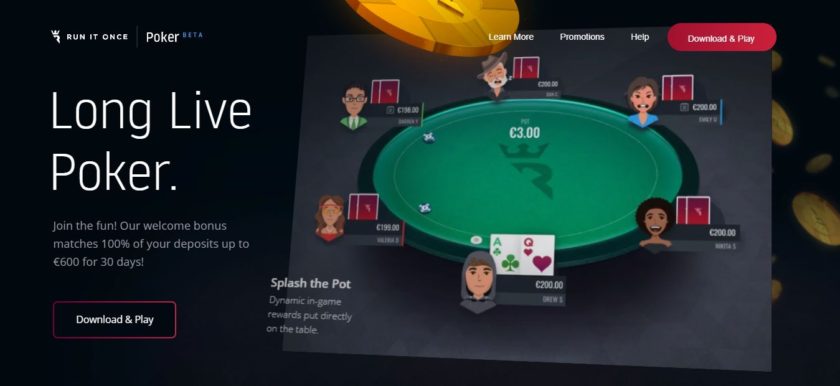 Run It Once Poker is the brainchild of Phil Galfond. He is the owner of three World Series of Poker bracelets, won in PLO, PLO8, and NL 2-7 Single Draw events, respectively, and plays for the highest of stakes when it comes to cash games. He has won over $8 million online playing at other sites under the names 'MrSweets28' and 'OMGClayAiken', but over the last few years he has been spending more of his time on running his Run It Once training site. Believing he could find ways to improve on the way most online poker sites operate, in 2016 Galfond resolved to open his own online poker room under the same Run It Once name.
After years of back-end work during which a great deal of buzz was generated for and by the poker community, with Galfond going out of his way to keep everyone regularly updated as to what progress was being made, Run It Once Poker has been up and running as a public beta since February 2019. Galfond now plays regularly at Run It Once Poker under his real name, and you can download the client to start playing with him.
Welcome Bonus
The Run It Once Poker client offers a 100% Welcome Bonus up to €600. The bonus is valid for and covers every deposit you make within 30 days of your first deposit. Your bonus money will be released to you in increments of €5 for the first €100. In other words, you will receive €5 for every €25 you have raked. You will have to rake another €57.10 to receive your next €10 in bonus funds. The amount that has to be raked rises with every €100 of bonus money you earn, but the rewards go up as well, as illustrated by the chart below.
One important item to note is that the welcome bonus has no expiration date, so long as you play at least 1 raked hand per month. That's welcome news as there's no need to constantly be on the grind immediately after depositing solely in order to qualify for the bonus.
Deposit Methods
Once you download the Run It Once Poker client, you are able to make deposits and withdrawals via a number of debit/credit cards, E-wallets, virtual pre-paid cards, and even bank transfer methods, including: Visa, Mastercard, Skrill, Neteller, Trustly, EcoPayz, AstroPay, MuchBetter, and Paysafecard. Note that while deposits can be made via Paysafecard, you can not withdraw your funds via this method. Furthermore, some payment methods may not be available to you depending on your physical location.
While you can make deposits in a number of currencies, games on Run It Once Poker are only played using euros. As such, note that you may incur conversion fees when attempting to deposit/withdraw in alternate currencies.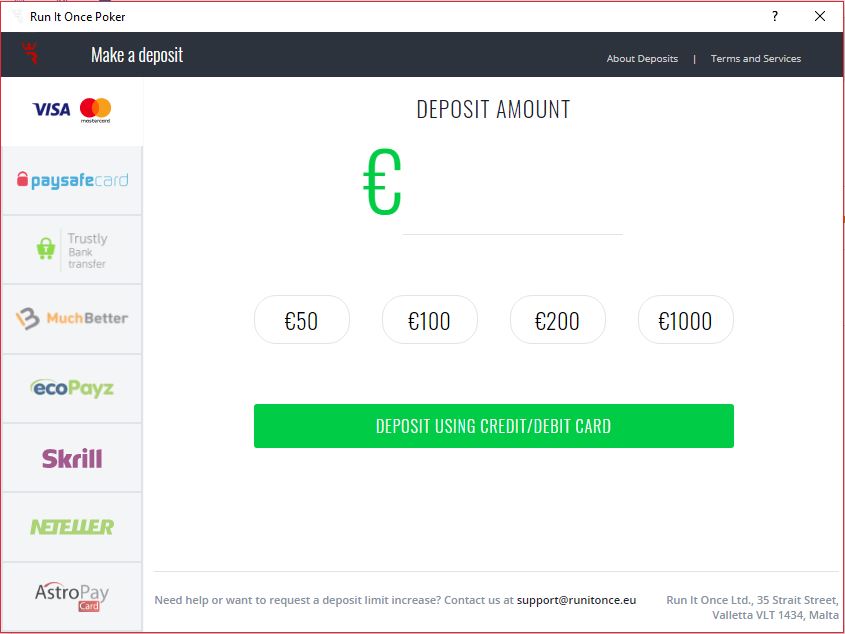 This reviewer chose to make a €20 deposit via the MuchBetter E-wallet and faced no issues as processing was easy and smooth. When attempting to make a withdrawal of online funds, the initial €20 arrived instantly back into my MuchBetter account. Additional (won) monies that I wished to withdraw were credited to my credit card within two hours of having made the withdrawal request.
What Makes Run It Once Poker Unique?
Table Alias and Dynamic Avatars
You immediately notice something that is very different than most poker clients when you download Run It Once Poker and open up a table on client. The players at your table have randomly generated names and avatars. The names that are given look as though they are of a real person, such as 'Elliot M.', 'Melvin S.', or 'Todd M.'. Player avatars are also randomly generated, which means that you never know who you're playing against (except for Phil Galfond himself). Integrating this type of forced anonymity system into the software truly ensures a level playing field, with no HUDs allowed and no player having an unfair advantage over another.
Run It Once Poker developed a smart and innovative way of indicating how your opponents are playing. The avatars are dynamic, can show emotion, and will change based on a player's playing style. As such, your avatar will change based on three stats: VPIP, PFR, and 3Bet. I personally really liked the fact that the avatar changed because of the playing style, and I feel it accurately reflected my own playing style as well. It is obviously a personal choice with regard to whether you might change your game up a bit when playing against a certain player, but overall the dynamic avatars serve a great purpose.
Rakeback/Splash the Pot
When it debuted Run It Once Poker offered players a minimum of 51% rakeback. This amount could rise all the way up to 101% during certain promotional periods, with players who live stream their online poker play on Twitch or YouTube eligible to receive up to an astounding 110% rakeback!

A maximum 5.75% rake is taken and cash game stakes range from €4NL – €2,000NL and €10PLO – €2,000 PLO, respectively.
The way Run It Once Poker deals with giving players rakeback is very different from conventional online poker sites. They developed a unique "Splash the Pot" system in which money is dropped at random times during gameplay. The amount can vary from just a couple big blinds all the way up to 1,000 big blinds. The color of the table will change during a splash pot and a fun (because what's more fun than free money?!) sound alert will let you know that something special is happening.
In November 2019, Run it Once Poker revamped their rewards scheme. Within the new program, there's still the Splash the Pot element, but that awards a maximum rakeback of only 30%. To compensate for the shortfall, RIO Poker introduced Road to Legend weekly rewards, which enables players to secure up to 75% total rakeback. Players earn points to move up the ranks and eventually end up as 'Legend' if managing to generate enough rake within a week. The ranking tiers are denoted by suit: clubs, diamonds, hearts, and spades, before making it to legend. A minimum of 60 points is needed to earn any money back from the rake you have generated (outside of the 'Splash the Pot' feature). Players need to earn 90,000 points in any given week to make it to Legend. Everyone starts from zero all over again when Monday morning hits.

There are multiple ways to earn points. The first one is to log in to the client. Ten points will be awarded and the first hand played each day is worth 25 points. Every €0.05 in gross rake generated will be worth 1 point, but the point total increases at shorthanded tables. If you manage to keep a table from breaking by playing heads-up, you will earn 2 points for every €0.05 in rake and if you play 3-handed you will be awarded one point for every €0.03 paid in gross rake. 
The lowest level, clubs, will be worth an extra 10% in rakeback on top of the 30% from the 'Splash the Pot' feature. The Legend rank will pay an extra 30% in rakeback to add up 60%. How does someone get 75% in rakeback, you might ask? By attaining Legend status for four weeks in a row. The 15% extra rakeback will be paid as instant cash rewards. The 'four week streak' doesn't only count for the legend tier though. All players who reach a certain status for four weeks in a row will be awarded with an extra percentage of rakeback. This will be given as an instant cash reward based on the lowest level achieved over the previous four weeks. In Legend status it is 50% (50% of 30% is an extra 15%), for the Spade level this is 30% of the Spade rewards, 20% of Hearts, 10% of Diamonds, and 5% of Clubs.
Gameplay
You can download Run It Once Poker via your Mac or Windows-operated computer. For the time being it is not possible to play at Run It Once Poker via your mobile device. With that said, this is something they're currently working on, as well as a dedicated app. There's no official release date for either of these, but be sure to check back here at Cardplayer Lifestyle for updates.
The first thing one notices when opening the Run It Once Poker client is that there are no tournaments to be found. No Sit & Gos, no MTTs, no satellite tournaments, no funky stuff at all. Plain and simple: Run It Once Poker is there to spread cash games. For the time being, No Limit Hold'em and Pot Limit Omaha are the games on offer, and there's no word as of yet if or when additional poker variants will be added to the mix of what's available.
I decided to jump in both no limit hold'em and pot limit Omaha games at the lowest stakes. Once you select a stake level, table selection and seating is made automatically and you must buy in for 100 big blinds.
I was immediately seated at €4NL at a full table and it took about three minutes for a seat to open up before I was seated at a €10PLO table. As it's still a relatively new online poker site with de facto limited traffic, note that it might take a little time for tables to fill. More players logged on and starting playing when it got a bit later the evening (I'm based in Europe).
While you can't pick at what table you wish to be seated, it doesn't feel annoying whatsoever, especially with the built-in 'Table Alias' feature. Moreover, you are assigned a brand new random alias at each table you open.
You can play simultaneously at up to six different tables; this table cap was decided by open vote in 2018. Upon testing the hand history feature for the first time, I noticed that it doesn't show graphics like other sites do. With that said, the action is all written out and the interface and navigation through the hand histories felt very intuitive.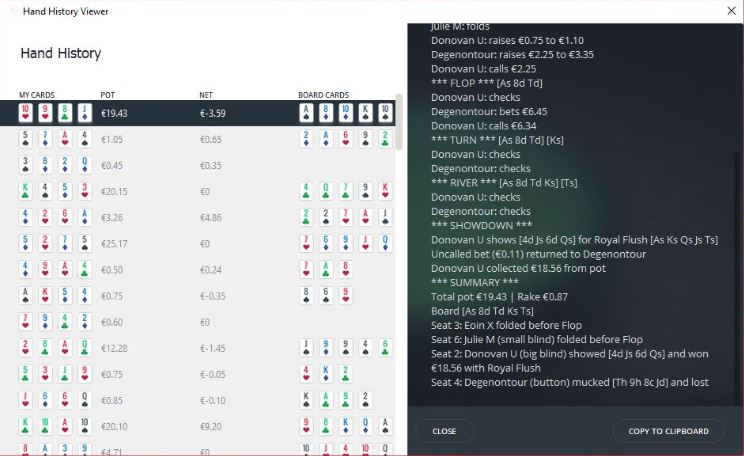 The client runs smoothly, and the sound alerts are very pleasant. The tables look pretty and are resizable. I decided to add a third table and played around with the sizes. The graphics looked great whether one table was filling my 27-inch screen or when there were multiple tables each sized smaller and covering just the corners of my screen. The client has built in options to automatically tile your tables or stack them. For me this always shot my table to my left monitor, which is in vertical position. This caused my tables to be smaller and I had to manually move and adjust them on my right monitor.
I play on Run It Once Poker every so often, usually for a couple hours at a time, and I personally love the splash pot feature. It brings a whole new dynamic to the game. Recently, I was fortunate enough to have my table be randomly selected for a 1,000 big blind splash pot towards the end of a €10PLO session. It was exciting to see €100 added to the pot and I was lucky enough to win it and enjoy a big thrill! I can truly say that having the splash pots being randomly dropped is a very fun way of distributing the rake among players.
Customer Support
I personally didn't need any help from customer support, as I was very happy with how smoothly the client ran. Nonetheless, for the purposes of this online poker room review, I was curious how contacting Run It Once Poker would work in case I ever felt the need to do so. It turns out they have a wonderful Discord server where you can ask questions directly, or you can also send email to [email protected].
License
Run It Once Ltd. is duly incorporated and registered in Valletta, Malta and is regulated by the Malta Gaming Authority (MGA). Moreover, Run It Once Poker is also licensed by the UK Gambling Commission (UKGC).
Frequently Asked Questions
Question: Does Run It Once Poker accept US-based players?
Answer: Unfortunately not, as online poker currently illegal in most US states. Run It Once Poker is licensed in Malta and the UK, but is not yet licensed to operate in the regulated US online poker markets of Nevada, New Jersey, Delaware, or Pennsylvania. While there is a worldwide player pool active on Run It Once Poker, there are a number of countries from which it is forbidden to play, including: Afghanistan, Australia, Belgium, Bosnia and Herzegovina, Bulgaria, Colombia, Czech Republic, Democratic People's Republic of Korea, Denmark, Estonia, France, Germany (State of Schleswig-Holstein), Greece, Guyana, Iran, Iraq, Italy, Lao People's Democratic Republic, Portugal, Romania, Singapore, Slovakia, Slovenia, Spain, Sweden, Switzerland, Syria, Uganda, United States of America, Vanuatu, and Yemen.
Question: Does the software allow for playing at multiple tables at once?
Answer: Yes, you can play at up to six cash game tables simultaneously at Run It Once Poker. With that said, play is currently limited to downloading the client on Mac and Windows-operated devices, with mobile availability currently in development.
Question: Is there a VIP & Loyalty rewards program for frequent players?
Answer: Rather than the traditional VIP or loyalty rewards offered by other online poker sites, Run It Once Poker offers players a minimum of 51% rakeback via its innovative Splash the Pot feature. Occasionally some of the site's promotions also offer direct rakeback to players beyond monies distributed through splash pots. Beyond the rakeback promotions, there's also a 100% up to €600 Welcome Bonus offered to all new players who open accounts and make their first qualifying deposits.