Red Star Poker Room Review
Poker Room Reviews > Red Star Poker Room Review
Pros
Operating since 2005
Supports multi-tabling (up to 10 tables)
200% Welcome Bonus up to $/€2,000
Operates on the iPoker Network
Cons
Limited multi-tabling support on browser
Curacao license does not allow US or UK players
Table of Contents
History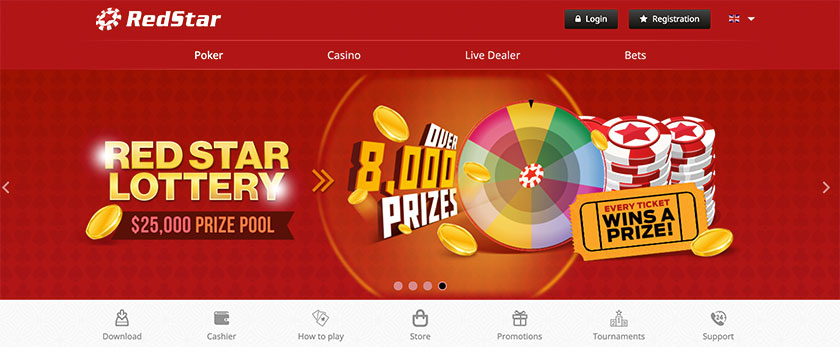 While not the most popular poker room, Red Star Poker still plays an important role in the history of online poker as one of its pioneers. Launched in 2005, the poker room is one of the few founded in that early Poker Boom era that is still in operation today. Owned by RSP Entertainment N.V., a possible reason for the brand not being as popular as the competitors it had when it started operating is the fact that it's targeted mostly at Eastern European markets. When it started operations, the brand initially offered just online poker. To enjoy these, players needed to download the poker room's dedicated proprietary software client. This went on for a couple of years until eventually, casino, sportsbook, and live betting offerings were added.
In 2013, Red Star Poker finally ditched its proprietary software client and decided instead to join the Microgaming Poker Network. The move gave the poker room's players access to what, at that time, was considered the world's biggest online poker network. Unfortunately, when Microgaming announced in September 2019 that it would be folding its online poker operations, that meant Red Star Poker players would need to find a new home. This home turned our to be the venerable iPoker Network.
Live Tournaments
A big reason for the growth that Red Star Poker experienced possibly had to do with its shift to the Microgaming Poker Network. When it was still independent, the poker room was focused mostly on online players. Though it was one of the first brands to start operations during the online poker boom, it found itself up against competition that was able to offer live tournaments. With the shift to MPN though, the brand was  able to affiliate itself with a live tournament series, which naturally helps to add more player recognition, prestige, and exposure. Since the migration from the Micrograming Network tot he iPoker Network, Red Star Poker has de facto become affiliated with the latter's live poker festivals.
Online Tournaments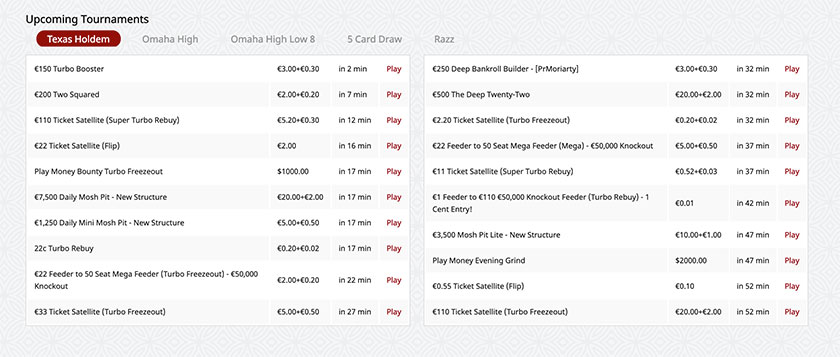 Players who prefer online tournaments over live tournaments need not worry since Red Star Poker has plenty that they can join. Just by registering and depositing funds to their accounts for the first time, players will be eligible to join the poker room's freeroll tournaments. The only condition to join the majority of the tournaments (€50 Tournament Ticket Freerolls, €25 Tournament Ticket Turbo Freerolls, €50 Fish Party Ticket Freerolls, and €50 Pot Limit Omaha Freerolls) is for players to have had played in 1 raked hand in the prior 24 hours. For the €3,000 Sunday Freeroll tournament though, players are required to have played in 100 raked hands in the prior seven days.
Aside from the freerolls, players can also take part in daily tournaments that offer real money prize pools. If they're still not confident with their skills, then players might want to start out with tournaments like 11c 6-Max Turbo Freezeout, 6-Max Bounty, €1.10 Ticket Satellite (Turbo Freezeout), €.55 Ticket Satellite (Flip), €40 The Micro Deep Fifty-Five (Booster), and €25 99 Cent Nonsense, among other tournaments. Though these tournaments have relatively low guaranteed prizes, the low buy-ins these tournaments feature make them ideal for players who are perhaps risk averse and who are still trying to gauge the poker room's level of competition.
For seasoned players who are craving for more competitive fare, Red Star Poker has tournaments such as the €1,000 Daily Deepstack, €300 Mini Terminator, €500 Mini King Tusk, €100 Turbo Early Bird 1R1A, €300 Late Night Turbo Rebuy, €500 Bust The Bank, €250 Morning Madness, €7,500 Daily Mosh Pit, €1,250 Daily Mini Mosh Pit, and many more. With the guaranteed prizes on these tournaments being higher, buy-ins are also going to be a little more expensive. As an example, the €1,000 Terminator (Super Bounty) will require players to put out €33 as a buy-in. With that said, there are still great value tournaments (in terms of buy-in to guaranteed prize ratio) like the €1,250 Daily Mini Mosh Pit which features an affordable €5.50 buy-in.
It should be noted that the aforementioned tournaments are for Hold'em. The poker room has tables offering Omaha and Blaze that also feature their own cash games and tournaments. Players who enjoy blazing fast action can check out Blaze, which features games with buy-ins that can go as low as €1 or as high as €50. While the Omaha section might feature fewer tournaments, players can still get to partake in daily tourneys such as €1,000 Fantastic Four that has a relatively affordable buy-in (€5.50).
Sponsored Poker Pros
Even when Red Star Poker was affiliated with a live poker tournament series, it largely refrained from sponsoring a team of professionals. Even prior to its MPN shift, the poker room has never thought it necessary to have poker professionals represent the brand. This likely has to do with the fact that the brand's target market is largely composed of casual players.
Welcome Bonus
On their first deposits, Red Star Poker players will get a 200% match bonus that can go up to a whopping $/€2,000. Unlike with most online casinos though, this bonus works differently. Instead of the bonus amount credited automatically to their accounts, the poker room will release it in increments of $/€1. To get a $/€1 bonus increment, players will have to earn at least 50 Loyalty Points. As to how these can be acquired, the poker room will automatically give 10 Loyalty Points to players for every $1 (or 11.36 Loyalty Points for €1) in rake or tournament fees they're able to generate. While not indicated, it appears from our research that the poker room will only give players 60 days to fully play through the welcome bonus (similar to other MPN skins).
Devices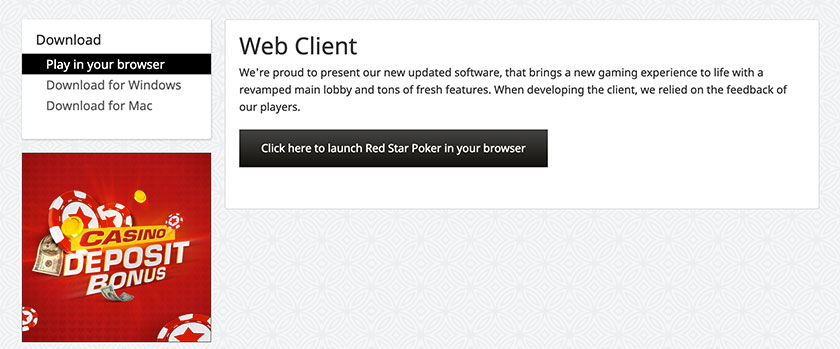 The Red Star Poker dedicated client is available for download on computers (desktops and/or laptops that run either Windows or Mac. The client's download size is relatively small and installing it is relatively easy. In fact, computers with hardware from the last five years or so should have no problems running the client. Players who might not be too keen on installing the client on their computers can also opt to just use their browsers to access the poker room. It should be noted though that players won't be able to make use of some of the poker room's features. For example, multi-tabling support is extremely limited on the browser in contrast to its implementation on the dedicated client. The poker room also doesn't have support for a dedicated client on mobile devices. With that said, players should still have no issues accessing the poker room using their mobile devices' browsers.
Licensing
RSP Entertainment N.V. is a company based in Curacao that is responsible for Red Star Poker's operations. The company is able to operate the poker room (as well as its casino, sportsbook, and betting sections) thanks to a license issued and regulated by the Government of Curacao (through Curacao eGaming). This license allows the poker room to accept players from Eastern European markets such as Russia and Ukraine. Unfortunately, the license doesn't cover players from the United States of America or countries like Sweden and the UK.
Despite "only" having a Curacao license, the poker room has still garnered positive reviews from other independent casino gaming portals.
Ownership
Not much is known about RSP Entertainment N.V. other than it started Red Star Poker back in 2005 and that it is registered in Curacao. When it launched Red Star Poker, the company thought it best to use its proprietary poker room software for the brand. This proved to be successful at first but then the company had a hard time keeping up with its competitors as the years passed. Eventually, the Red Star brand had to diversify its income stream with the addition of sportsbook and online casino sections back sometime in 2011. The brand eventually ditched its proprietary poker client in 2013 and then went on to become a part of the Microgaming Poker Network. After having transitioned to the iPoker Network in late 2019, that means Red Star Poker de facto becomes associated with Playtech-powered brands.
Frequently Asked Questions
Question: Does Red Star Poker take US players?
Answer: Much like online casinos and other poker rooms that have a Government of Curacao license, Red Star Poker is unable to accept players from the United States of America as well as those from the United Kingdom.
Question: Does the software allow for playing at multiple tables at once?
Answer: Red Star Poker's downloadable client does offer support for multi-tabling. With that said, while players could theoretically wager up to 10 tables simultaneously, they should expect a little slow down. In some instances, the client might also automatically boot them off. For players trying to access the poker room on their browsers, multi-tabling support is going to be awfully limited. The same goes for players who wish to access the poker room on their mobile devices.
Question: Is there a VIP & Loyalty rewards program for frequent players?
Answer: Players who want to get more value for their wagers and buy-ins will be happy to know that Red Star Poker has a Loyalty Program that they can take advantage of. Prior to August 20, 2018, the program used to feature four levels with players starting out at Bronze and working their way up to Silver, Gold, and Platinum. Right now though, players are automatically awarded the Platinum Status the moment they register (even if they've yet to deposit funds to their accounts). On top of Platinum, the program also has a Sponsored tier that would require players to accumulate 1 Billion Loyalty Points. A benefit of being Platinum level in this program is that players will automatically get 30% rakeback on a weekly basis; certainly something worth shooting for.
As for Loyalty Points, these are acquired every time players buy-in to any of the poker room's real money games and tournaments. As of this writing, players will get to receive 10 Loyalty Points for every $1 they generate in rake or tournament fees (or 11.36 Loyalty Points for €1). Other than determining players' Loyalty levels, Loyalty Points are used for redeeming the welcome bonus and other cash bonuses.
Question: What are the wagering requirements of the signup bonus?
Answer: Red Star Poker's welcome bonus is automatically activated the moment new players deposit funds to their accounts. Unlike casino bonuses though, this welcome bonus is not credited automatically to players' account balances. Instead, players will need to accumulate 50 Loyalty Points for the poker room to release a €1 increment of the bonus. The time given for players to complete the bonus requirements is not mentioned nor indicated.
Question: Can I wager my welcome bonus on casino games or on the sportsbook?
Answer: Similar to most online poker rooms, Red Star Poker does not count wagers to casino games or sportsbook bets to the completion of its welcome bonus. Additionally, players who get welcome offers for the brand's online casino and/or sportsbook section won't be able to use the bonuses for buy-ins on the poker room's real money games and tournaments. With that said, it should be possible for players to withdraw the bonus they receive from the poker room and re-deposit it to their online casino or sportsbook accounts.