Poker Room Reviews > PPPoker Room Review
Table of Contents
History
PPPoker stands for a new wave of online poker. Established in 2016, it was initially launched as a mobile app with a desktop client later added to the mix as well. However, to this day, PPPoker remains a mobile-first online poker solution.
It started off offering No-Limit Hold'em and Pot Limit Omaha games and tournaments, but more games were added along the way. Today, the app also offers Five Card Omaha as well as different variations of Chinese Poker, including Pineapple. Also, multi-tabling capabilities were added to the app, offering a pretty decent solution for playing multiple tables on your phone.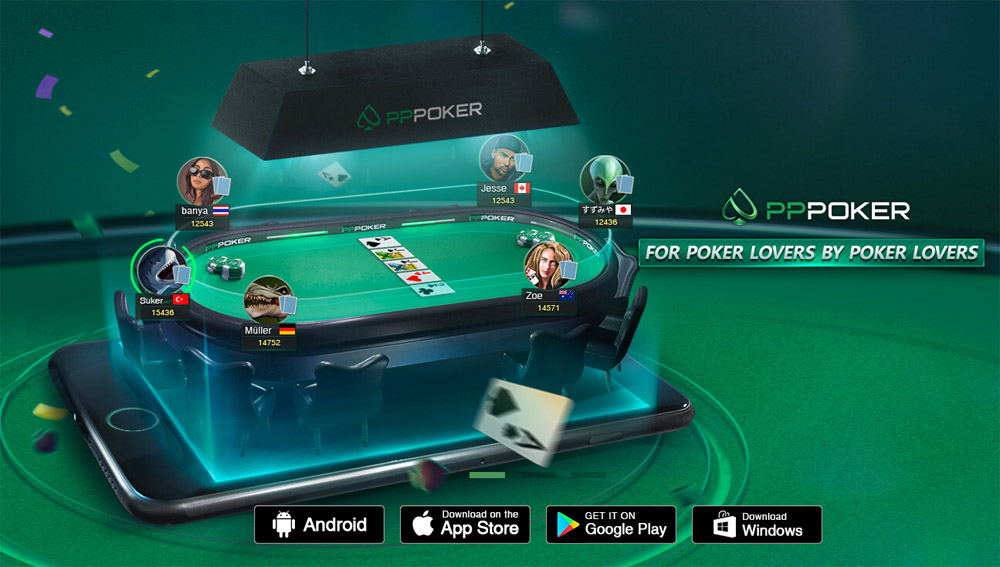 While the history of PPPoker may not be as long or as rich as that of many longstanding and established online poker rooms, the company has generated a lot of traction with players because of its unique, social model. Namely, PPPoker is a free play-money social app that features a poker club format, where players can set their own rules.
PPPoker Clubs Explained
Since the "poker club" concept is a rather unique one not found in traditional online rooms, let's explain how PPPoker really works. Once you download and install the app, you can create your username and password, just like with any other app. Then, once you log in, you'll only have access to the global lobby. Here, you can play tournaments and games for play money.
However, you also have an option to create your own clubs or get invited into existing ones. Existing clubs also have an option to create larger Unions, combining their players and making bigger player pools.
The club owner(s) have a variety of options available to them and they can pretty much set up games and tournaments however they want. They can create tournaments with differing structures, guarantees, jackpots, promotions etc.
These clubs are completely free as well although there are certain in-app features players can buy, such as the VIP pass, which gives you access to player stats. Players can join multiple clubs and their PP Chips balance will stand separately in each club.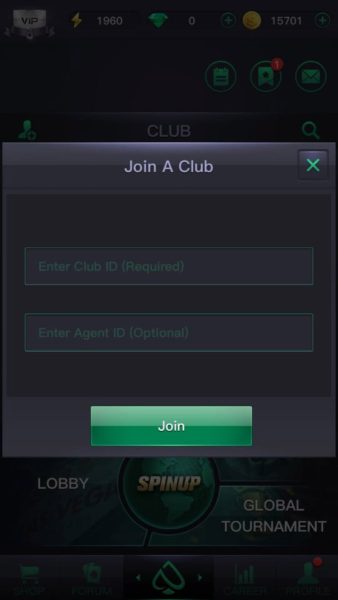 So, it's a completely free app and anyone can create a poker club of their own, perfect for games with friends and family, and also for players looking to expand their experience and connections in the growing poker community. As previously mentioned, PPPoker games are play-money based across all variations although players can make in-app purchases for special features such as VIP Cards, Rabbit Hunting, Time Extension Bonuses for enhancing the fun in this social poker community-based platform. No money exchanges hands through the app and any monetary transactions that happen between the players after the fact are strictly between them.
Live Poker Tournaments
PPPoker has a strong and growing network of live tournaments. Although this is somewhat surprising for a free-to-play app, the company is investing a good deal of effort and resources into promotion and their live events are an important part of their marketing strategy.
The PPPoker World Championship (PPWC) is the name of the site's very own live poker tour, with the first series of events having been held in February 2019 in Manila, Philippines. It featured a full week of poker action, with highlighted tournaments being the Main Event and the Team Event.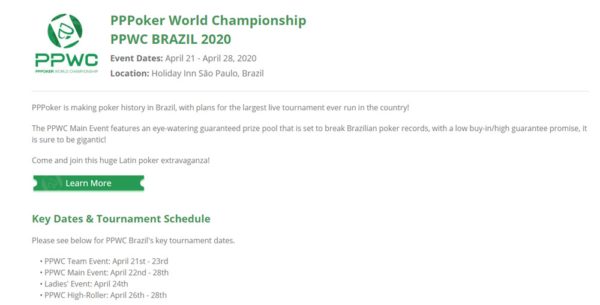 The next PPWC event is scheduled to take place in April 2020 in Sao Paolo, Brazil. The Team event will be coming back and there will be a Ladies' event as well.
PPPoker has shown a growing interest in the Brazilian poker community and even confirmed a partnership with one of the nation's biggest football clubs, Cruzeiro, back in 2019.
PPPoker promises low buy-ins and high guarantees, so that's something to look forward to. These are open events, so anyone can buy in directly, but players will also likely have a chance to win seats through the PPPoker app.
Online Poker Tournaments
As already explained, PPPoker doesn't offer any real money games. With that said, you'll find their tournament schedule is quite expansive. All you can win is more play money or "Energy" that you can spend on buying VIP tickets, which will unlock some features, such as access to other players' stats. Even so, the online poker room offers quite a competitive setup with tons of players and a global leaderboard, so there is definitely something to work towards even if you can't win real cash.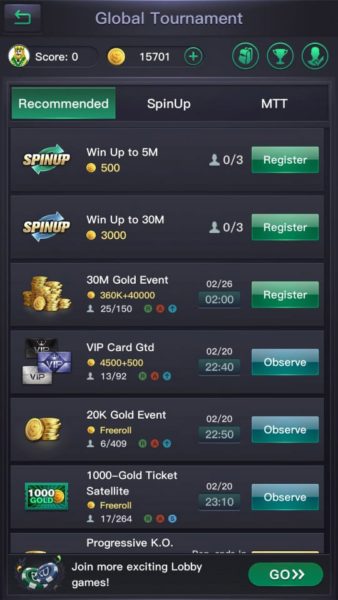 Of course, there are also tournaments that are set up by clubs and unions. To access these, you'll need to be a member of a particular club. Once again, these are completely at club owners' discretion as they can set up things however they like. The play money you use for global tournaments isn't used inside the clubs.
Sponsored Pros
PPPoker doesn't have any official sponsored pros but their site features a number of club hosts and players who support the app. You'll find the links to these players' Instagram pages on the site and you can probably reach out to some of them if you want to join their clubs and see what they have to offer.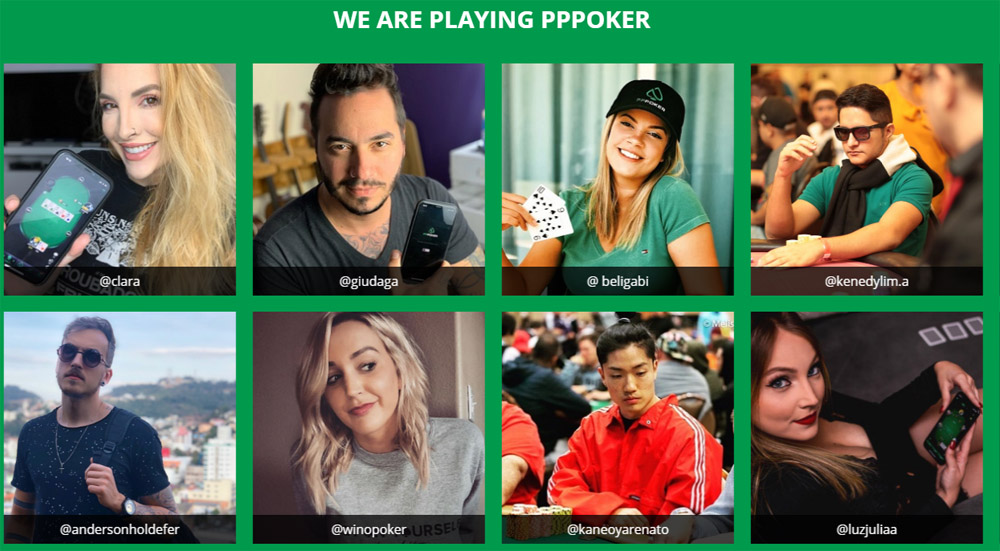 Devices
As already mentioned, PPPoker is primarily a mobile app and it is designed to perform optimally on smartphones and tablets. As far as usability goes, this is a pretty well-made poker app, with some great features including multi-tabling, players' stats, and, as of late, even EV chops. Note that connection to the software can be a bit unstable at times and you might experience brief disconnects of few seconds every now and again but, on average, this won't affect your experience too much.
There is also a desktop client you can use, which isn't bad, but it's not nearly as elaborate and feature-filled as some other online poker rooms that have been around for a while. This is not a big surprise given PPPoker focuses on the mobile segment of the market and their desktop software is merely an added convenience.
Licensing
Since PPPoker doesn't host real money games and they don't accept any deposits. However, they have ensured their software has been tested and verified by Gaming Laboratories International (GLI), confirming their RNG (random number generator) is truly fair and random. So, you can rest assured you are playing in a safe online environment.
To protect the players, PPPoker also implements some other security measures that aren't necessarily legally required but definitely make you feel safer. They have systems in place to battle bots and collusion, one of them — for instance — stopping players who share the same connection from playing at the same tables.
Frequently Asked Questions
Frequently Asked Questions
Question: Does PPPoker accept US players?
Answer: PPPoker is a free-to-play poker app, so US players are more than welcome to download the software and play here. You don't need to make any real money deposits to get started and, in fact, there is no option to deposit real money at all. Thus, there are no restrictions preventing American players from playing here.
Question: Can I play PPPoker on my phone?
Answer: This is primarily a phone app so you'll get your best experience playing on your phone. While a desktop client exists, it isn't nearly as elaborate or developed as the app. There are apps for all sorts of different devices with various operating systems (Android, iOS, Windows phone), so you can easily grab the version you need and install it on your phone.
Question: Can I play for real money using the app?
Answer: PPPoker doesn't support or facilitate real money play in any way. Players have the freedom to set up their own clubs and run them as they see fit., having complete control over club members' balances within that club. However, there is no way to move any real money through the app or PPPoker website.
Question: Does the app support multiple tables?
Answer: You can play multiple tables using PPPoker app and you can combine tournaments and ring games. The multi-tabling interface is quite solid, so you'll have no problems switching between a few tables without timing out. Of course, like any poker app, there is a limit as to how many tables you can play at once, but firing up and managing two or three should be very easy.
Question: What is the PPWC?
Answer: The PPWC is the company's own series of live events, i.e., PPPoker World Championship. The first event took place in 2019 in the Philippines, with the 2020 event set to take place in Brazil. Featuring fairly low buy-ins and decent guarantees, the PPWC is a great way for players to taste the live poker atmosphere without risking a huge chunk of your bankroll.