Paddy Power Poker Room Review
Poker Room Reviews > Paddy Power Poker Room Review
Pros
Licensed in Malta, UK, and Alderney
Multi-tabling support on dedicated desktop/mobile clients
Welcome bonus package for new players
Part of Playtech's iPoker network
Cons
Does not accept US players
Limited multi-tabling support on browsers
Table of Contents
History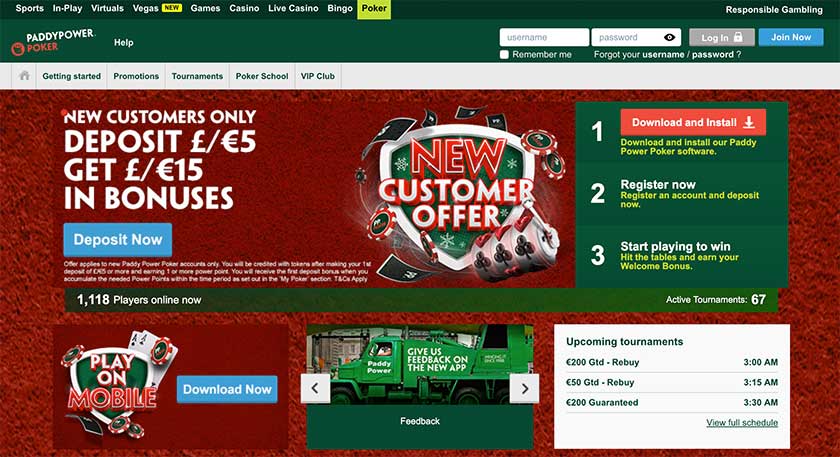 Established back in 1988, Paddy Power is one of the oldest and most reputable gambling brands to come out of Ireland. Starting out as a telephone betting service, the brand now has online gambling operations to go along with its brick and mortar stores. One of the first Irish brands to capitalize on the Internet in the early 2000s, Paddy Power initially started with just its sportsbook and online casino offerings. The brand eventually launched other verticals like Live Betting and Lotteries, but things really took off when it also added an online poker room in 2005.
Information pertaining to the software Paddy Power used for its poker room when it started is severely lacking. As of this writing, the brand is one of many that makes use of Playtech's iPoker network. With how the brand is featured prominently on the iPoker website though, it's quite possible that the poker room has used Playtech's technology since it first started operations. In the course of researching the brand, we managed to scour forum posts from as far back as 2009 that seemed to reinforce the poker room's use of iPoker software.
Live Tournaments
For the longest time, Paddy Power has been an integral part of the Irish Poker Open. In fact, the brand has sponsored the live poker tournament series since it started its operations back in 2005. While most iPoker skins are content to offer online tournaments and cash games, this poker room instead gives players the chance to be a part of one of (if not) the most popular live poker tournaments in the region.
Started in 1980 by Terry Rogers, the Irish Poker Open is now considered the longest-running tournament in Europe for No Limit Texas Hold'em poker. After the World Series of Poker, it also holds the distinction of being the second-longest-running poker tournament the world over. Paddy Power's sponsorship didn't just help the event but also the poker room itself. With the brand facing tough competition when it first started, its sponsorship of the tournament series gave it a lot of clout and visibility among both seasoned professionals and players who were just getting introduced to the game at that time.
The poker room held daily satellites for the 2019 edition of the 27-tournament series at the City West Hotel in Dublin in April. Numerous players qualified for seats at the Main Event worth €1,150, with the tournament boasting a whopping €2 million in guaranteed prizes.
Online Tournaments
If what they want are just online tournaments then players will undoubtedly enjoy Paddy Power Poker. Aside from the satellite tournaments for the Irish Poker Open, the poker room also has hundreds of active tournaments that players can participate in. If they're still new and want to test out the level of competition the poker room offers then players would do well to check out tournaments such as €50 Guaranteed, €200 Guaranteed, €50 Gtd – Rebuy, and €300 Gtd Super Turbo Rebuy among others. What makes these tournaments ideal for newer players is that they offer relatively high guaranteed prizes for low buy-ins (anywhere from €.45 to €1.82).
For players who want tournaments that offer higher guaranteed prizes, Paddy Power has €500 Gtd Rebuy, €200 Guaranteed, €1,000 Extra Time, €1,000 Pinball, and the €2,000 Frenzy. Other than the €1,000 Extra Time (€18.2 buy-in), players would only need to fork out anywhere from €4.55 to €9.1 in buy-ins for these tournaments. With guaranteed prizes ranging from €200 to as much as €2,000 (or more), these tournaments are definitely worth joining considering how reasonable their buy-ins are.
Of course, the tournaments listed here are just a small sample of what players can expect from Paddy Power Poker. The poker room also has freeroll tournaments and special online tournament series that players can opt to join. Case in point would be the poker room's Sunday Tournament Line-up. This consists of €8,000 Warm-UP, €5000 Deep Run, €10,000 Phoenix, €25,000 Sunday Premium, €3,000 Phoenix, €5,000 Team Time, €3,000 Starter, €10,000 Special One, €5,000 Brawl, and €5,000 Master tournaments held every Sunday. The tournaments have some of the most rewarding guaranteed prizes (ranging from €3,000 to as much as €25,000) with buy-ins that range from €10 to €100.
Sponsored Poker Pros
What Paddy Power Poker has in common with other brands under the iPoker network is its 'practice' of not sponsoring professional poker players. This is a bit surprising because, as mentioned earlier, the poker room is a sponsor of one of the largest and most storied live poker tournaments in Europe.
What's even more surprising in this regard is that the Paddy Power brand itself doesn't pull any punches with its promotional and marketing efforts. It could be argued that the brand's growth is in part due to its consistently controversial ad campaigns. A great example of one campaign that drew the attention of players, fans, and authorities alike would be the Nicklas Bendtner incident back during the Euro 2012. The then-striker for the Danish national team drew attention and a whopping €1 million fine for showing off Paddy Power branded underwear after scoring a goal against Portugal during the tournament.
Welcome Bonus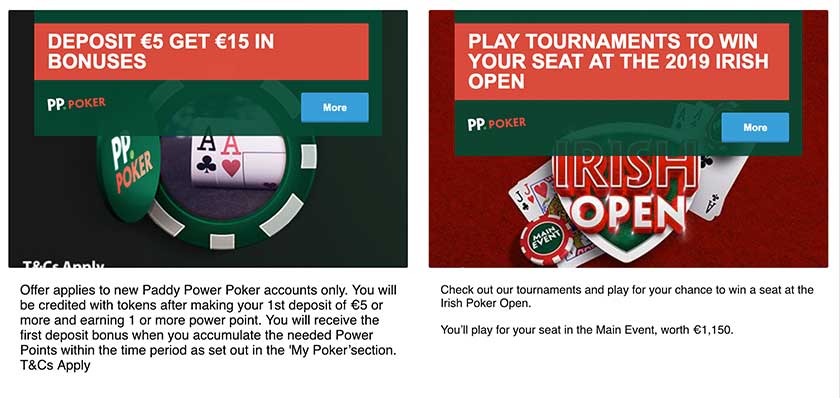 Paddy Power Poker's welcome offer is quite possibly one of the better bonus packages that new players might come across. After registering and downloading the poker room client/app, players will get to enjoy a bonus package that contains 2x €5 Twister Tokens, a ticket to a €5 Mobile Heads Up Tourney, a month of free poker, and a 100% match bonus that can go as high as €200. To get the tickets, tokens, and the month of free poker (new player daily tickets) would only require players to deposit at least €5 to their accounts. On the other hand, the match bonus won't be credited automatically to players. Instead, the poker room will distribute €5 bonus increments. The first and second of these €5 increments will be released after players have accrued 150 and 250 Power Points respectively. After this, subsequent €5 increments will require players to accumulate 350 Power Points.
Devices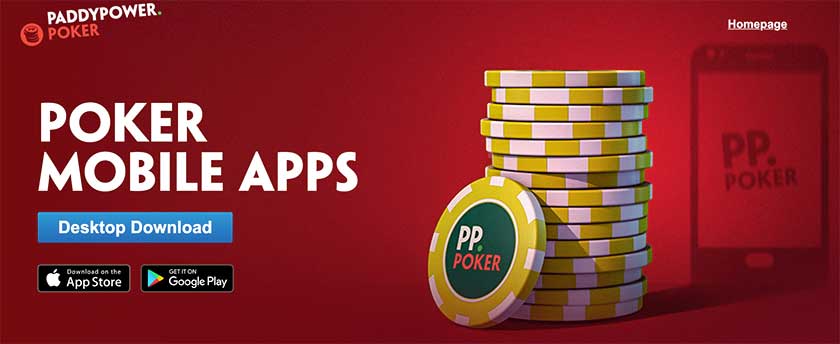 When talking about poker rooms, Paddy Power Poker should always be in the discussion as one of the easiest to access. If they prefer to play on their desktops/laptops, then players would only need to download the poker room's dedicated poker client/app on their Windows-operated devices. It's possible to access the poker room through Instant Play as well, but players shouldn't expect a similar experience like with the dedicated client/app. Players who prefer to game on mobile will be happy to know that the poker room does have dedicated mobile apps for both Android and iOS. Similarly with Windows, it should also be possible to use mobile browsers to access the poker room.
For players who prefer to use their Mac or Linux devices, the poker room's support for these platforms is notably limited. Unlike with Windows, Paddy Power Poker does not have a dedicated poker client for the Mac and Linux platforms. Players can still access the poker room on devices running these operating systems but they'll be limited to Instant/Browser Play. It is possible to use WiNE on Linux or Bootcamp on Mac but these might respectively require further configuration or an additional purchase on the player's part.
Licensing
Paddy Power is a brand that's owned and managed by PPB Counterparty Services Ltd. This Malta-based company is licensed and regulated by both the UK Gambling Commission and the Malta Gaming Authority. As for the brand's Poker room (as well as its Bingo and Casino sections), these are run by Paddy Power Services Limited. This subsidiary company is able to operate thanks to licenses issued by the Alderney Gambling Control Commission and the UK Gambling Commission. Owing to these licenses, the poker room is limited to accepting players from the UK as well as some countries in Europe. Players in the United States will have to look elsewhere for their online poker fix as the poker room does not accept registrations from their country and its territories.
Ownership
The Paddy Power brand started as a merger of Stewart Kenny, David Power, and John Corcoran's bookmaking services back in 1988. Focused initially on taking horseracing bets, the service soon expanded to also include accepting bets on other events and sporting markets. This growth wasn't just limited to the type of bets the service was accepting though. The bookmaker found itself opening up additional shops in other parts of Ireland. By 2000, the company saw another opportunity to expand with the launch of its website. Initially offering betting services, the site soon grew to include its online casino. As online poker started to take the world by storm, the brand didn't hesitate to put up its own poker room in 2005.
Outside of its online operations, Paddy Power also expanded with acquisitions of other companies. One of the most costly of these acquisitions was the takeover of Australian bookmaker Sportsbet in 2009. The move cost the company $200 million and gave Sportsbet the capital to acquire its rival International All Sports Limited for €27.2 million.
By 2011, Paddy Power made history with its mobile betting app launch. The year also saw the completion of the company's Sportsbet takeover when it bought out the Australian bookmaker's remaining 39.2% share. At this point, the company had already spent a cool $338 million in its efforts to acquire Sportsbet.
In 2016, Paddy Power surprised the industry when it merged with Betfair. The resulting merger still had the company in charge though as it still owned more than half of the venture (52%). Now called Paddy Power Betfair, the company again made a move in 2017 but this time, on the American market. The company purchased US-based fantasy gaming company DRAFT which at that time, was running the widely popular Fan Duel.
In March 2019, the company rebranded itself as Flutter Entertainment PLC, and in October of the same year it announced a takeover of the Stars Group, thus adding the venerable PokerStars brand to its holdings.
Frequently Asked Questions
Question: Does Paddy Power take US players?
Answer: Paddy Power Poker does not accept players from the United States of America and its territories. This is due to the fact that the poker room (and the brand itself) only has licenses issued and regulated by the UK Gambling Commission, Malta Gaming Authority, and the Alderney Gambling Control Commission.
Question: Does the software allow for playing at multiple tables at once?
Answer: Players who wish to multi-table will be pleased to know that Paddy Power Poker's dedicated poker client supports this important feature. Provided they're accessing the poker room through the dedicated poker client, players will have the freedom to buy-in to and play on as many as 16 tables simultaneously. If they're on their browsers, however, then players shouldn't expect this feature to work. The dedicated mobile apps also feature support for multi-tabling. However, the implementation of this feature is unlike that with the dedicated Windows client. Instead of 16, the mobile app supports fewer tables.
Question: Is there a VIP & Loyalty rewards program for frequent players?
Answer: Paddy Power Poker has a VIP Club that rewards players for their continued buy-ins to the poker room's cash games and online tournaments. To be a part of this program, players just need to make an initial deposit of funds to their accounts. In total, the program has six levels with players starting out at Power One and then progressing to Power Two, Power Three, Power Four, Power Five, until they reach the Power Max VIP level. In order to progress, players will need to accumulate Power Points. For every €1 generated in rake or tournament fees, the poker room will give players 20 Power Points. Players will then get to enjoy various perks and benefits tied to their progression. As of this writing these include weekly rakeback (ranging from 6.6% to as much as 22%) as well as access to freeroll tournaments that feature guaranteed prize pools worth anywhere from €500 up to as much as €1,000. Players can also exchange the Power Points they acquire for cash. Depending on their VIP level, the exchange rate can range from 90-300 Power Points for €1.
Question: What are the wagering requirements of the signup bonus?
Answer: The €5 Twister Tokens and the €5 Mobile Heads Up Tourney ticket don't have wagering requirements. However, players will need to use them within seven days of receiving them. The 100% match bonus that can go up to €200 will need to be played through. Unlike online casino bonuses, this bonus is not credited to players' accounts automatically. Instead, the poker room releases this in increments of €5. For the first and second €5 increments to be released, players will need to accumulate 150 and 250 Power Points, respectively. After the poker room releases these, subsequent €5 increments will require 350 Power Points before they are credited to a player's account.
Question: Can I wager my welcome bonus on casino games or on the sportsbook?
Answer: Unfortunately, players won't be able to use their poker room match bonus on Paddy Power's online casino or sportsbook sections (and vice versa). With that said, the poker room also features video slots and as a result it has bonuses/promotions centered around these games. Once such promotion is Slot Bonanza. This weekly promotion will have players accomplishing missions (wager a minimum of €25 on the slot games featured in the poker client) that will then earn them 1 free spin on the Reward Wheel for a chance to win prizes such as €500 cash, 5-20 free spins, €1 cash, and €10 cash.