Ladbrokes Poker Room Review
Poker Room Reviews > Ladbrokes Poker Room Review
Pros
Licensed in the UK and Gibraltar
Migrated from Playtech's iPoker Network to partypoker software in Q1 2020
Supports multi-tabling (up to 16 tables simultaneously)
Generous welcome bonus
Rewarding VIP Scheme
Cons
Does not support US players
Does not have a dedicated mobile app
Limited multi-tabling support on mobile
Table of Contents
History
Ladbrokes Poker has arguably been one of the most notable poker rooms in Europe for the last few years. Much like its current competitors, the Ladbrokes brand started out as a betting and gambling company based out of London. What sets the brand apart from most of its competitors though, is the fact that it's one of the few that's been around since the late 1800s (as a land-based betting operator). From its humble beginnings in London, the brand eventually found popularity in the 1900s with its peak being during the late 1990s. It was during this time that the brand expanded with the acquisitions of its rivals as well as its foray into the online gaming space.
Back in 2001, the Ladbrokes website began offering bets for football, racing, and other sporting events along with an online casino. The following year, it became one of the first brands to debut a poker room. That means it's the rare online poker room that preceded the poker boom, starting operation before Chris Moneymaker won the WSOP 2003 Main Event in Las Vegas.
Live Tournaments
Owing to the decline that poker has experienced since the boom years, Ladbrokes has stopped sponsoring and/or affiliating itself with live tournaments. It should be noted though that this wasn't the case before 2009. In fact, the brand created one of the most successful poker tournament series outside of the World Series of Poker: the Poker Million tournament. Established in 2000, this tournament was watched by over 30 million viewers and was arguably one of the largest of its kind in Europe. What made this exceptional was the fact that it made use of the shootout instead of the standard poker tournament format (still Texas Hold'em).
Online Tournaments
Though Ladbrokes has ceased promoting and/or sponsoring live tournaments, its online poker tournaments are still going strong. Players can check out Micro Booster tournaments that have a really low buy-in of €.17 and are available on a daily basis. For players who can afford larger buy-ins, tournaments such as the €2,000 Frenzy, €2,000 Phoenix, and €2,000 Mega Deep that (as their name implies) have €2,000 in guaranteed prizes for a €9.10 buy-in. In addition to this, players can check out tournaments that offer €200, €300, and €500 guaranteed prizes in addition to Deepstack Turbo (€400 and €800), €1,250 Pinball, and €1,000 Starter tournaments.
Players who want to light up their competitive fire would do well to join the daily tournaments that feature €45.50 buy-ins. Examples of these include the €8,000 Championship, €2,000 Warm-Up, €1,000 Breakfast, and the €2,000 Night Club. Other than these, there's also the €25,000 Sunday Premium that, as its name implies, has guaranteed prizes that go up to a whopping €25000.
Aside from the regular tournament schedule mentioned earlier, Ladbrokes also has special tournaments that feature different formats and targeted at different types of players. There are freeroll tournaments for New Depositors that have €2,000 in guaranteed prizes. This tournament is held every Monday evening at 17:30 (UK time) and doesn't require a buy-in. To join, players only need to deposit funds to their accounts and they'll then receive four free tickets that they can use. For players who deposit weekly, there's a Weekly Depositors Freeroll tournament that they can join. Held at the same time as the New Depositors Freeroll, this tournament has guaranteed prizes worth €1,250. There are also Twister Poker tournaments such as Wild Twister, Twister Poker, and Age of Gods Twister that feature relatively fast gameplay and low buy-ins for players who are pressed for time and money.
Sponsored Poker Pros
As mentioned earlier, Ladbrokes has put an end to its promotion and/or sponsorship of live tournaments. Thanks to this, the brand has largely stayed away from sponsoring players to represent it in poker tourneys/events. What's interesting to note though is that the brand seems to have very few records (at least on the internet) of players that it sponsored when it was still actively promoting the Poker Million tournament series. The only notable names associated with the brand that we were able to research are Abi Titmuss, Steve Davis, Andreas Hoivold, Liam Pace, Spiver, Azad Pirooti, Daniel Matus, Gary Woodruff, Morten Erlandsen, Norman Pace, Steve Mills, Louise Duffy, Pasi Heinanen, and Jon 'Skalie' Kalmar. It should be noted that the brand likely has sponsored more players but unfortunately, information pertaining to them prior to (and even after) 2008 is hard to come by.
Welcome Bonus
Much like a lot of the poker rooms these days, Ladbrokes has a welcome offer in place for its newly registered players. After registration, players can take advantage of a generous 200% match bonus that can go as high as £1,200 on their initial deposit. In addition to this, the online casino will give players 4 freeroll tickets for the New Depositors Freeroll tournaments (which has guaranteed prizes of €2,000), 5 tickets for €2 Twister Tournaments, 5 tickets for €2 General Tournaments, and a ticket for a €5 Cash Table game. It should be noted that the match bonus is not released immediately but in increments of €5 (unlike with online casino bonuses). Players will need to earn 240 Status Points in order for the poker room to then credit the €5 increment to their accounts. The poker room will give players 90 days to completely play through the bonus and 1 to 2 months to use up the tickets.
Devices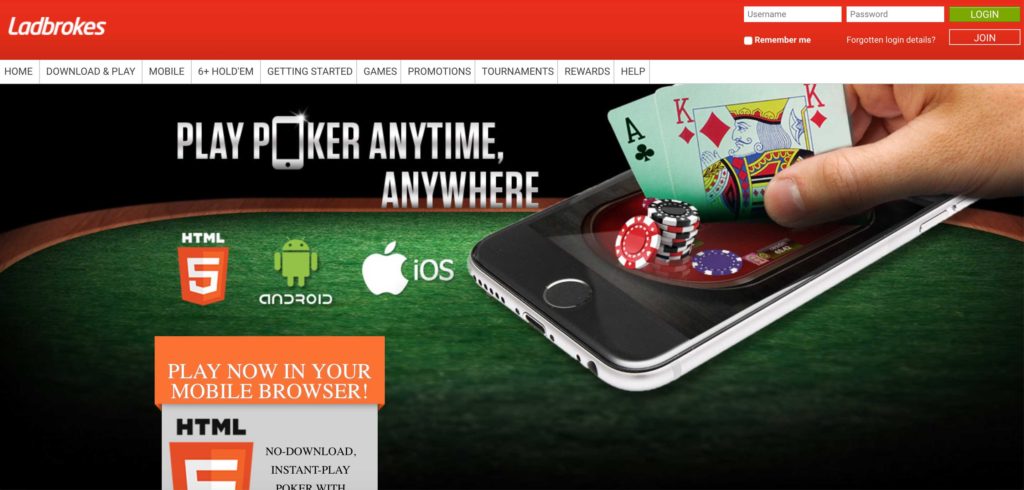 Players should have a relatively easy time accessing Ladbrokes Poker since the poker room makes use of the partypoker bespoke software. On their desktops/laptops, players can access the poker room either through the brand's dedicated poker client or directly through its website. Should they prefer to access the poker room on the go then players would only need to make sure that their mobile devices feature support for HTML5. As of this writing, the poker room has been tested and is working on smartphones/tablets that run on iOS, Android, and Windows.
Licensing
Ladbrokes Poker has licenses to operate issued from a number of jurisdictions. To service players in the UK, the poker room has a license issued and regulated by the British/UK Gambling Commission. As for the poker room's operations in Europe and the rest of the world, it's able to service players from these areas thanks to a license issued and regulated by the Gibraltar Gambling Commissioner.
Ownership
Ladbrokes is a brand owned by Ladbrokes Coral Group plc. This betting and gambling company is based in London and boasts a history of over 130 years of operations. The company was established back in 1886 and was founded by Messrs. Schwind and Pennington. Both men were commission agents for horses that were trained at Warwickshire's Ladbroke Hall. It should be noted though that the company didn't use the Ladbrokes name until 1902. That year had Arthur Bendir joining the company, which had its operations and offices transferred to London.
With the transfer, the company found steady growth – thanks to its affluent clientele – up until the end of World War II. During this time, the company saw a decline due to the austere economic climate that pervaded after the war. With its clientele steadily dwindling, the company shifted its focus to bookmaking and consequently, got acquired by Mark and Cyril Stein for a £100,000 sum.
The company again encountered changes in the 1960s with the government's legalization of betting shops. In the next two decades, Ladbrokes saw a steady growth in business as evidenced by 2,200% increase in the shops that it managed. This was also a great time for expansion with stakes in other gambling businesses (the Dragonara Palace in Malta), acquisitions (hotels, bingo clubs, and casinos), as well as being floated on the London Stock Exchange.
Despite some scandals, rising debts, and various other issues, the company continued to be one of the biggest betting and gambling brands in the world. In fact, it grew to be big enough to purchase its rival, Coral, in 1998. Unfortunately, the British government put a stop to this deal citing it as anti-competitive at that time. This was followed by its gradual divestment of its stake in the Hilton Group, which eventually was sold back to Hilton Hotels Corporation for a cool £1.3 billion back in 2006.
Another significant event that transpired after Coral's failed acquisition was the company's foray into the online casino and sports betting world in 1999. By the 2000s, the Ladbrokes website became one of the top online gambling brands in Europe offering casino games, sports betting, and (as mentioned) a poker room that pre-dated the online poker boom brought about by Chris Moneymaker's WSOP win in 2003. In 2015, Ladbrokes again made a move on the Gala Coral Group, this time with its announcement of a possible merger. This merger finally materialized in 2016 but not until after the company had to sell off a significant number of assets to gain approval from the UK's Competition and Markets Authority.
As of this writing, the majority of Ladbrokes Coral (53.5%) is owned by GVC Holdings after it agreed to buy the company in 2017 (the deal was completed in March 2018).
At the beginning of 2020, Ladbrokes Poker was migrated from the iPoker network onto the partypoker network.
Frequently Asked Questions
Question: Does Ladbrokes take US players?
Answer: Ladbrokes Poker does not accept players from the United States of America.
Question: Does the software allow for playing at multiple tables at once?
Answer: Now on the partypoker network, Ladbrokes' dedicated poker client (for both Mac and Windows) features multi-table support. Players should have no issues joining as many as 12 tables simultaneously. The client will also support table stacking, customizable keyboard shortcuts, custom backgrounds and felts, stack personalization, and single click session options.
Question: Is there a VIP & Loyalty rewards program for frequent players?
Answer: Upon the migration of Ladbrokes to the partypoker network, it will adopt the same VIP club structure and rewards system. More information about this can be found on our partypoker poker room review page.
In the meantime, the current Ladbrokes VIP Club is the poker room's rewards program for its most loyal real money players. This VIP Program has six levels with players starting out at Poker VIP Level 1 and progressing until they reach Poker VIP Level 6. To progress, players will need to accumulate points that are rewarded to them for tournament fees and rakes. As of this writing, the rate is set at $1=10 points, £1=16 points, and €1=14 points. Players can also exchange the points they've acquired for real cash that the poker room can credit to their accounts (provided they're already at Poker VIP Level 2 or higher). Depending on their VIP Level, the exchange rate for points to cash can vary from 90 points for €1 (VIP Level 2) to as low as 42 points per €1 (VIP Level 6).
Question: What are the wagering requirements of the signup bonus?
Answer: This is another detail that has changes since the migration of Labrokes to the partypoker network. Now, players just need to fulfill minimum rake generation requirements in order to earn loyalty points and then claim bonuses, which will be released in increments of 10.
Meanwhile, Ladbrokes Poker players are given 90 days to fulfill the wagering requirements of their welcome bonus (specifically the 200% match bonus they receive on their initial deposit). To accomplish this, players will need to accumulate Poker Points. Once they've managed to come up with 240 Poker Points, the poker room will then automatically release €5 to their accounts.
Question: Can I wager my welcome bonus on casino games or on the sportsbook?
Answer: Unfortunately, players can't use their Ladbrokes Poker welcome bonus on the website's online casino and/or sportsbook section. In much the same way, casino and sportsbook players won't be able to use their welcome bonuses from the either of the two sections of the site on the poker room.