BoyleSports Poker Room Review
Poker Room Reviews > BoyleSports Poker Room Review
Pros
Licensed in the UK and Gibraltar
Supports multi-tabling (Up to 16 tables simultaneously)
Dedicated desktop client and mobile apps (iOS and Android)
Welcome bonuses with reasonable wagering requirements
Cons
No dedicated poker client for Linux and Mac
Does not take US players
Table of Contents
History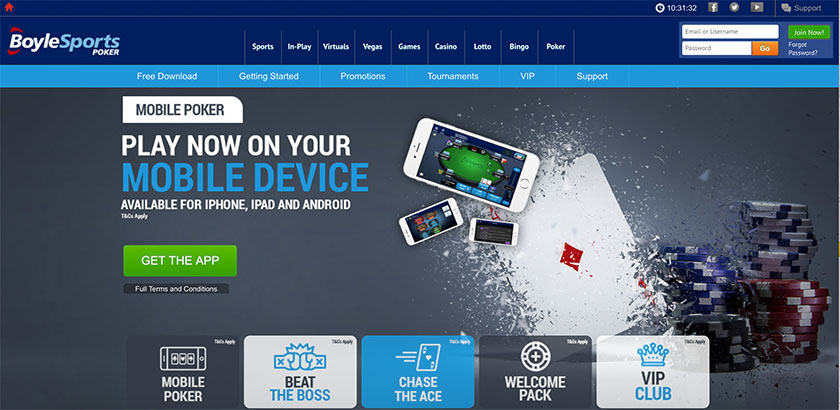 Though the brand is not known for it, BoyleSports does have a poker room that's worth checking out. Considered one of the largest independent bookmaker in Ireland, the brand started out exclusively as a sportsbook when it first went online back in 2001. Like most gambling sites in the early 2000s, BoyleSports eventually found itself opening its own poker room during the online poker boom brought about by Chris Moneymaker's 2003 WSOP Main Event win.
At the time when Boyle Poker debuted in 2004, the poker room was still part of the Prima Poker Network (or what is now called the Microgaming Poker Network). While the poker room initially had success with the Prima Poker Network, it eventually ditched it to be part of Playtech's iPoker Network. As for when and how this happened, our research (mainly through web.archive.org's Wayback Machine) suggests that this might have been caused by the Expekt poker room's decision to leave Prima Poker in 2005. The Expekt poker room was the largest under the network at that time and its loss likely led to BoyleSports' leaving as well. By 2007, the (Boyle Poker) poker room had dropped the 'Prima Poker Networked' branding on the site footer. That year would likely have been when the poker room switched to iPoker.
Live Tournaments
Similar to a lot of the Playtech iPoker Network brands, Boyle Poker does not currently promote or sponsor any live tournaments. With that said, this wasn't necessarily the case in the past. The poker room used to offer satellite tournaments for a variety of live tournament series in Europe. For a long time, the poker room was partnered with Irish Open and also put up tournaments such as the One Day Classic and Winter Series. Other than these, the poker room also ran satellites (and the main event) for the BoyleSports Poker Spring Series, BoyleSports Poker Connacht Poker Open, as well as the Fitz EOM (End of Month) Freezeout Tournament. As to why the poker room stopped promoting/sponsoring live tournaments, this could either be due to the diminished popularity of poker in the last couple of years or a concerted effort to focus its operations on online poker tournaments instead.
Online Tournaments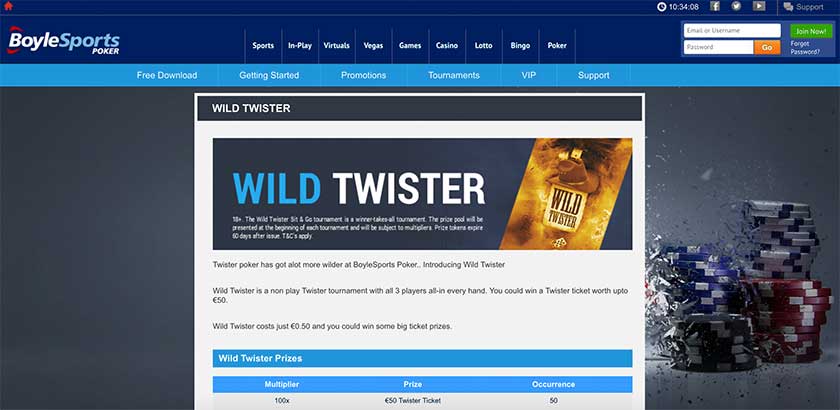 Despite not being as active with sponsorships of live tournaments, BoyleSports still sees a future in poker. In fact, the brand has doubled down on providing its players with a myriad of online tournaments on a daily basis. Players who enjoy fast games with reasonable guaranteed jackpots will undoubtedly have a great time competing in the poker room's Age of Gods Twister tournaments. By joining, players they'll get the chance to play the Age of Gods Jackpot games that are triggered randomly once the Twister tournament starts. The Jackpot games (different from the Twister poker games) are relatively easy and will require players to match 3 jackpot symbols to win. As for buy-ins, there are games that require either €1 or €5.
Other than the Age of Gods Twister tournaments, players can also opt to hone their skills by joining BoyleSports Poker's €200,000 Bounty Hunter tournament series. All that's needed for players to join is a deposit of at least €20. This will give players a spin on the Bounty Hunter Wheel. After this, players will then need to play two €5 (buy-in) Bounty Hunter satellite tournaments for the chance to spin the Bounty Hunter prize wheel. Among the prizes that players could win are Bounty Hunter tickets that range from €.50 to €100 as well as a €.10 Bounty Hunter Satellite Ticket and a €500 Bounty Hunter Freeroll Ticket. Bounty Hunter tournaments are relatively new, having started in February 2018, and are usually held thrice on the 11th of every month. The series is expected to end with its last three tournaments in the series on November 11, 2018.
If they're really feeling competitive, players can try out BoyleSports Poker's Progressive Knockout Jackpot tournaments. Buy-ins for games are €22 and the mechanics of the tournament make the price of entry worth it. Once they've joined a game, players will get a €10 bounty. When they eliminate other competitors, players will get €5 of the eliminated player's bounty added to their own and the rest of €5 to their balance. If a player with the €15 bounty gets eliminated, the player who eliminates him/her will then get €7.50 of the bounty added to their balance while the other half is added to their own bounty.
For players who want a more relaxed and casual experience, the poker room has its Daily Line Up of tournaments and games. Joining these would also be ideal for players who want to increase their bankrolls as most of the games have low buy-ins and/or the skill level of the competition isn't expected to be that high. As for formats, the poker room currently offers tables for Six Plus Hold'em, Texas Hold'em, No-Limit Hold'em, and Omaha.
Sponsored Poker Pros
As mentioned earlier, Boyle Poker has recently stopped promoting/sponsoring live poker tournaments. Due to this, poker room has also dropped sponsorship of its poker pro team. Prominent poker professionals in Ireland such as Nicky Power, Marty Smyth, and John O'Shea used to be a part of the team the brand regularly sent to international tournaments. To get more players on their team, the poker room also held tournaments that rewarded winners with a sponsorship. Kevin Douglas, Richard Barnes, Danny Guiney, and Richard Campbell (who went on to get a sponsorship back in 2010) are just some of the players who qualified for these tournaments in the past.
Welcome Bonus
Newly registered players who deposit at least €10 will get to enjoy Boyle Poker's reasonable welcome bonus package. After their initial deposit, the poker room will give players a 100% match bonus that can go up to €200, as well as Welcome Pack Missions. These missions are essentially just goals that players need to accomplish to get a €1 Age of Gods Twister Ticket, 20 Casino Free Spins, €10 Casino Bonus, two €1 Twister Tickets, two €2 Twister Tickets, and a €10 Twister Ticket.
Devices
Accessing BoyleSports Poker should be relatively easy and secure. Players will only need to download the dedicated software client on their desktops/laptops and then they'll have access to the poker room's tournaments and games. It should be noted though that the dedicated poker client will only work on Windows computers. If they're on Mac or Linux then players will need to dual boot, use parallels (on Mac), and/or Wine (on Linux). Other than the desktop client, there are also mobile apps for players who want to enjoy the poker room's offerings on the go. Players can download the BoyleSports Poker app on their iOS and/or Android mobile devices.
Licensing
BoyleSports Poker is targeted mainly at players in the United Kingdom as well as a number of other countries in Europe. For it to operate, BoyleSports (Gibraltar) Limited, the company managing the poker room (as well as other sections of the BoyleSports site), has managed to get licenses issued and regulated by the UK Gambling Commission and the Gibraltar Gambling Commissioner.
Ownership
Though the BoyleSports website may have debuted in 2001, the brand itself has been around for quite a lot longer. This sports betting brand first saw the light of day when John Boyle opened his first shop in Markethill, County Armagh, Northern Ireland. BoyleSports' growth wasn't an overnight phenomenon. In 2004, the company still had only 77 shops. At this point though, it had already expanded on its online operations with the addition of its poker room. After another two years, in 2006, the brand managed to boost the number of its physical stores up to 100.
By 2011, the Boylesports brand was sufficiently big enough to take over other bookmakers. The brand's acquisition of Celtic Bookmakers resulted in 17 shops and 100 employees added to the company's roster. In that same year, the brand also took over 15 William Hill shops, adding another 65 employees to its payroll.
After 35 years as the brand's CEO, John Boyle relinquished his position to Conor Gray and proceeded to assume the role of Executive Chairman in 2017. The following year then saw the brand celebrating the opening of its 250th shop and the announcement of further expansions for both its online and retail businesses.
Frequently Asked Questions
Question: Does BoyleSports Poker take US players?
Answer: Unfortunately, BoyleSports Poker does not accept players from the United States of America (or any of its territories). This is due to the fact that the poker room only has licenses for the United Kingdom and other European countries.
Question: Does the software allow for playing at multiple tables at once?
Answer: Since BoyleSports Poker is a Playtech iPoker skin, players can expect the poker room to support multi-tabling. Like many of the brands that use iPoker software, the maximum number of tables that players can buy their way into (on the desktop client) is 16.
Question: Is there a VIP & Loyalty rewards program for frequent players?
Answer: Similar to a lot of poker room brands, BoyleSports Poker has its own VIP Club to reward its most loyal players. By registering and depositing funds to their accounts, players will automatically become a part of the program as Bronze VIPs. To progress through the Silver, Gold, and Platinum tiers, the program requires players to acquire a certain number of points. For every €1 in rake/fees paid, players will get 30 points. The program automatically credits these points to players' accounts and they'll then progress once they've accumulated the needed number for their tier (e.g., 600 points to go from Bronze VIP to Silver VIP). To reward players for progressing, the program will then give them rakeback depending on their tier. For Bronze VIPs, the rakeback is set at 10% while VIPs in the Silver, Gold, and Platinum tiers get 15%, 20%, and 30%, respectively.
Question: What are the wagering requirements of the signup bonus?
Answer: Unlike online casinos, welcome bonuses in poker rooms need to be earned rather than given outright to players just for depositing. This holds true for BoyleSports Poker as well. The poker room releases its players' welcome bonuses in €1 increments. Before the increments are released though, players will first need to accumulate 100 iPoints. To earn these points, players will need to make sure they enter real money tournaments. Once players manage to collect 100 iPoints, the poker room will then automatically release the €1 bonus increment straight to their accounts.
For the 20 Casino Free Spins and the €10 Casino Bonus, the poker room will require players to wager 5x the bonus amount before a withdrawal is processed.
Question: Can I wager my welcome bonus on casino games or on the sportsbook?
Answer: BoyleSports poker room will not allow players to use the welcome bonuses they receive in the poker room on the Casino and Sportsbook sections of the site. Conversely, players' welcome bonuses from the casino and sportsbook sections of the site will also be unusable in the poker room. With that said, the poker room does have its own casino games section and it also gives players bonuses that they can then use on the available titles. It should be noted though that while the poker room does offer casino games, the number of titles available for players are limited (compared to that of the Casino section's).