Poker Room Reviews > Bet365 Poker Room Review
Pros
Multi-tabling support (up to 32 tables on desktop app, simultaneously)
Licensed in UK and Gibraltar
Brand with long and storied history
Apps for Windows, Mac, iOS, and Android
Cons
Limited multi-tabling support on mobile (only 4 tables at once) and Instant Play/browser (1)
No sponsorships/affiliations with live tournaments
Table of Contents
History of Bet365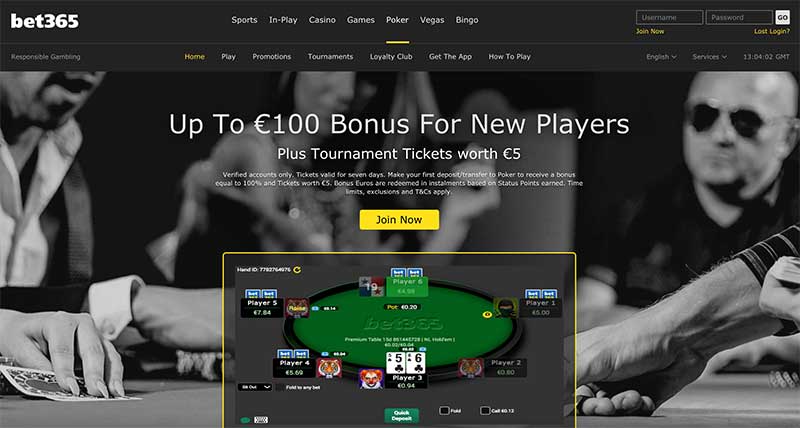 Bet365 has grown to become quite a popular poker room over the past decade or so. Established in 2000 and launched online in 2001, the brand started out as a sports betting platform based in Stoke-on-Trent, England. As online casinos and poker rooms grew in popularity, the site soon expanded its operations to cover these. Targeted at casual players, the site's poker room has emerged as one of the most popular in Europe despite not having any live affiliations or sponsorship of a live tournament series. The Bet365 poker room initially debuted around 2003-2004 and has largely stayed the same until today.
Bet365 Poker Live Tournaments
As mentioned, Bet365 Poker mainly caters to the casual crowd. As a result, the brand has largely stayed away from promoting or sponsoring live tournaments.
Bet365 Poker Online Tournaments
While Bet365 Poker might not have sponsored or promoted live tournaments, the poker room makes up for this with numerous online tournaments. Players who want fast yet rewarding action can opt to join the poker room's Twister Sit & Go tournaments. Buy-ins for these tournaments can be as low as €1 and players who join will have the chance to get their hands on prize pools that can go up to €100,000 (or 1,000x the buy-in amount). If they're more concerned about the speed of the games than the prize pools, players can opt for Wild Twister Sit & Gos. With buy-ins that can go as low as €.50, these tournaments are relatively easier to get into and are usually faster to finish. The cool thing about these tournaments is that players will get a chance to win Twister Sit & Go Tournament tickets that could be worth as much as 100 times the amount of their buy-ins. Other than these, the poker room also has an Age of the Gods – Twister Sit & Go. Like the regular Twister Sit & Go, the minimum buy-in for these tournaments can be as low as €1. By joining the tournament, players are then going to have the chance to enter a jackpot game with four different-sized jackpots.
For players who enjoy poker on the go, Bet365 has Premium Steps tournaments that they can opt to join using their mobile devices. Like Wild Twister Sit & Gos, it's relatively easy to join these tournaments thanks to buy-ins that can be as low as €.50. When they buy-in to these tournaments, players start out at Step 1 and will need to win to advance up until the ninth step. As they progress through the steps, the tournament will require players increased buy-ins (for the relevant Step that they're currently on). At the ninth Step, buy-ins are set at €350. Players who then go on to win at this level will be rewarded with a generous €800.
Bet365 Sponsored Poker Pros
Bet365 has foregone sponsorship of poker professionals. Considering this and the fact that the poker room is mainly targeting casual players, this is a rather understandable decision. It really won't make any sense to sponsor a poker professional when the poker room isn't even promoting or marketing itself thanks to not sponsoring/affiliating itself with live tournaments. They save their marketing spend for promotions that directly benefit the players online.
Bet365 Poker Welcome Bonus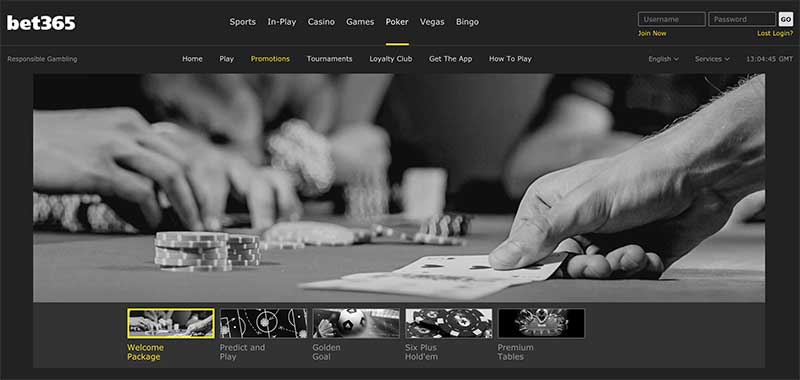 By registering for a Bet365 Poker account, players will get to enjoy a generous welcome bonus offer. Players who verify their accounts will be eligible for a 100% match bonus that can rise up to €100. In addition to this, the poker room will give players a Tournament Ticket package amounting to €5 as well as 10 free spins on slot games. Similar to a lot of poker rooms, the match bonus in this welcome package is not given automatically but rather in increments. To redeem the bonus, players will need to accumulate Status Points first. Players will need to accumulate 10 Status Points to get €1 in each of the first five increments. After this, the rest of the succeeding increments will require players to accumulate 150 Status Points each to get €2.50. As for how Status Points are accumulated, players automatically get 10 each time they pay €1 in tournament fees/and or rake. The poker room gives players 60 days from the time of activation (deposit) to claim the whole bonus amount. If they're unable to do this, any unclaimed bonus amount will be forfeited.
Be sure to read the terms and conditions before signing up and claiming any bonus.
Bet365 on your Devices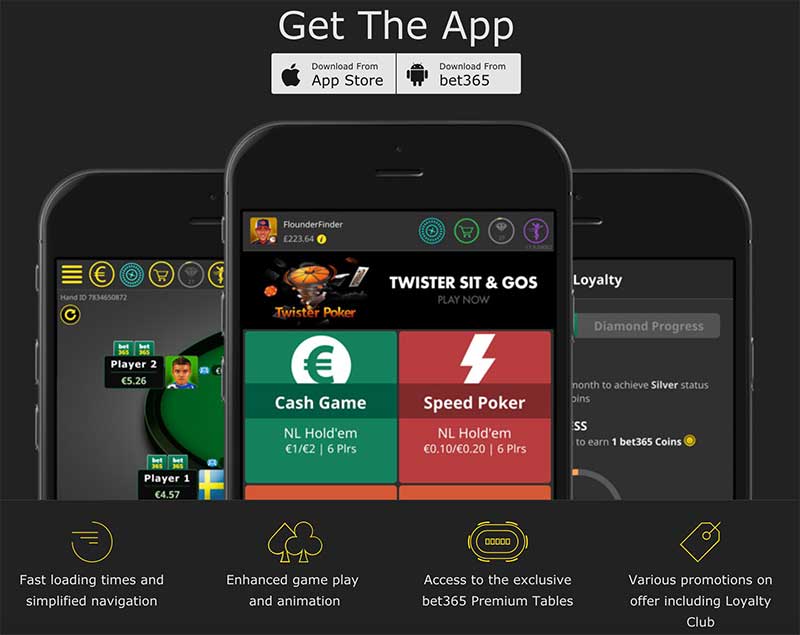 Players can use a number of devices to access Bet365 Poker. The poker room has dedicated apps that players can download on their desktops/laptops running Mac or Windows. Owing to its very low tech requirements, the app should have no problem running on computers that feature older hardware. In case players are not too keen on downloading the dedicated apps on their computers, players can opt to just access the poker room through their browsers. For players who prefer to use their mobile devices, the poker room also has official apps on both Google Play and the App Store.
Bet365 Poker Licensing
Since it is mainly targeted at UK residents, Bet365 has a license issued and regulated by the UK Gambling Commission. Players outside of the UK need not worry though since it's still possible for them to register with the online casino thanks to a license issued and regulated by the Gibraltar Gambling Commissioner. With that said, players will need to make sure that they're in Europe and/or the country that they're presently residing in allows them to participate in online gambling activities.
Bet365 Ownership
While it's now considered one of the top online gambling companies in the UK and Europe, Bet365 had much more humble beginnings. The company's roots harken back to 1974 when Peter Coates invested in a chain of betting shops around England. Coates wasn't exactly new to the industry either. Branded as Provincial Racing, these betting shops exhibited continued growth in increased profits up until the late 1990s. During this time, Coates' daughter, Denise Coates, headed efforts to expand the company's reach to include the burgeoning internet gambling scene at that time. By 2001, Denise Coates had already founded Bet365 in a portakabin in Stoke-on-Tent, UK. It started out as a sports betting platform and then grew to also have an online casino, bingo, and a poker room (through a skin of the Microgaming Poker Network and added in 2004). Thanks to some savvy decision making, the site soon managed to corner a sizable chunk of the UK market.
As of now, the Coates family still owns Bet365 and it's now registered in Gibraltar. The company boasts of having 23 million players globally. Servicing these customers is a team of 3,500 people. This number has made the company the largest Stoke-on-Trent private employer. In 2015, the company posted a revenue that amounted to a whopping £1.5 billion.
Bet365 Poker Frequently Asked Questions
Question: Does Bet365 take US players?
Answer: Unfortunately, Bet365 still does not take players who are residing the United States of America or its territories.
Question: Does the software allow for playing at multiple tables at once?
Answer: Players who want action on multiple tables at once are in luck since Bet365's poker client offers support for this feature. Using the desktop applications, players can buy-in and play on up to a whopping 32 tables. When it comes to Instant Play though, players will have to make do with opening one table since that's all that the platform can support. Other than the desktop apps, the poker room's mobile apps (both Android and iOS) also feature support for multi-tabling. The caveat though is that players are limited to joining only 4 tables at the same time. Of course this is understandable considering the size of mobile device's screens as well as their hardware limitations.
Question: Is there a VIP & Loyalty rewards program for frequent players?
Answer: Bet365's VIP and Loyalty Program is arguably one of the best in the industry. Players are automatically entered into this program the moment they register with the poker room. Starting out at the Bronze level, players then progress through Silver, Gold, Platinum, and Diamond levels. In order for players to progress through the higher levels, they'll need to earn Status Points. The program gives 10 of these out every time players contribute €1 in rake or tournament fees.
Status Points also count towards the completion of Loyalty Steps. Essentially, these serve as milestones within a Loyalty Level that rewards players with Bet365 Coins when they manage to complete them. There are a fixed number of these Loyalty Steps within each level and players are required to accomplish all of them before they're able to progress to the next level. To earn additional Bet365 Coins, players can also opt to take on Loyalty Missions. Players can then have the Bet365 Coins they earn redeemed at the Loyalty Store for rewards such as Cash Tickets, Twister Tickets, Sit & Go Tickets, Scheduled Tournament Tickets, as well as bonus Euros and real cash (among others).
Other than getting more Bet365 Coins, players are also going to have access to special tournaments when they progress through the Loyalty Steps. Depending on their levels, players will have access to the program's Loyalty Tournaments. As of this writing, there are 3 available with guaranteed prizes ranging from €100 to as much as €5,000.
Question: What are the wagering requirements of the signup bonus?
Answer: The bonus Bet365 players receive is given in increments instead of automatically/in one go like with the majority of online poker rooms. To get the bonus, players will first need to accumulate Status Points. Every time they contribute to a €1 rake or pay the same amount in tournament fees, players will get 10 Status Points. For the first 5 increments, the program will release the bonus at a rate of €1 every 10 Status Points accumulated by the players. After this though, the remaining increments will require players to accumulate 150 Status Points before they're given €2.50.
Other than the reload bonus, the welcome offer also includes a €5 Tournament Ticket Package and 10 Free Spins. The €5 Tournament Ticket Package consists of a number of tournament tickets that players can use for buy-ins to the Premium Steps and other tournaments. The first of the tournament tickets is a €.50 buy-in that players can use for Step 1 of the Premium Steps tournament while the second is worth €2.50 and is usable on Step 3. Additionally, there is a €1 tournament ticket for Twister Sit & Gos as well as 5 tournament tickets that players can use for entry to the Bronze Loyalty Club tournaments that have €100 in cash guaranteed.
Question: Can I wager my welcome bonus on casino games or on the sportsbook?
Answer: As with a lot of poker rooms today, Bet365 players won't be able to wager the main bonus they get from the poker room's welcome offer on either the sportsbook and/or the online casino. With that said, the very same welcome offer also does have a free spins bonus. Unlike the other bonuses in the welcome offer, these free spins bonus can be used on a casino game. The caveat though is that the number of casino games that player can use this on are limited to those found on the poker room's software.
In the same manner that players can't use their welcome bonus on other sections, bonuses from Bet365's online casino and bingo sections also can't be used for the poker room.