Today was my first for quite a few things. Of these things, my personal favorite was finally meeting Cardplayer Lifestyle founder Robbie Strazynski in person after years of virtual communication (Ed. note: Ivan wrote his first article for this site back in May 2015!). He's the man responsible for putting together Mixed Game Festival III here at Portomaso Casino in Malta, bringing the joy of different poker variations to the masses in Europe for the first time.
This is also my first visit to Malta, a place that has been on my radar for many years but which I've never gotten around to visiting until now. Robbie gave me the push I needed to make the travel arrangements and finally take the plunge.
But, most importantly, it was my first time playing mixed games in a live format. I joined dozens other mixed game fans and enthusiasts in the HORSE event that ended up attracting a total of 59 entries (a few of which were re-entries). Robbie's expectations were certainly exceeded, and as for me, I had no idea what exactly to expect. But, with the tournament buy-in being just an affordable €230, I decided to give it a go and experience it first-hand. That's me in seat four, below.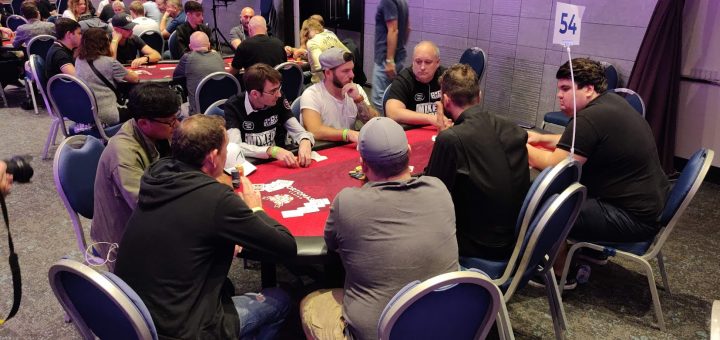 I'd be lying if I didn't say that I felt I was lighting my money on fire. Having played poker for long enough (mostly Hold'em and PLO, though), I knew I stood very little chance against people who were clearly no slouches. I busted about one hour after taking my seat, but unlike most tournaments, I didn't feel bad about it for a change.
The atmosphere at mine and the surrounding tables was very jovial. For most guys (and two ladies who graced us with their presence), it was all about enjoying the game and having fun. Of course, everyone wanted to win, but there was virtually zero tension in the room – and I loved it!
Even the first player to bust (and subsequently re-enter) had a smile on his face…
First to bust in our #MixedGameFestival €230 HORSE tournament… wins @DylanLinde's Mastering Mixed Games.

Congratudolences, Simon 😃

Thanks @DBPoker1! pic.twitter.com/wOU1a6m1Sn

— Cardplayer Lifestyle (@PokerLifeMedia) October 25, 2022
A Lot to Fight For!
By the time registration closed, the tournament clock was showing 59 entries – just one short of the nice, round number, but the turnout still exceeded expectations. After all, it took place on a Tuesday evening in Malta, and this was just the third time in the country's history that a HORSE tournament was being contested, and the first at this price point!
It all resulted in a very respectable prize pool of about €11,300 to be divided among the top seven finishers, with the winner taking home €4,000 as well as a custom trophy. Plus, the "bubble boy" didn't go home emptyhanded either.
Our HORSE tournament 8th place bubble finisher, Johan Vermot, gets his €230 buy-in back courtesy of @badbeatclothin

No bad beats at our #MixedGameFestival 😁 pic.twitter.com/cG2hXGZWJe

— Cardplayer Lifestyle (@PokerLifeMedia) October 25, 2022
I would love to be able to tell you more about some exciting hands and crucial moments of the tournament, but that would force me to pretend to know a lot about mixed games. I admit that I was confused a few times, with multi-way split pots and trying to keep track of how many hands of each game had been played. But that's part of what learning mixed games is all about: broadening your horizons and challenging yourself rather than remaining on autopilot playing "yet another hand" of No Limit Texas Hold'em.
Plus, quite frankly, there was so much positive energy filling the room that I felt an adrenaline rush help carry me throughout my time on the tournament floor.
We've been doing "hat bomb pots" at our #MixedGameFestival 😃

Yes, in the middle of our @PokerLifeMedia HORSE tournament 🤣

Thanks, @PokerCoaching_ 🔥 pic.twitter.com/NYcCcvgk03

— Robbie Strazynski (@cardplayerlife) October 25, 2022
From my perspective, the dealers here at Portomaso Casino did an amazing job with very few errors along the way, and some of the more experienced players did their part in keeping things flowing, too. For a small buy-in event, the level of professionalism was certainly beyond my expectations, and yet, once the dealer was done with their down, everyone made sure to thank them, with an occasional fist bump thrown into the mix. Many of the dealers and floor staff also smiled when they got to keep some of the BadBeat clothing bespoke T-shirts Robbie was distributing throughout the event.
There were some bad beats and unexpected twists and turns, as you'd expect in any poker tournament, but no one took it to heart too much.
This tourney smashed it.

Was a bit steep for my bank and skill roll, but something to aspire to!

The field looked great fun, and all the local faces clearly loved it.

LOW STAKES HORSE FTW!!! https://t.co/oGoU98ckQg

— Kat Arnsby (@ThePokerBaffer) October 25, 2022
The Big Finale
The final table of eight was formed just after 1 AM local time, after about six hours of play (plus a few short breaks). By that time, the average stack was at around six big bets, which may seem short, but mixed games are a different beast.
Our @PokerLifeMedia €230 HORSE final table

🐎🐎🐎🐎🐎🐎🐎🐎#MixedGameFestival pic.twitter.com/XlLRjEaygc

— Robbie Strazynski (@cardplayerlife) October 25, 2022
The first elimination came early on, as the official bubble managed to squeeze his spot into the final eight with an extremely short stack. The remaining seven, however, were in no rush. Hands were played, and chips exchanged hands, but the number of players remained unchanged.
Meanwhile, phase two of Mixed Game Festival III began downstairs in the cash game area…
As we approach the final table of our @PokerLifeMedia HORSE tournament, the dealer's choice cash game shenanigans have begun in earnest!#MixedGameFestival pic.twitter.com/gXHScpV1YI

— Robbie Strazynski (@cardplayerlife) October 25, 2022
Over the next couple of hours, through numerous hands of limit hold'em, Omaha, stud, stud hi/low, and Omaha hi/low, the field eventually whittled down to a heads-up battle between two Frenchmen: Donat Guillaume and Romain Nardin.
Beyond the €4,000 top prize, also at stake was the first place trophy plus a free seat in the €550 Malta Poker Festival Main Event, sponsored by Pokercoaching.com.
Heads up for the @PokerLifeMedia #MixedGameFestival HORSE title at @maltapokerfest

€4,000 for 1st
€2,560 for 2nd

Two Frenchmen: Donat Guillaume vs. Romain Nardin pic.twitter.com/itFVCUGFjW

— Cardplayer Lifestyle (@PokerLifeMedia) October 26, 2022
Eventually the poker gods chose to shine their light on Nardin, though, as he kept grinding down his compatriot, slowly but surely reducing his stack to dust.
Still, Guillaume's runner-up finish netted him €2,560 for his troubles. Upon exiting the room he was overheard telling Robbie "My buddies and I flew here for a holiday but specifically for this tournament. I don't play Hold'em and this is the first time I have ever seen a mixed game tournament for low stakes guys like me on a festival series schedule. It was fantastic!"
For his part, Nardin was a pretty happy camper, too. He told Robbie "I'm from Toulouse, but I moved to Malta a few years ago. I haven't really played much poker outside of the country over the last few years. I never see HORSE or other mixed game tournaments on series schedules, but when I saw this I knew I had to play. Great job! I really enjoyed it and I'm very happy!"
Congratulations to Romain Nardin!

Winner of the @PokerLifeMedia #MixedGameFestival €230 HORSE tournament, the @maltapokerfest trophy 🏆, and a free MPF Main Event seat courtesy of @PokerCoaching_.

The fun continues tomorrow at 2pm with low stakes dealer's choice cash games. 🎉 pic.twitter.com/AHGhqJevsP

— Robbie Strazynski (@cardplayerlife) October 26, 2022
Thus concluded the first day of the Cardplayer Lifestyle Mixed Game Festival. Tomorrow and the day after, cash games are the main course, and Robbie will be splashing around and spreading the mixed game gospel ever further, one table at a time. From what I've been hearing, the action should be pretty fun, with €4/8 limit games on the menu for all to enjoy. We'll do our best to keep you up to date in the coming days and try to bring you a taste of the great atmosphere from Malta!