Michael "The Grinder" Mizrachi has already made a run for the ages. Earlier in this year's World Series, Grinder took down the prestigious $50,000 Players Championship, winning his 1st World Series of Poker gold bracelet, the Chip Reese Memorial Trophy, and over $1.5 million in the process. He nearly had another brush with victory, final tabling another bracelet event, but eventually falling just short. Now, in the last, and most important, event of the WSOP, Mizrachi has a shot at history, as he has made the final table, the November Nine.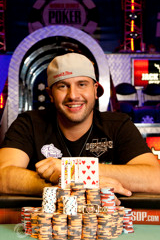 Already assured a payday of over $800,000, Mizrachi, along with 8 other talented poker players, has outlasted the rest of the 7,300+-strong field to make it through 8 days of arduous poker play. Interestingly, when the Main Event had started about a week and a half ago, only Mizrachi and John Juanda still had a chance (and the chance was very small) to supplant double bracelet winner Frank Kassela as the 2010 WSOP Player of the Year. Still alive with just 9 players remaining, Mizrachi now indeed has a decent shot at claiming that title too. Should he manage to win the Main Event (and WSOP Player of the Year), the Grinder's 2010 World Series run would probably go down as among the most impressive in the history of the game.
Needless to say, though he will be among the shorter stacks at the table, Grinder will surely have the largest gallery of supporters, as he is popular among pros and regular Joes.
Players will now take a break for approximately 3.5 months, as their stories are told through weekly ESPN broadcasts of the Main Event. In the meantime, you can be sure that Mizrachi and the rest will be doing their best to hone their skills and practice their best moves (and sign lucrative sponsorship agreements with the big online poker companies) before the big day. The final 9 players will reconvene in early November to finish the tournament and crown a Main Event champion.
Cardplayerlifestyle.com will be there to cover the story for you.
Here are the November Nine (and their chip counts heading into the final table):
Jonathan Duhamel (65.9 million in chips)
John Dolan (46.2 million)
Joseph Cheong (23.5 million)
John Racener (19.0 million)
Matthew Jarvis (16.7 million)
Filippo Candio (16.4 million)
Michael Mizrachi (14.4 million)
Soi Nguyen (9.6 million)
Jason Senti (7.6 million)