Serious players and recreational fans of big online tournaments will have their schedules pretty filled up for the next month. Partypoker's popular MILLIONS Online series is back with a bang beginning tomorrow, running from September 1–27 and featuring loads of action, including the big $2,000,000-guaranteed Main Event.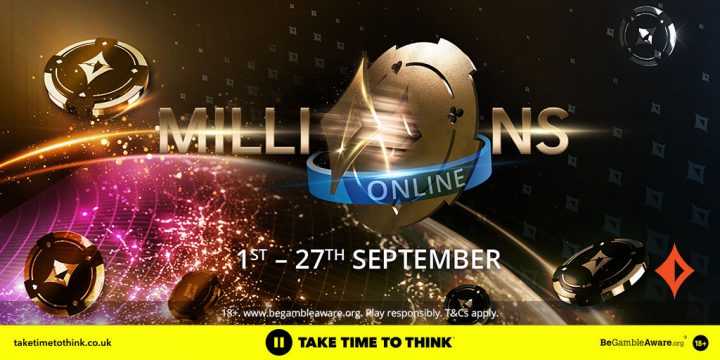 The full schedule is jam-packed with all types of tournaments, and there are buy-ins to fit every bankroll, as well as numerous satellites to help players qualify for the events above their usual levels. Lasting for four full weeks, this year's MILLIONS Online will feature tournaments of different formats, from classic ones to 6-max events to the always popular PKOs.
With the series about to kick off, we had the opportunity to catch up with Matt Staples, a popular Twitch streamer and a partypoker ambassador, who was kind enough to answer our questions about the upcoming online poker series.
Q&A with Matt Staples
We can only imagine your already-busy schedule is about to get even busier. What are your plans for the series? Will you be going full throttle to get the maximum volume, or will you pick and choose specific events to play?
MILLIONS Online is always one of the busiest months of the year for me, but it's also one that I most look forward to. I plan to play every event that is scheduled currently. This is where partypoker has some of its biggest guarantees and the title of MILLIONS Online champion is a very prestigious one, so I'll be going all out to try and win.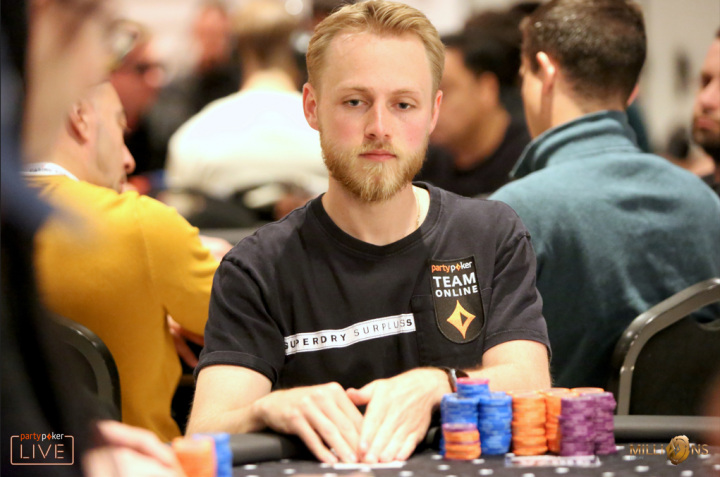 Are there any tournaments on the schedule that you are particularly looking forward to, besides the $2 million guaranteed Main Event?
The Super 500 PKO and the $1,050 6-Max PKO Championships are the two that caught my eye. Both events have quite different structures, formats and player pools that are interesting to me.
Generally speaking, the schedule looks like an exciting one, as you can play into the money on Day 1s, and there will be limited late registration and limited re-entry, which are always things I like to see.
You are very active on Twitch, so can we expect to see most of your action covered live? Do you plan to stream every session during MILLIONS Online?
All MILLIONS Online events and sessions that I play this year will be live-streamed on my channel. I don't plan to play off-stream, unless I quickly decide I need to make a Day 2.
You've been a member of partypoker Team Online since 2019. How has the journey been so far and would you say you've been able to achieve your personal poker goals while also producing top-quality streaming content? Do you find streaming distracting at times, making it harder to focus on the games, or is it something that becomes sort of second nature with time?
The journey with partypoker has been awesome. There have been a lot of changes since I arrived back in 2019, in terms of my role and the opportunities I have been given. It's truly been amazing to be teamed up with a site like this.
Striking a balance between poker goals and content/streaming goals is always tough. With the level of play being so high on Twitch, you need to find time to fit both into the equation. That said, prioritizing content and streaming has always been my approach because the opportunities and depth it adds to my life far outweigh any extra time or focus I would have from being off-stream.
As someone who's been an integral part of the streaming community, what's your overall take on poker on Twitch in 2022? How big of a role do you think it continues to play in popularizing the game and bringing it to the masses? What are some of the biggest challenges you face as a poker streamer?
The transformation that Twitch poker has taken in the last few years has been quite intense. The streamers are becoming better poker players, the viewers are looking for higher level play and are also getting used to much bigger buy-ins. It's evolved into a much more competitive and tough space.
There is always going to be room for every type of stream, but looking through the top streams, the level of play and average buy-in are both quite high. This has created the necessity to work hard in areas of poker study and volume, while also creating high-level content.
Twitch will continue to be an important part of popularizing the game. Where else can you watch the real deal when it comes to online poker? I love the true grind, day in day out, the wins and the losses. We have seen that people like to watch live and I don't see that changing anytime soon.
What comes next for you after MILLIONS Online? Do you foresee any big changes in your near future that you'd like to talk about?
I stream and grind the online schedule year-round, so I won't be taking any trips or time off until MILLIONS UK in December. I'm going to try to match my deep run in the MILLIONS Europe Main Event in Barcelona, but hopefully I'll avoid bubbling the final table this time!
July / August have been my best results as a poker pro excluding the Milly deep runs. Next few months will be quite big so hoping for some more heat. 🔥 pic.twitter.com/cWPuWdsWVT

— Matthew Staples (@MattStaplesPKR) August 16, 2022
A Massive $2,000,000 GTD Main Event
It's not every day that an online tournament promises a prize pool of $2,000,000, so the poker community is buzzing about the partypoker MILLIONS Online Main Event. The tournament does come with a hefty buy-in of $3,200, but partypoker has sprinkled various satellites and qualifiers throughout the schedule to give pretty much everyone a chance to try and claim their seat in the big one.
In fact, players will have a chance to begin their Main Event journey for as little as one cent. Of course, those who start at this lowest level will have quite a few hurdles to go through before getting the coveted seat, but stranger things have certainly happened in online poker. There are $22 and $109 Phase 1 and Phase 2 tournaments leading up to weekly finals, where 10 Main Event seats are guaranteed.
Rich Action Across the Board
If the Main Event is out of your reach and you would rather play actual tournaments instead of satellites, the partypoker MILLIONS Online schedule has you covered. To kick things off, there are two PKO Opener events, guaranteeing $250,000 and $100,000, respectively.
The Mini Main Event is there as well, offering a smaller but still very juicy guarantee of $500,000 for a tenth of the price of the big one.
There are many tournaments with low three-figure buy-ins ($109 and $162) as well, featuring very respectable six-figure guarantees, so you don't need a massive bankroll to get in on the action.
And if these still feel out of reach, don't be afraid to give some satellites a chance. Even if they don't perfectly align with your bankroll management, keep in mind that the action in these events is usually quite soft, and the value of qualifying for and final-tabling one of these major tournaments could be a real turning point in your poker career!
—
Matt Staples image credit: Mickey May