If you've ever watched a big poker tournament final table or televised cash games you may associate poker with high stakes gambling. These games show people risking respectable or even high annual salaries on a single hand. Tens or hundreds of thousands are being wagered on the turn of a few cards. While this is exciting to watch, the vast majority of players are playing low stakes poker.
Those high stakes poker players who make their way onto streamed or televised games started in the low stakes arena, just like everyone else. Luckily, since the majority of poker players are playing low stakes poker you have a ton of options to get into the game for a small amount of money.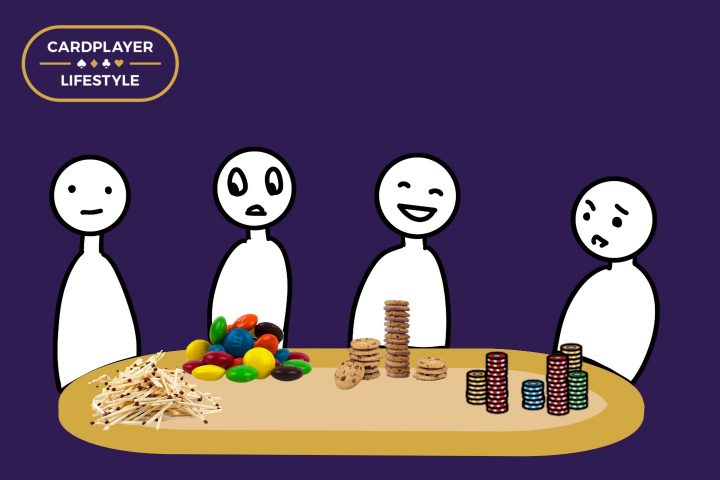 Everything You Need to Know About Live Low Stakes Poker
If you prefer playing poker in a live casino setting then you're in luck. There are thousands of poker rooms across the globe, most of which are in North America and Europe. All of these poker rooms will run low stakes poker games making the game accessible for beginners just learning how to play poker.
Blinds, Buy-Ins, and Bankrolls
The smallest No-Limit Texas Holdem game that live card rooms offer has blinds of $1 and $2 and shows on the list as $1/$2. While the buy-in range can vary by location it is usually a minimum of $60 and a maximum of $300. You may also hear people refer to it as a $300 cap game, meaning the buy-in is capped at $300. Some casinos including most MGM properties have a larger buy-in structure of $100-$500 but this isn't as common. Additionally, some casinos will offer $1/$3 instead of $1/$2 with a similar buy-in structure.
Despite the ability to buy into these games for $100 or less you don't want to come in for the minimum. Most poker players will tell you to only play a game if you are buying in for the maximum amount. If the maximum is a little too steep for your starting bankroll you should be fine buying in for at least 100 big blinds, so $200 at $1/$2 and $300 at $1/$3. At 100 big blinds, you still have enough money to maneuver postflop and won't find yourself all in on every hand. Many solvers and poker training sites use 100 big blind stacks to study the optimal strategy of poker in various scenarios.
$2/$5 is the next step up in the poker world but is still considered low stakes in the live arena. In many casinos, $2/$5 is the biggest game in the room. Buy-ins can be capped anywhere from $500 to $1,000 depending on the room, although most are somewhere around $800 max. These stakes are still low but are considered the first stakes where you can be a professional and make a living from the game. Even if you have the bankroll for it you may want to start at $1/$2 and be a winning player before you move up.
Speaking of bankrolls, if you want to take low stakes poker seriously, you need to have a dedicated bankroll. While the exact number of recommended buy-ins can vary based on who gives the advice, the absolute lowest bankroll you want to have for live low stakes poker would be 20 maximum buy-ins. For a $300 cap $1/$2 game this means $6,000 as a starting bankroll. 20 buy-ins may be the minimum but it certainly isn't suggested for a bankroll, so if you want to give yourself a little wiggle room 30+ would be safer. If you are just starting out you should aim for 40-50 buy-ins to account for expected losses at the beginning of your poker-playing career. It's always better to be over-rolled than under-rolled for a game, so no need to stick to 20 buy-ins since you'll be more comfortable with more.
How to Find Games
As mentioned earlier there are thousands of poker rooms worldwide. If you don't immediately know which card room is closest to you there are a few apps you can use to find out. PokerAtlas and Bravo Poker are two very helpful apps/websites that can show you the poker games in your area. Not only can you see a list of casinos and what games are offered, but both sites offer a live look at the cash game waitlist. With most casinos on PokerAtlas and some on Bravo, you can even put your name on the list from the comfort of your home before you head over.
This makes scoping out games much easier than simply showing up at the local casino and hoping you get a table. Since most poker players are in the low stakes field, you should have plenty of tables running in the card room near you. If you want to ensure there will be games running, plan on playing Friday and Saturday nights since weekends are always busy.
Player Pool
Live low stakes poker has a very eclectic player pool. Since this is the most accessible option for poker, you will see a wide range of skill levels at the tables. Some players are studying hard and trying to build a bankroll to make it to $2/$5 and higher so they can play professionally. Others may not study or play full-time but have been playing regularly for years and have learned how to exploit other players in the pool. You'll also find casual players happy to spend a few hours tossing chips in the middle with little-to-no strategy. Finally, you will get people who have never played but wandered in from the casino bars or blackjack tables and decided to give poker a shot. These last two groups are more plentiful on the weekends, another reason to block off Friday and Saturday nights for poker.
Since the skill range can vary so widely it is best to go into each game with little to no assumptions made on the player pool. Each player is a blank slate so until you see how they play and take some hands to showdown, assume they all play a decent strategy. One of the exceptions to the "no assumption" rule is that you can assume players are not 3- and 4-betting preflop correctly. Any $1/$2 regular can tell you there are very few 3-bets and almost no 4-bets at these stakes. Unless you have proof to believe the contrary, assume 3- and 4-bets are very strong in live low stakes poker.
At the $2/$5 level, you can assume your opponents will be better than the $1/$2 player pool. This certainly will not be true for everyone, as many of these players will simply have more disposable income and prefer to play for larger stakes. As a whole, this player pool will be more aggressive than $1/$2 but only slightly better.
Everything You Need to Know About Low Stakes Online Poker
Despite the poker rules being the same, the online game is much different than live poker. You have many more options to play online through multiple large online poker sites and private poker clubs. Since you aren't dealing with physical chips and cards, you will see more hands per hour and can have more variety in stakes.
Blinds, Buy-Ins, and Bankrolls
There are many more stakes offered due to the relative ease of making tables available on large sites. Due to the high demand for low stakes online poker, large sites have created games as small as $0.01/$0.02 with a $2 buy-in. This spawned a subcategory of low stakes online poker known as micro stakes. Micro stakes are considered $0.01/$0.02 through $0.10/$0.25. Low stakes online poker is $0.25/$0.50 through $0.50/$1.00.
Buy-in structures are a maximum of 100 big blinds on almost every poker site. Depending on the stakes you can buy in anywhere from $2 to $25 for micro stakes and $50 to $100 for low stakes. You will often see online poker games referred to by the buy-in rather than blinds. So $0.25/$0.50 is often shortened to 50NL, $50 buy-in No-Limit Texas Holdem. The micro stakes are 2NL-25NL and the low stakes are 50NL-100NL. Once you get to 200NL you are in the online poker mid-stakes.
Perhaps counterintuitively, even though games are spread for lower stakes online, if you want to play online poker you should have a larger bankroll than live poker. This is because online games can play more aggressively than live and the players tend to be better. Most players will tell you to start with a minimum of 50 buy-ins for online poker. If you are starting at 2NL that's a very reasonable $100.
How to Find Games
Luckily, online poker is much easier to find than live poker. Depending on the country you live in there will be a variety of options open to you. There are numerous mega poker sites like WPT Global, PokerStars, and GGPoker. These sites are not available in America but you still have options like WSOP.com (if you're located in regulated markets), or other offshore-regulated operators.
There are also plenty of private club options through various poker apps. These are not monitored or regulated in any way, however, so be very careful about signing up for one and depositing money. While these can be a fun way to play poker with friends it may not be the best investment as a site to play on full-time.
When searching for online poker sites, make sure you pay attention to the rake structure and find the best option for your stakes. You can find information online about how sites rake each stake and compare to find what the lowest is. Also, be sure to look for any rakeback deals. Rakeback is when a site will return a percentage of the rake you generated based on the number of hands you've played. This can be a huge incentive if you plan on playing a lot and will impact your win rate greatly.
Player Pool
The online player pool tends to be a bit stronger than the live pool. The main reason for this is you don't have any "randoms" wandering in. Unlike a casino, you have to seek out online poker to play it. It's not like someone would search online for a pizza place near them, stumble upon an online poker site, create an account, deposit, and start playing. These are people who want to play poker and for the most part, will be slightly better than the live player pool as a whole.
Online players also see more hands per hour so they have more experience. This won't always make them better players but it certainly can (and should). The micro-stakes will still be fairly soft but low stakes online poker can become more difficult. Some players won't mind punting off $2 at a time in 2NL, but players will be more careful in the 50NL and 100NL games.
A key difference with online poker is the ability to use a heads up display or HUD for short. HUDs will track hands played against opponents and give you statistics like their VPIP (voluntarily put in pot), 3-bet percentage, C-bet percentage, and many others. If you are playing against the same opponents regularly you can build a large enough sample size to make assumptions on their skill level and play style. If a player has a 50% VPIP over 1000+ hands they are playing far too many. On the other hand, if a player is only C-betting 10% of the time they are not being aggressive enough on the flop. HUDs can give you these insights to make adjustments based on your opponent.
Low Stakes Poker
There are so many options for players to get into the action with low stakes poker. Whether it's at your local cardroom or online you can start playing with as little as $100. Be sure to have strict bankroll management and pay attention to your player pool to grow that bankroll and beat the low stakes.