When a poker player decides to take the game seriously and wants to improve, the logical starting point is to look for content that is focused on studying game theory. There is a lot of poker content on the internet. Things like books, videos, blog posts, training sites, and articles all focused on providing you with the information that you need to improve your skill in poker. Some products are available at a considerable investment while others are reasonably priced. One individual who is constantly putting out content with the low-stakes players in mind is James "Splitsuit" Sweeney.
His brand of educational poker content takes complex ideas in poker and breaks them down into something actionable and sensible. Sweeney really takes into consideration the budget that most low-stakes players may have by making most of his content free or very affordable. It's clear where you should start when using his materials and his latest poker workbook does not disappoint.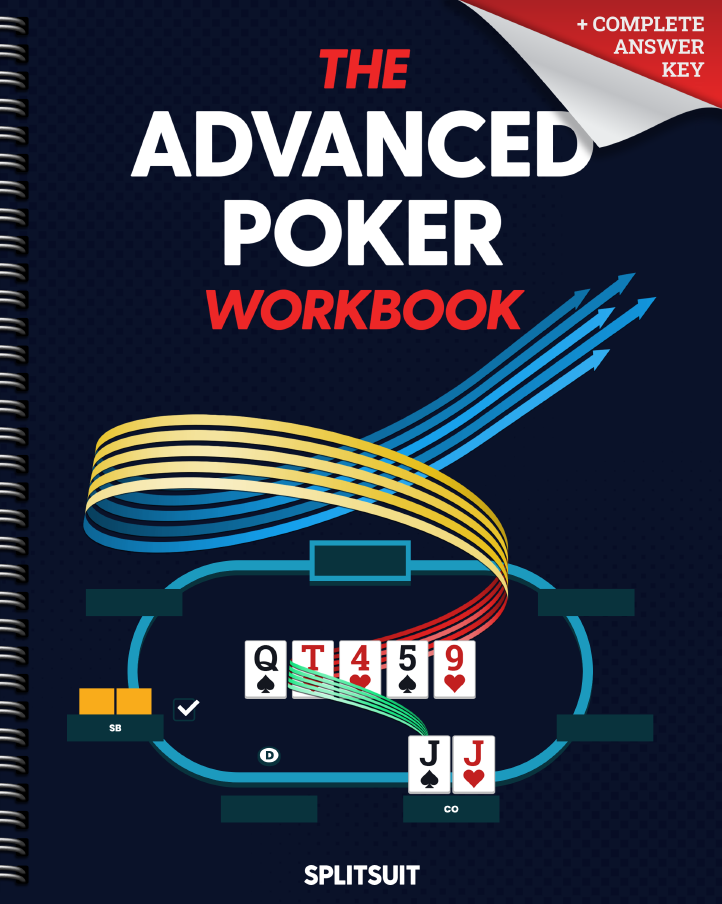 The Advanced Poker Workbook is intended for more seasoned poker players. The exercises inside of its pages are meant to help with improving on already studied concepts by fine-tuning your skills and building on them. However, the way this workbook is laid out and the tools provided to help you with the calculations, almost any player at any level can work through the book and still learn some important concepts in poker. If you are a beginner, I would not suggest you start here, but rather look to take his free poker math course and then purchase his Math & Preflop workbook and Postflop Poker Workbook. (our reviews of which you can read here and here, respectively).
Warming Up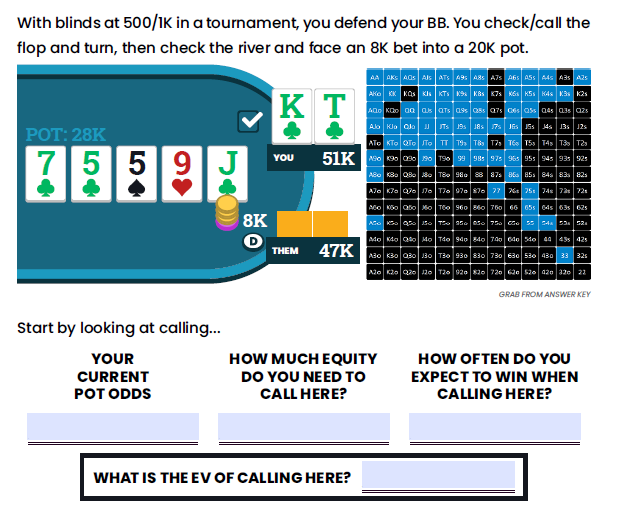 The first few chapters of Sweeney's Advanced Poker Workbook focus on warming up with what should be some simple mental exercises. These are concepts that as a poker player we should be familiar with and thinking about in a hand. A player should always think about all available actions in a hand. This question is brought to us by asking us to focus on the river to determine which option has the highest EV.
Pot geometry is the next lesson, something that I personally think is often overlooked. We are asked to determine how much our bets will be and how much should be in the pot. Doing this forces the player to pay attention to effective stacks, pot odds, and the size of the bets made. This is followed by a chapter full of expected value calculations. These exercises force you to slow down and think about these seemingly common spots where you might discover something you didn't realize before.
Topics covered in chapters 1-4:
How to study
Expected Value (EV)
Pot Geometry
Building Blocks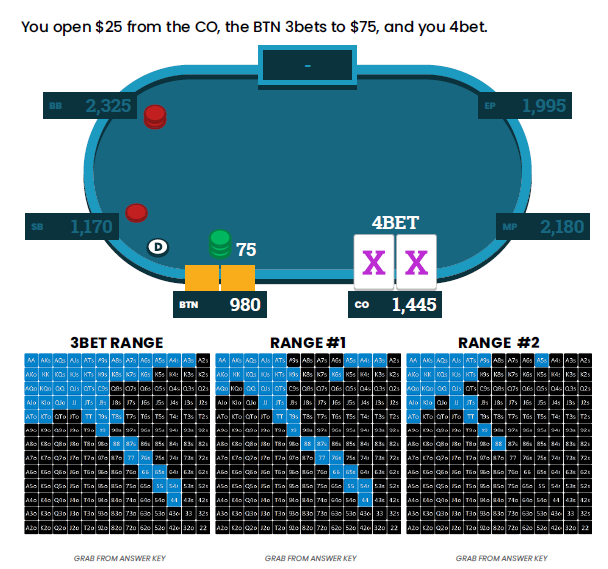 The next set of chapters continues to build on the warmups by looking at specific formations and betting. These chapters will get you to think critically about your ranges. As a player you will be forced to question if you are defending or betting enough. If you find yourself in these spots often, then this is a good time to reflect on your strategy and see what you can do to change them based on the advice received from this workbook. Knowing when to raise is an important skill to have for your pre-flop strategy. Understanding the frequency at which your raises will be called and the type of combinations you will be playing against is critical to fine-tuning your strategy. By the time you complete this section of the Advanced Poker Workbook you will have a better understanding of how your range functions; you should understand why you are raising and when you can raise.
Topics covered in chapters 5-8:
Preflop
Stealing
3-betting
4-betting
All-in
Staying Aware
This next section of the Advanced Poker Workbook focuses on awareness. While it may seem that this is something that has been worked on in the previous chapters, one thing that has not been focused on yet is your opponent. Here we start to look at a couple of concepts in poker that make us aware of what is happening in the hand. Board runouts are important because when we are aware of what cards help us then we can adjust when that card doesn't come out. In addition to understanding card runouts, our strategy is also affected by Stack to Pot Ratio or SPR. Knowing how much money is left behind and who the effective stack is can assist you in deciding how to proceed with the hand.
Topics covered in chapters 9-10:
Board Runouts
Stack to Pot Ratio (SPR)
Analysis — How to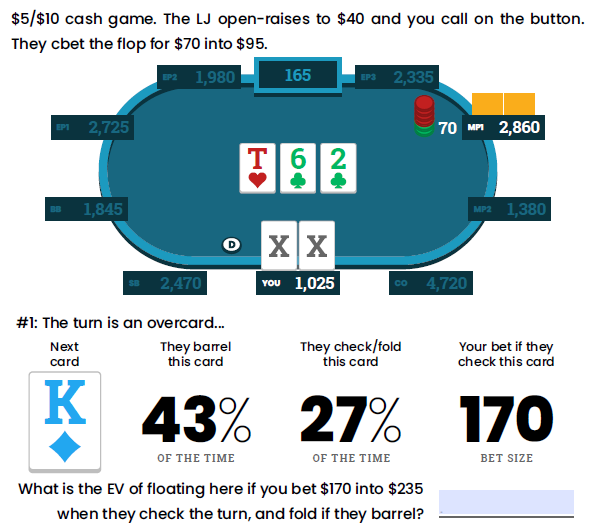 I think this is the point where the Advanced Poker Workbook really starts to get into more advanced play. You start by getting into hand analysis for the flop, turn, and river. Each chapter breaks down a given range for your opponent and guides you on how you can dissect what sort of hands they can have and what parts of their range interact with this board. This kind of analysis also allows you to identify possible bluffs that your opponent will have but is mostly focused on the value parts of their range. On each street you are asked to consider how your opponent's range interacts with the board in certain formations. Each scenario is unique to the problem given and challenges you to think through the hand.
Floating and Auto-Profit go hand in hand. These concepts go over how you can determine when it might be profitable to continue when you don't have a made hand. This is also a perfect example of how Sweeney builds on what has been covered in previous chapters in the workbook. Understanding how often certain types of cards can come on the turn is a big factor in deciding whether you want to float. Knowing that your opponent will not continue with certain types of hands is how you can auto-profit. Working through these exercises will train your brain to recognize these spots when they appear. You can confidently make the decision to play a hand that may appear to be sub-optimal but in reality, the hand has huge implied odds giving you the chance to win a big pot.
Topics covered in chapters 11-15:
Hand Analysis
Hand Reading
Floating
Auto-Profit
Advanced Poker Workbook — Highly Recommended Reading
Towards the end of his Advanced Poker Workbook, Sweeney offers some final advice on how you can continue to improve. We see how everything that was covered in the workbook ties together and how it can be applied to your everyday study regiment. There are discount codes included for downloadable products that will continue to assist you in your poker journey.
Overall, the book itself is great value but with all the discounts given, it practically pays for itself. Once you start to crush on the felt this book will pay for itself many times over. The important thing is that you just don't go through this workbook once. Take the time to do it multiple times and think of different scenarios. The more often you do something the easier it becomes when you need it.