Back in the summer of 2015, Pierre Neuville turned heads and shocked the world when — at age 72 — he made the final table of the World Series of Poker Main Event. Finishing in seventh place for over $1.2 million, the former Vice President of toymaker Hasbro is anything but a one-trick pony when it comes to poker. Since 2007, he's won over $4.8 million in poker tournaments around the world, having recorded over 200 total cashes. Close to entering his ninth decade, Neuville currently sits in second place on Belgium's all-time money list, yet he still possesses a tremendous enthusiasm for poker.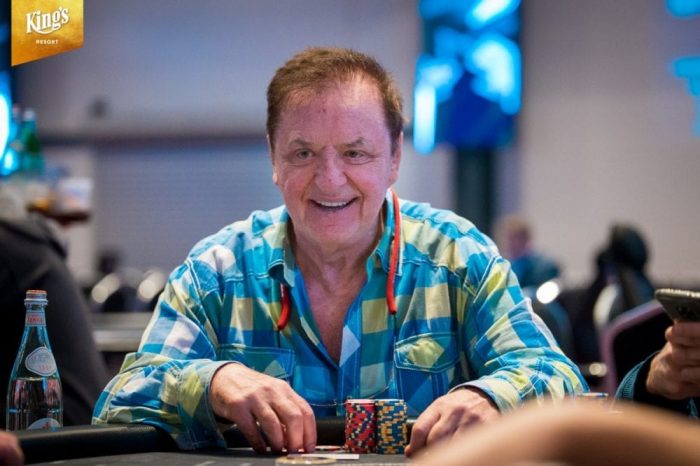 To mark the occasion of his 80th birthday, Neuville has announced that he'll be campaigning to break some records over the coming poker year, namely aiming to:
Cross the 250 career cashes mark (which would make him #1 all time in Belgium)
Record the most cashes by anyone over 80 years old
Win 2 Seniors tournaments, including the WSOP Seniors event
Break his own record of being the oldest person to final table the WSOP Main Event
One of the friendliest poker players you'll ever encounter, Neuville isn't content to just make a run at these accomplishments alone, but rather he wants to bring along 1000 people for the ride by giving them a collective 50% stake in his action.
We reached out to Pierre to ask him a few questions about his ambitious upcoming poker plans, and —  with the help of his wife Claudine — he was kind enough to reply.
Most retirees are perfectly happy to kick back and relax after a lifetime of hard work. I can understand that poker is something you love and enjoy, but why do you feel it's important to push yourself hard at 80 years old to keep achieving difficult poker goals?
"Age discrimination" is a very real thing. Official employment is limited by age and being approached with interesting propositions and business opportunities is very rare as you get older.
Our brains need new challenges and to stay creative in order to remain fully functional and not atrophy. Innovation keeps us young both in body and mind. Retirement, the idea of inactivity and boredom, is the worst of inventions.
Poker is an extraordinary activity to develop a brain dynamism at any age. It demands concentration, courage, caution, and patience in order to play well and profitably.
I have undergone various tests at university centers that concluded that my 10,000+ hours of playing poker has certainly had an influence om my biological age, currently estimated at 52.
How long have you been planning towards putting together your 80th birthday challenges?
In 2014, the European Poker Awards granted me the "Lifetime Achievement Award". It made me very happy because not only did I receive the prize from  the gracious Kara Scott, but my award also came just after the one presented to Leon Tsoukernik as the "Industry Person of the Year". Our two awards now share a showcase at King's Casino in Rozvadov.
And the lifetime achievement award goes to @pierre_neuville #EuropeanPokerAwards pic.twitter.com/0f4vGfEvrD

— Shirley Ang (@poolshir) March 25, 2015
On the other hand, the award left me with other emotions, too. Although it was a form of recognition, I did not want "lifetime achievement" to mean an ending of something. Rather, I told the attendees that I wanted that award to be a motivation for the next 25 years with the best results still to come. The audience smiled and gave me a standing ovation. One year later I kept my promise by beating Johnny Moss' record of oldest to make a WSOP Main Event final table. He was 67 and I was 72, but he won while I finished in 7th place, so there is still some work for me to do.
Leon was the first person who introduced me to the concept of staking. By doing that, without any preconceived notion of age being an obstacle, Leon manifested what's sure to be a lifelong friendship and gained my full respect. Each time I enter King's Casino, a smiling welcoming handshake is a boost of rejuvenation for me.
From that moment on his idea of "staking" kept rattling around in my head. So, I thought "there's no reason to limit it to one person doing the staking; why not multiply from 1 to 100 or maybe 1,000?"
I've consulted with a few young pro poker players who are well-versed with the concepts of staking and swaps, and obviously putting together a group of 100+ people to back "an 80-year-old guy" is quite unique.
After a lot of contemplation, I decided to proceed with the initiative in order to give many people the opportunity to participate in something that perhaps never crossed their mind to do (i.e., having a sweat with a player's WSOP campaign). Rather than just following the action, people can have a rooting interest for just $80. Companies are invited to take a stake as well.
Do you have a full list of the events you are planning to play?
I will start my campaign in Rozvadov with Leon's WSOPE Main Event in November and I will also fly out to play the WSOP in Las Vegas next year. Of course, I will play all the Seniors tournaments, as I enjoy feeling "the youngest". In the past I have already won a bit at the Bellagio and Golden Nugget but never at the World Series of Poker.
Having a mass backing of 1,000 stakers will facilitate a budget that will allow me to play all the $1K, $2K and $3K buy-ins, as well as the Main Event at the Wynn Summer Classic.  Hopefully, the WSOP Main Event will be the climax of the campaign.
I am already dreaming of being in Las Vegas, sitting at the televised table under the lights, with cameras focusing on my logo "StakingPierre80". By the way, if any designers out there have ideas for how to design such a logo, please reach out to me.
Many 80-year-olds are not as fortunate to have maintained good health like you, Pierre. What advice and tips would you advise people to help maintain good health? What has worked for you?
We are so lucky that scientific research has given us ways to live a longer and healthier life. I have been studying anti-aging medicine for 30 years and was extremely lucky to be a friend of Doctor Thierry Hertoghe who is president and pioneer of the World Society of Anti-Aging Medicine.
For my part, I have founded an anti-aging club where I provide some advice: [email protected]
Emotion #November 9 #bestpicture pic.twitter.com/6lMm9KnKQ0

— Pierre Neuville (@pierre_neuville) July 30, 2015
In particular, do you have any secrets that help you maintain your concentration and stamina for long periods of time like poker tournaments constantly demand?
I practice different meditation techniques, including "walking" meditation. At the tables, I switch my focus regularly from "ON-mode" to "relaxing-mode". I have a monthly medical check-up and try to maintain my vitamins and minerals at a perfect level.
Of course, I eat no sugars, drink no alcohol, do not smoke and keep my cholesterol as low as possible.
My best advice, if you're looking to stay healthy: get your bloodwork done with a full test every few years, and follow your doctors' advice based on the results. Make it an active goal to work towards being healthy as long as you live.
Your 80th birthday is on January 2nd. How do you intend to celebrate on the actual day?
My "80th birthday celebration" already started with many encouraging messages. People seem to like my staking idea and tell me to continue pushing it. I receive registrations for shares every day
There will be no better place than King's Casino to celebrate on the actual day. I will gladly accept Leon's invitation to attend the year-ending festivities with his entire team. I will play every tournament with passion and delight, knowing that each good result will bring joy to the club of 100+ associates who join me in the staking venture.
If this first year is successful, then I think "StakingPierre80" may go on to become an annual thing.
You mentioned to me privately that about 30% of your action has already been sold. How can players who wish to stake you do so? Is bank transfer in euros the only way or are other currencies and payment methods possible, too?
It is very simple to fill out the registration form (see below).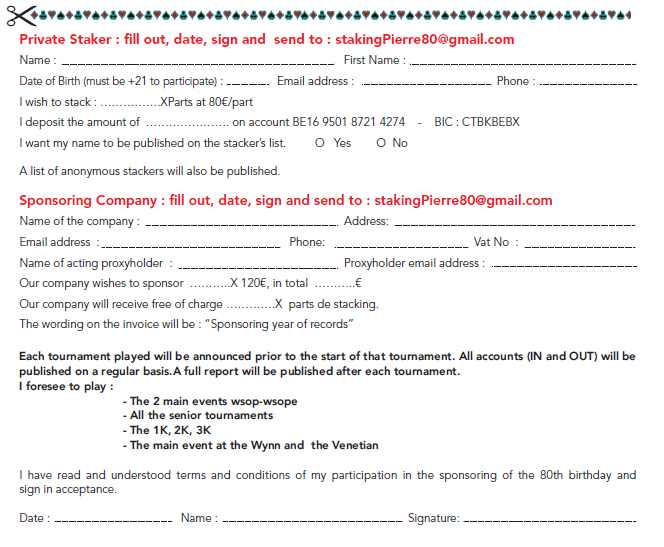 If you prefer not to use online money transfers, you can fill out the form, send it to me, and arrange to pay me in person with a handshake at the Grand Casino de Namur in Belgium, King's Casino in Rozvadov, or in Las Vegas.
Companies wishing to buy a stake will receive an official invoice from my company.
A full report will be published after each tournament. For more information, please feel free to email me: [email protected].
Image credit: King's Resort