Fixed Limit poker games have become commonplace in casual home games, despite the 21st Century rise and continued dominance of "No Limit" Texas Hold'em.
While a Fixed Limit poker format may not make for exciting television or dramatic all ins, there are a number of compelling reasons why many casual home game hosts consider Fixed Limit superior to its No Limit or Pot Limit counterparts.
In this article, we'll take a look at a few of those reasons, and focus on the benefits of a Fixed Limit poker game.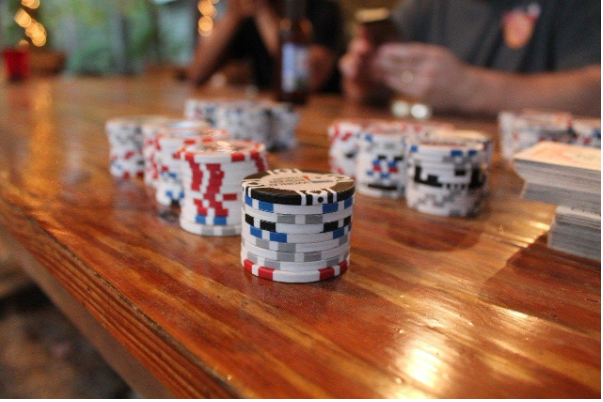 Fixed Limit Poker Games: Chip Denominations and Calculation Tasks
As explained in our Fair Chip Distribution article, a home game host will typically need fewer chip denominations for a low stakes poker night when opting for the Fixed Limit format.
Due to the lack of all ins relative to No Limit or Pot Limit formats, calculation tasks that need to be performed by the players themselves, or a separate dealer/banker are likewise simplified.
By definition, betting activity in a Fixed Limit poker game is capped at four monetary amounts per round.
So, in a $0.02/$0.05 Limit Hold'em game, the action during each round can only be raised or re-raised a total of three times. The corresponding maximum wager amount during the preflop stage in this instance would be $0.20 – while postflop action would be capped at four Big Bets (or $0.40 in this case).
In such a scenario, it is totally reasonable for players to withstand the swings of a single poker session with a bankroll of 200 Big Bets (of 10 cents) – which would be $20.
Twenty dollars for a $0.02/$0.05 "No Limit" Hold'em game would, on the other hand, amount to only four total buy-ins.
Fixed Limit Poker Games: Player Retention
As a consequence of the more moderate swings that come with Fixed Limit poker, your home game players can feel more "protected" against losing their entire allotted bankroll during a single session.
Again, $20 should be more than enough for a few hours of $0.02/$0.05 Fixed Limit, but can easily evaporate over a few hours if the game is "No Limit" or "Pot Limit."
What's more, a player who brings $100 to a $0.02/$0.05 Fixed Limit poker game has only an extremely small (if any) advantage over a player who only brings $20 to the same game.
However, the "risk of ruin" aspect in No Limit games particularly can increase the advantage that a fully-rolled, highly skilled player has over a lesser-skilled player with a smaller per-session bankroll for No Limit or Pot Limit poker games.
In general, this will likely result in more players returning for a weekly poker night – as they won't run nearly the risk of going "busto" as they would in No Limit or Pot Limit formats.
This will also result in a narrower skill gap between the best and worst players at the table, and this will mean more opportunities for lesser-skilled and more casual players to actually have a winning session. According to Bonuscasinos24, which tracks all the top poker media, strategy and game-playing sites, many of the most popular gambling games involve elements of skill, and poker is no exception. That said, playing fixed limit poker minimizes the likelihood that lesser-skilled players will lose their whole bankroll and instead "have a fighting chance" at the felt.
A low stakes Fixed Limit poker night at stakes such as $0.50/$1 ($100 equals 50 Big Bets) will also attract fewer "pros" to your game than a $0.50/$1 No Limit Hold'em game ($100 equals one buy-in of 100 Big Blinds)..
Fixed Limit Poker Games: Great for Parties and Social Events
The Fixed Limit poker format can easily be incorporated into other options during parties or casual get-togethers among family and friends.
The overwhelming majority of mixed games that you'll find in a dealer's choice mix, notably save for pot limit Omaha and 2-7 single draw, are pretty much tailor-made for Fixed Limit.
If any alcoholic beverage or influencing substances are being consumed during your social event, it will be much easier for all players to keep track of unmarked poker chip denominations if the format is Fixed Limit.
Fixed Limit Sit & Gos for Home Game Hosts
If you plan on playing numerous Sit & Go tournaments during a hosted card game, you might want to consider an "Ultra Hyper Turbo" format in which the blinds increase after each hand.
If there are six total players, this may mean that all contestants participate in a total of six separate Sit & Gos, in which the starting button position is rotated after each mini-tournament.
Basically, if you're planning on hosting a social event in which poker playing is involved, you can rarely go wrong with the Fixed Limit poker format!