There are many metrics used to judge professional athletes. Professional poker players are no different. While you may compare completion percentages for quarterbacks or home runs and extra-base hits for power hitters, poker players compare things like live tournament earnings and career length.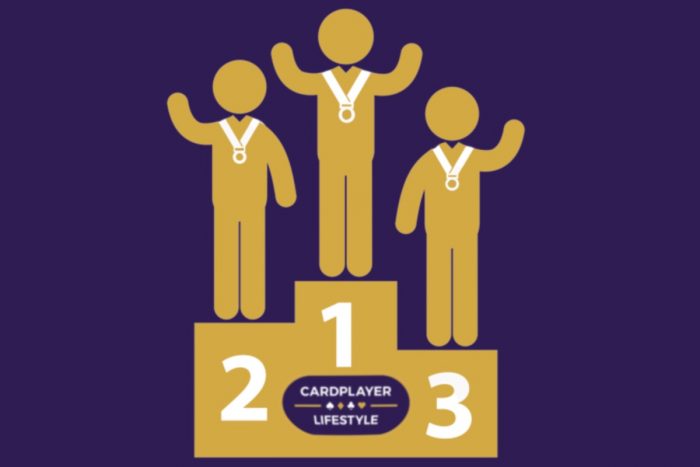 Many interesting characters play in the poker world, and many of them are considered the best poker players ever on one metric or another. From the early days of professional poker, we have Stu Ungar, Sailor Roberts, Johnny Moss, and Amarillo Slim. For many fans, these players represent what a poker professional should be. Later, during the Moneymaker boom, players like Daniel Negreanu, Phil Ivey, and Tom Dwan were regarded as some of the best poker players of all time. Today, players like Fedor Holz, Stephen Chidwick, and Jason Koon stand out as some of the best poker players in the modern, GTO-heavy game.
While each era has its standout stars, many people ask a surprisingly hard question: who is the best poker player of all time?
This is such a hard question to answer because of the varying metrics by which we evaluate poker players. If you were comparing two NFL Quarterbacks, you could look at overall wins and losses, completion percentage, interceptions, touchdowns, yards, etc. While these are not foolproof, as football is very much a team sport, over long enough careers you can at least compare two quarterbacks and make an argument about which is the more successful.
Comparing poker players is not nearly as simple. How do we compare a cash game player to an MTT player? What about a player who favors big bet games vs. another who favors limit games? Or a player who ground out $10 million in earnings playing $10k and smaller tournaments vs. another who won two super high rollers for the same amount?
You can see the problem that exists when comparing poker players. Despite the difficulties, some metrics can be used to compare players and identify the best poker players of all time.
Five Different Ways to Identify the Best Poker Players of All Time
1. Career Earnings
One of the favorite methods for identifying the best poker players is by examining Hendon Mob profiles. The Hendon Mob tracks players' live tournament earnings. All WSOP, WPT, and other major tournaments are tracked here, as well as many other live casino tournaments that report to Hendon Mob. The Hendon Mob can help determine a player's success at live tournaments. There are other databases that report online players' earnings as well.
How can we use career earnings to identify the best poker players?
This metric shouldn't just be used to see how much money a player has earned. For example, someone could have been a winning tournament player for a decade in their 20s but hasn't had any significant winnings in their 30s or 40s, despite still being in the tournament scene. Or, someone could have played only five years of high rollers, crushed them all for $10million+, then retired to do something else. Someone could play 10,000 online tournaments each year and have the same results as someone who plays 200 live tournaments. It's not always easy to judge who has the best record using tournament earnings. But if you find players consistently winning over many years and in many games, it is safe to say they are great poker players.
2. Cash Game Prowess
Cash game poker players are much harder to rank than tournament players due to the anonymity involved. Cash games are not usually televised, although we have seen an increase in streamed and televised cash games over the last five years. In general, the biggest poker games being played are not streamed, they are in rooms such as Bobby's Room in Vegas and similar rooms in L.A. Since a lot of the results from these nosebleed games are not public information, it may be hard to use cash game prowess as a metric, but it is not impossible.
How can we use cash games to identify the best poker players?
We can look at the types of games candidates are playing. If the player hasn't played higher than $10/$20 or $10/$25 no limit, they probably aren't the best. While many players at these stakes are tough opponents, there are bigger games available. Players who have remained in the nosebleed games for a long time are going to be great. Here we are specifying the players who are straight-up poker pros, not the recreational businessmen and women who play nosebleeds, but the guys like Eli Elezra who have been crushing games in Legend's Room (Bobby's Room) for decades. If a player has been playing in the biggest cash games for a long time, they are likely a very strong player.
WATCH: Interview with Poker Hall of Famer Eli Elezra
3. Career Length
Career length is a fairly straightforward metric. How long has the player been winning at poker? This is important because plenty of one-time crushers will fizzle out as the game surpasses their skill set. Finding players who have been winning in the biggest cash games or shipping tournaments for a long time is key to identifying the best poker players. As with any metric, career length has its limitations.
Fedor Holz is regarded by many as one of the best No Limit Hold'em tournament players. Fedor had an amazing run in the high roller scene during the mid-2010s. He won seemingly every big tournament that decade and quickly amassed millions in earnings, including over $16million in 2016 alone. Fedor was absolutely crushing the high roller scene for a few years and then "retired" from being a poker pro. Today, he still plays tournaments, but fewer than he was seven years ago.
While Fedor may not have the longest professional poker career, it was by choice, not because he couldn't win anymore. For the most part, players need a long-term winning career to be in the "best poker player" conversation. But we shouldn't automatically exclude someone if they choose to have a short career.
READ MORE: An in-depth interview with Fedor Holz
4. Accolades and Trophies
There are many accolades and trophies awarded in poker. There are WSOP bracelets and Circuit rings, the PokerGO Cup, the Global Poker Index Award, WPT Championship, and many others. While most of these are awarded for specific tournament results, others are not. These accolades can be used to identify some of the best poker players.
Which accolades and trophies should we consider?
There are a few standout accolades that can help identify the best poker players. However, note that many of these skew toward modern players, as they have only existed for a limited time.
GPI Player's Choice for Toughest Opponent
This GPI award is decided by other poker professionals. It is poker's version of the NFL Top 100, as it is chosen by the players this person has competed against. Unlike the NFL, however, this award goes to just one individual each year. This is a very high accolade, as the professional poker community picks their toughest opponent – something every poker player wants to be.
WSOP $50k Poker Players Championship
Every poker professional has circled this prestigious tournament on their calendar. The $50k Poker Players Championship is regarded among the professional community as one of the highest tournament achievements possible. It features nine games, H.O.R.S.E, 2-7 Triple Draw, No-Limit Hold'em, Pot Limit Omaha, and No Limit 2-7 Single Draw. It is regarded as the best test of overall poker ability, containing a variety of mixed limit games and big bet no/pot-limit games. Winning this tournament is certainly a plus for a player to be considered as the best of all time.
PokerGO Cup
The PokerGO Tour, a more recent series, features many high roller tournaments in which players can earn points (and money). The tour is a set of standard tournaments, but at the end of the series, the player with the most points earns the PokerGO Cup. To win this trophy, players need to consistently win in some of the toughest fields in poker. Many of the high rollers are playing this series, so to have continued success, a player needs to be an absolute crusher.
While these awards are skewed towards current and recent players, coupling these accolades with other metrics previously mentioned can help identify the greatest poker players of all time.
5. Stories from Professionals
As the previous metric favored today's players, this metric is for those who can't win a GPI award or may not have been around to crush poker before result reporting became so popular
For more legendary players, we need to rely on stories from other professionals. I'm sure every poker player has heard tales of the great Stu Ungar, who reportedly won the 1980 WSOP Main Event having never played a No-Limit Holdem tournament. Doyle Brunson famously remarked that it was the first time he saw a player actively get better at the game during a tournament. Many other stories about players like Ungar, Brunson, and Slim showcase their ability to crush poker games over many years.
While stories from the past may not seem to hold up to the other metrics listed, I think they do. Results and accolades can only tell so much of the picture. Relying on poker professionals to tell us who are the toughest and best opponents is a great way to identify the best poker players of all time.
When you are comparing individuals to find the best poker players of all time, it is important to consider multiple metrics. The best poker players will be winning both tournaments and cash games over a long period, and usually across many different game types. They will be regarded as the best by other top professionals and have accolades to back that up. Simply looking at the all-time money list is not enough identify the best player of all time. As in other professional sports, it is hard to compare someone from today's game to the 1980s, as poker theory has evolved so much. Many people find it easier to list a top five players than an overall best player ever.
Everyone's top five will be slightly different depending on what they value in a poker player. GTO players will have a top five consisting of players playing close to perfect GTO, while exploitative players may favor more old-school players. Tournament players and cash game players may have very different opinions on guys like Phil Helmuth and Daniel Negreanu. If you love PLO, like me, you may have Phil Galfond in your top five, while NLH players wouldn't even consider him. Mixed game players may place Eli Elezra in their top five. There so many skills and specializations in poker that it is hard to select a consistent top five players of all time.
Regardless of your priorities for an all-time great poker player, using as many metrics as possible is paramount. While we will likely never see an undisputed best poker player ever, we can at least formulate a list of top five to ten players based on the metrics identified above.