Online slots are more popular than ever today among other casino games. For the last two decades, millions of people have turned to online slots with the goal of both enjoying themselves as well as the hope of potentially being clubbed with cash making. The number of sites offering online casino games continues to proliferate, along with the number of online slot games on offer. And, of course, there's always the possibility of winning a huge life changing jackpot for five-, six- or even seven-figure sums.
There are numerous different categories of online slots out there, and in this article we'll briefly discuss a few of them.
Classic Slots
Whether it's three reels, five reels, or more, the classic online slot game mirrors the type of slot machine you'll find in land-based gaming venues all over the world. At the end of the day, there's no skill involved in these, only luck. What differentiates one slot game from another is the theme. Some have classic themes, with fruit icons that need to line up in order for you to score a winning combination. More modern online slot games have more elaborate themes that incorporate bonus games, special features, and all manner of various ways to get paid out if you manage to score a winning combination.
Video Poker Slots
Video poker slots have proven to be among the more popular games offered online. Among the most widely played variants of video poker slots are: Jacks or Better, Deuces Wild, and Joker Poker, with seemingly limitless sub-variants of each.
With these games, the aim is simple: try your best to get dealt a royal flush.  In wild games five of a kind is possible, and that offers high payouts as well. You're also more likely to get a royal flush in wild games, but the machine's top payout always happens when your royal is a natural one.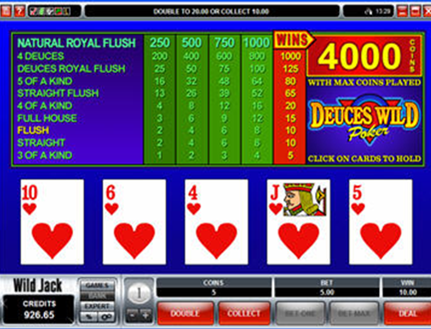 One important note with regard to video poker, is that it's not the same as When you learned how to play Texas Hold'em or other poker games, which are played against fellow competitors. With video poker slots, you are competing against the house at 5-card draw to try and hit a hand that offers at least a minimal payout.
Progressive Jackpot Slots
These are the online slot games that you want to play for a shot at life-changing money. Often sporting complex, multilayered themes, some of which are licensed from Hollywood blockbuster movies, progressive jackpot slots are similar to classic slots in the way that they are played, but they have the added potential to deliver you massive jackpot wins, as the name implies.
Conclusion
As fun as online slot games can be, and as much as they have the potential to deliver cash windfalls to your account, just remember never to play for stakes that are too high or beyond your budget. Online slot games should be an enjoyable pastime that you choose to play with discretionary funds only. Remembering these important principles will ensure that you always have a good time when playing online slots, win or lose.