Last year, while walking through the hallowed hallways at the Rio during the World Series of Poker, I noticed a vendor with an interesting product I had never seen before, a Digital Poker Table. The vendor, Ariel Shefer, told me all about his product and how proud he was that it's American-made and manufactured. Based in Las Vegas, Shefer decided to rent some space at the WSOP "as a trial" to see if it was something players might be interested in, and that if so he had plans to expand next year. I found our conversation particularly enjoyable as it took place in Hebrew; Ariel's native tongue, and of course I'm a big fan of Israeli creativity and ingenuity as I myself have been living in the Holy Land for the past 20+ years.
Well, fast forward 12 months and it's indeed now "next year." Once again, while wandering the halls of the Rio, I spotted Ariel and his Digital Poker Table. With thousands of poker players passing by his spot each day, many of them are taking interest, so I felt it was time to take a closer look at what his product is all about.
Digital Poker Table: A Description
Imagine running your poker home game with no need for a dealer, chips, or cards. Picture yourself and your group of poker friends playing at a state-of-the-art digital table, with more hands dealt per hour and no hassle or controversy over split pots or misdeals.
Digital Poker Table, from Galshan Digital, makes all of this come true. Bringing together the best elements of live and electronic poker, Digital Poker Table provides an entirely automated poker experience.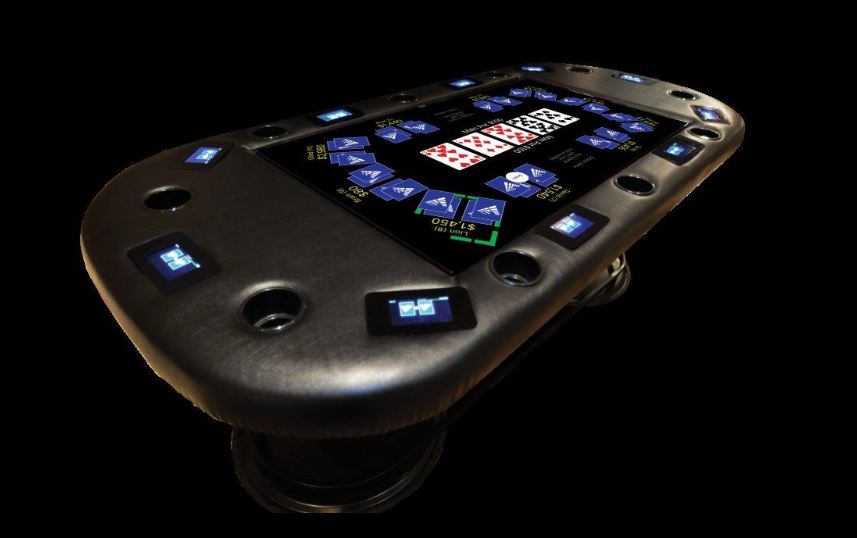 With an easy-to-use, intuitive interface and multiple poker variants available to play in either cash game or tournament format, Digital Poker Table represents the next generation of poker technology. No setup is required; you just sit down and start playing. The Digital Poker Table does all of the dealing and chip counting!
Best of Both Worlds
Digital Poker Table combines the fast action, automatic chip counting and flawless dealing of online poker with the personal experience of live poker.
An ideal, cutting edge solution for poker home games and small businesses, Digital Poker Table deals every hand with a computer-generated, random deal, along with perfect chip counts and pot splitting. As players who grind games like Omaha Hi-Lo know all too well, pot splitting can become a complicated and sometimes controversial matter. Not with this product.
Game variants available include Hold'em, Omaha, Omaha Hi-Lo, and Tahoe, and each of these games can be played with No-Limit, Pot Limit, or Fixed Limit betting structures.
Whether you want to operate your poker game as a cash game or a single table sit-and-go tournament, Digital Poker Table provides all of these game options. The table can also run all of these variants in a mixed-game format for that true WSOP-like experience!
The action in your poker game will also speed up considerably, as Digital Poker Table deals 45-50 hands per hour, versus the average of 25-35 hands per hour with a live dealer. Spend less time setting up, dealing and counting chips, and spend more time playing poker. Plus, players save loads of money in tips, since it's an electronic, rather than human, dealer. That's money that stays in the game, on the table.
Moreover, cheating by way of marked cards, "going south" with chips, string betting, and other forms of angle-shooting are instantly eliminated from your game with Digital Poker Table, as the product ensures a fair deal and an ethically-run game every time.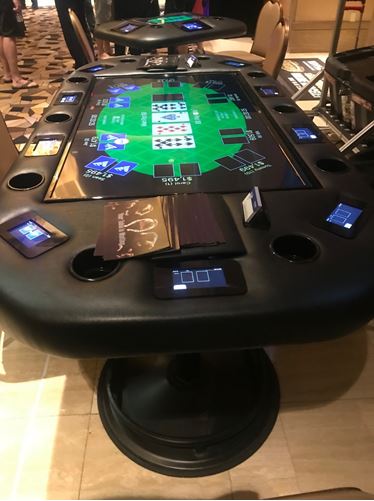 The Future is Here
Ariel believes that, much like slot machines, digital technology represents the future of poker.
When digital slots were first introduced to the market 20 years ago, some casino operators doubted that digital versions of slot machines could ever replace traditional slots, and that customers wouldn't enjoy the games without the mechanical wheels and coins dropping.
The vast majority of slots on a casino floor in 2019, however, are digital. As such Digital Poker Table represents that same evolution when it comes to poker.
Online poker players already enjoy the benefits of faster action, easy-to-read, accurate chip counting, and effortless splitting of pots. Digital Poker Table takes all of those elements and incorporates them into a one-of-a-kind, live poker experience.
Moreover, due to the product's digital nature, improvements based on customer feedback can be (and already have been) quickly and seamlessly integrated. For example, some who bought the table weren't too fond of the electronic-sounding voice, so both male and female voice-overs to call the action were added into the table's software as additional options.
On Display at the 2019 WSOP
To get an up-close, in-person look at both the 10-person and 4-person versions of the Digital Poker Table, just walk through the halls of the Rio Convention Center at the WSOP, like I did, and you'll find them on display in the main corridor, adjacent to the Brasilia Room.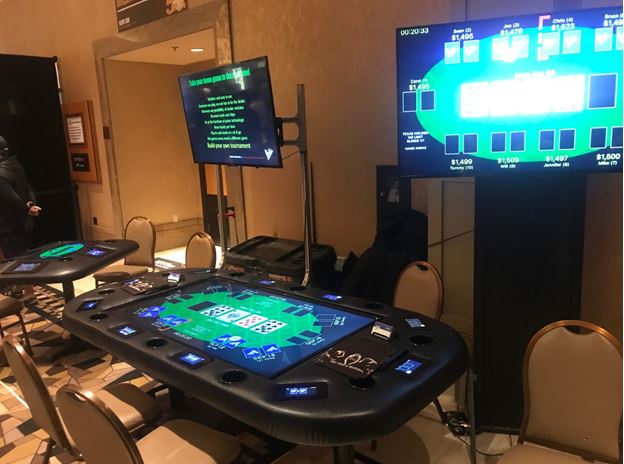 Bruce Liebowitz is an avid poker player who stopped by for a demo and purchased Digital Poker Table last year, at the 2018 WSOP.
"I love the table," Liebowitz said. "I run a home game every week, and I was at a point where there were just so many arguments over splitting the pot. When you don't have a professional dealer, there's just a lot of controversy in a home game. Particularly if you're playing a pot-bet game, where everyone just splashes the pot. No more arguments over chopping the pot, no more arguments over how much can I bet. It's like having floor and a dealer at your table, all the time."
As the operator of weekly home game, the product has been, quite literally, a game changer.
"I was considering buying a table with a spot for a dealer, then hiring the dealer," Liebowitz said. "I was literally in discussions with a guy about building two different tabletops; one for when I had a dealer and one for when I didn't. Then I went to the WSOP and I saw Digital Poker Table."
Liebowitz is not just a customer; he's recently joined Galshan Digital as an investor. "I love and believe in the product and decided to become part of the team," Liebowitz said.
Special pricing is available throughout the WSOP, and Ariel will be on hand at the Digital Poker Table display each day if to answer any questions and demonstrate the product. If you decide to stop by and try out the table, be sure to tell him that Cardplayer Lifestyle sent you!