Poker is one of the first games that come to mind when thinking about card games, a fascinating and strategic game that has managed to captivate players worldwide for generations.
You can find several variants of this game in online poker rooms, each with its own rules and challenges. So, you're a casual player looking for fun and excitement. In that case, it's essential to understand the different options available and develop strategies that suit your style of play to make the most out of each game.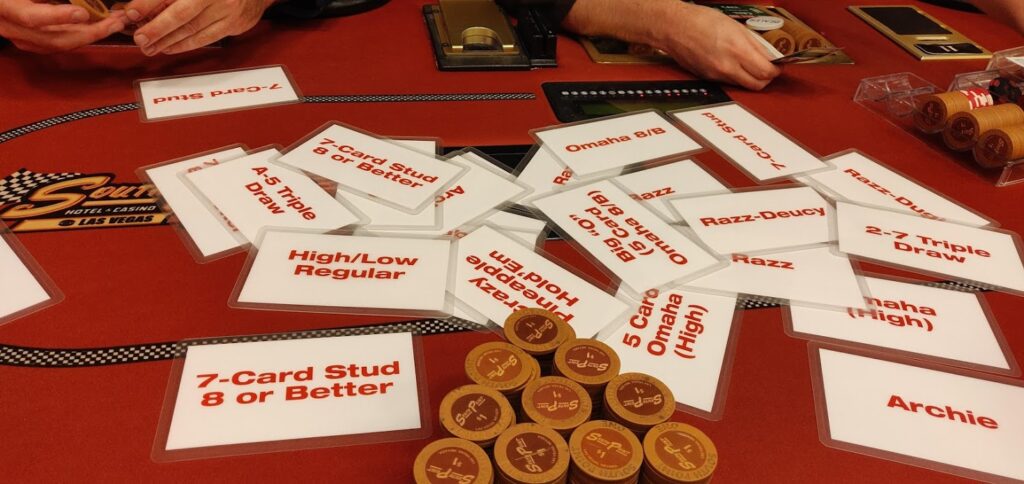 Texas Hold'em, Omaha and Seven Card Stud are the three most popular variants.
Texas Hold'em is a variant where players receive two private (a.k.a., hole) cards and have access to five community cards placed in the center of the table. The idea is to form the best hand by combining private cards with community ones.
Omaha has a slight difference; in this case, four private cards are dealt instead of two. However, you must use exactly two private cards and three community cards to form your hand. You'll need some statistical calculations and a strategic approach to make informed decisions.
Seven Card Stud is a classic variant where players are dealt seven cards (two face-down, four face-up, then a final one face-down), of which five must be used to form the final hand. In this case, observation, the ability to smoothly and swiftly calculate poker statistics and the ability to read opponents are crucial since many cards are visible to everyone.
It's essential to adapt your playing style to the variant you choose and, of course, to your experience. Additionally, understanding the rules and probabilities while constantly working on the ability to read opponents will maximize your chances of success.
Each poker variant offers a unique experience in terms of excitement and strategy. For example:
Texas Hold'em, because of its popularity, is known for its fast-paced action and strategic decisions, requiring you to evaluate the odds of getting a good hand and when to bet or fold.
Omaha suits players who prefer a deeper strategic analysis of the four private cards. Choosing the two best cards is crucial, and statistical calculations (e.g., understanding pot odds) play a fundamental role in each game.
Seven Card Stud allows you to read your opponents and make decisions based on visible cards, so moderation is key in this variant.
To fully enjoy poker, it's recommended to try different variants and develop your skills and strategies to understand which one suits your preferences and playing style best.
Choosing a particular poker style for casual players mainly depends on your personal preferences and level of experience. For example, Texas Hold'em is an ideal variant for those who enjoy fast-paced action and making strategic decisions based on community cards and opponent's bets.
In the case of Omaha, it's a suitable style for players who prefer a deeper strategy and enjoy the complexity of selecting the right cards from the four private ones.
Seven Card Stud is recommended for players who prefer a more conservative approach complemented by the ability to read opponents.
So, the secret for a casual player is to experiment with different variants and discover the most exciting and comfortable for you. As you gain experience, you can develop specific strategies to maximize your chances of winning. There are plenty of other poker variants, too, and you can learn more about them in our mixed games poker guide.
In poker, strategy plays a crucial role in long-term success. Some general strategies that can help improve your chances of winning include:
Know the rules. Before playing, take the time to learn and understand the poker variants and how you feel about them. This way, you can make better decisions during the games.
Study the odds. When you become familiar with the odds of getting different hands, you can use this information to make decisions during each game.
Observe your opponents. Developing the ability to read opponents is vital. To do this, observe their betting patterns and behaviors that help you make decisions immediately.
Practice regularly. the more you play, the more you can improve your skills. You can practice on low stakes or free tables to develop your experience.
Before playing, the new players must find the online casino offering poker that best suits their needs. For example, they have various versions to try out and various policies as far as cash outs. Ones that offer fast deposits and withdrawals tend to be better as this greatly reduces your waiting time and gets your winnings quickly through a wide range of payment methods.
Learn from professionals. The strategies developed by professional players have been established as keys to success at the tables, so do some research and learn from professionals.
Poker is a game that combines luck and skill. Luck can significantly impact the outcomes since the cards are regularly dealt with randomly. However, this can vary over time, so developing skills and strategic decision-making is important to achieve long-term success.