So why is this headline interesting you ask? I find it amazing that Daniel Negreanu bought in for $341,000 after all the ups and downs he had the previous session – he's stuck just $5,000 after the whole roller coaster ride (but over $150,000 since the start of this High Stakes Poker season). In general, since he's such a popular figure in poker, I guess most casual poker fans expect him to be a big winner on High Stakes Poker (his history of bad luck on the show notwithstanding).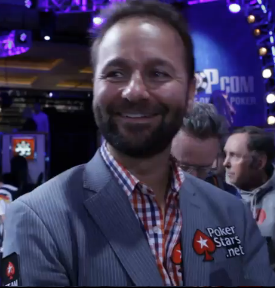 Indeed, Negreanu still is a top player, but his specialty lies in his experience and talent in all major poker disciplines – people shouldn't necessarily assume he's an amazing Hold 'em player though. Fact is, he's probably way better than you, me or the average Joe, but he's openly admitted he's not on the level of the big 3 – Phil Ivey, Patrik Antonius, or Tom Dwan, when it comes to Texas Hold 'em.
This might sound like splitting hairs, but at the end of the day a great poker player is one who excels at ALL the various poker disciplines; the mixed games in addition to Texas Hold'em. Negreanu certainly fits that bill; he's world class. At Texas Hold'em, he's excellent, too, but not in the absolute top tier of players. And when you're sitting at the same table against the few players better than you in a particular poker variant, you can be sure they'll make you pay dearly.
To be sure, he's taken some lumps from them on the show, and those top three players have really shown some wicked chops this season. Gary Wise, of ESPN Poker, has written an awesome article giving Negreanu credit for still working on his game – specifically Hold 'em – to improve. He deserves credit in my book too.
A multimillionaire many times over, Negreanu doesn't need to work hard at anything, much less his poker game. It's not like he needs to sign up for one of the best poker training sites and get in the lab. But his choice and drive to try and improve are impressive in it of itself. Assuming Negreanu improves (which he surely will), it should be interesting to see how he fares in the near and distant future in the big televised Hold 'em cash games.
How Will Negreanu Perform?
Keep following our High Stakes Poker Season 6 episode recaps to read about all of Daniel Negreanu's ups and downs throughout the season and to see if he ends this last session a winner or loser.
As a side note, it's a little funny to write "stay tuned"… after all, the entire season of High Stakes Poker was filmed over a few days many weeks ago, and it's just being edited and produced for weekly dissemination to us poker fans. Some day we'll be able to binge watch the entire series, but for now we need to be content waiting a week each time we want to take a seat on the rail of the highest stakes poker games in the world.