Poker has been around since the 10th Century. Over the years it has grown into one of the most popular games and the first card game to be considered a competitive sport. As the years progress and playing card manufacturing techniques have advanced, poker players have taken the quality of poker playing cards seriously and they most certainly should! Besides having premium quality cards that just "feel good" for the players to play with, the premium quality of the cards can actually enhance play and can prevent cheating!
In other words, having top-quality poker playing cards by definition helps improve the integrity and security of your poker game, both in home games as well as in top-tier poker rooms around the United States and the rest of the world.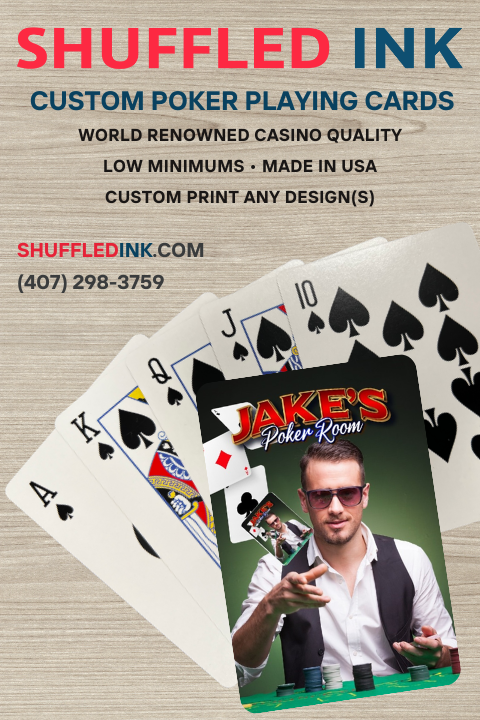 Mediocre grade playing cards can wear and tear easier which leads poker players to constantly buy new decks costing them hundreds  of dollars in the long run. Having to constantly buy new decks due to fast deterioration can become annoying. Another reason why rock-bottom quality playing cards are avoided in professional poker events is that these cheap playing cards can also be "marked" in poker games. A card being marked can be anything that allows the person who marked the card to see the value just by looking at it from the back. This can be done by folding the playing card paper edges, using fingernails to create dents and any other way the player can alter the original card. A detail so simple yet obvious. Professional playing cards are created to prevent this from happening so easily. Playing cards that are crafted to last longer and to be more durable against daily wear and tear.
The Solution: Shuffled Ink Playing Cards
But where can professional poker players — as well as serious recreational home game players — find a premium quality poker card manufacturer that they can trust? At Shuffled Ink! Not only can Shuffled Ink provide professional poker players with premium quality playing cards that look and feel fantastic but can also allow players to create their own custom deck to enhance a more unique experience. No more having to worry about old, cheap decks that deteriorate quickly or become a possible cheating opportunity for sneaky players. Players can now create their own personal dream deck for themselves and their teams.
Shuffled Ink is a family-owned and operated business based out of Orlando, Florida. They have helped individuals and businesses for over 23 years with unmatched quality, 1st-class and live customer service, and full graphic support. With ultra-fast turnarounds and very competitive pricing, Shuffled Ink is the best choice and value available! They are dedicated to providing each individual with an amazing experience! Their team can produce exactly what you want when you want it, and in the format you need. Among their thousands of satisfied customers, they have also worked with multiple well-known international brands, including Disney, Facebook, Ben & Jerry's, and so many more!
If you are looking to advance your poker game night, then make sure to head on over to Shuffled Ink where they can help you get started!
Let Shuffled Ink make your custom playing card designs come to life.
*This is a sponsored advertorial post.