No matter what card games you enjoy, there's always more to learn and master to be the best. From newcomers to veterans, this is an element of play that we all understand, but can still tend to overlook. As we grow comfortable with a game we can fall into bad habits, or chase early strategies that worked for us that no longer help at the higher echelons of play.
To be your best, skills need to be built from a solid foundation and worked on until they become second nature. With that in mind, we want to explore some of these skills, and how these can be applied through the concept of a mental stack to keep your performing at your peak.
A Shaky Foundation
It's possible to enter the boxing ring without knowing how to properly throw a punch if you still know all the rules. Doing so will increase the chances of a negative outcome, however, and the same applies to every card game, especially those with competitive multiplayer components. A common problem we see here is that many of us learned our games so long ago, and in such an intuitive way, that we never really checked the full breadth of the formal rules.
Combatting this problem can be as simple as studying. For example, poker players might check a step-by-step tutorial on how to play poker and grasp its rules. Of course, this will be just as helpful to newcomers looking to build a strong foundation. The websites which offer games to play like Unibet and PokerStars can also ease you back into the simpler forms of play with special features like deposit matches, or low-cost tables. Playable over desktops and mobile systems, the availability of learning or refreshing on this front shouldn't be a problem.
Skills and The Mental Stack
The term mental stack is commonly used in the world of fighting games. It refers to how you categorise information, to best focus on what's the most important at any given time. Without properly learning to work with a mental stack, players can end up falling for distractions or putting their attention on non-crucial elements.
To work with a proper mental stack, a player needs to automate as much of the game in their brain as possible. Entire books have been written about this subject, where the basic idea is that you need to become so used to quickly discerning probabilities that you don't waste time or effort, or display weakness.
Again using poker as an example, this could practising checking the table cards against yours, and the likelihood of others containing winning combinations. If you have two aces and the table has one, then you need to be able to understand the other player's position relative to your own at a glance. This way you can optimise your mental stack, and better play with others.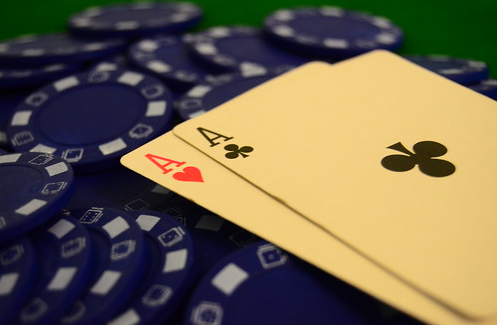 Being great at a game takes time. No matter your natural aptitude, it's only by practice and dedication that you'll start to carve out a strong position and reputation. Sometimes this can mean returning to basics and working on parts of yourself that you've long discarded as unimprovable. Stick with it, however, and you might be surprised to see just how much potential you have locked away.