Ontario is considered one of the most livable territories anywhere in the world. Toronto, a major Canadian metropolis, is the biggest city in Ontario. One of the many reasons Canada is considered an ideal place to live is due to how their society deals with pastimes such as alcohol and gambling. It is a tricky subject to handle properly across several countries. Some countries do not find the balance and some do, and Canada falls into the latter category.
We will be discussing these topics in far more detail, but the AGCO (Alcohol and Gaming Commission) is the governing body that provides oversight on these matters. By comprehensively providing Ontario's verified poker sites list and clear and coherent legislation on other types of digital casino gaming, the province is in a solid position to profit from the significant wealth available in the industry.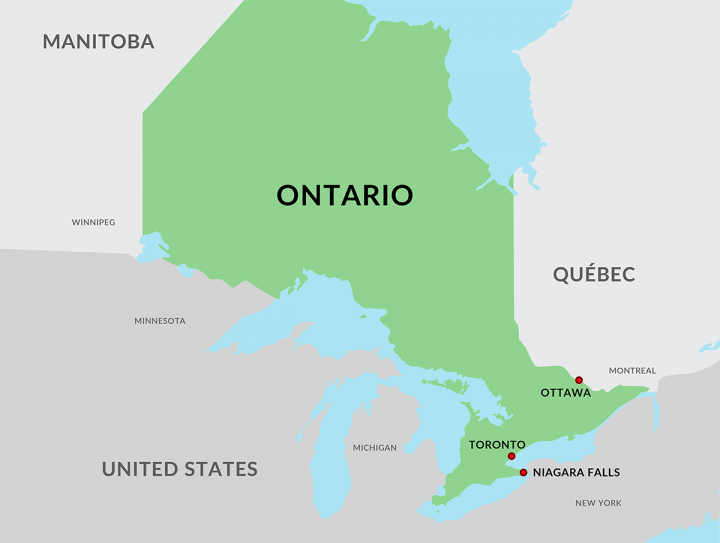 A Quick Guide to Poker
If you're eager to play poker, checking out some rules before placing wagers with your hard-earned money might be best. Poker is in a unique position when it comes to casino gaming.
You can find plenty of people on social media and beyond who claim to have strategies for casino games, from blackjack to roulette. Unfortunately, these people do not know what they are talking about and often try to frame scenarios within these games as ways to make money.
In reality, this isn't the case. No strategy will help you make money in blackjack or roulette. However, poker is a game where strategy, skill, and persistence can pay dividends. That is apparent, given that plenty of professional poker players play for huge prize money but no professional roulette players exist.
Does Online Poker Work Differently?
Land-based casinos often host poker tournaments and look to pit the best players against each other. The overall prize pool can be significant if these tournaments gain substantial coverage and many players enter them.
Poker in a physical casino relies on body language, bluffing, and psychologically assessing your opponent's moves. The best poker players in the world have mastered the art of bluffing and knowing how to determine when their opponent is giving away their hand through their body language.
All of these skills are pointless with online poker. The focus is on the quality of the hand itself, and that is it. Professional players will often use online games to focus on other aspects of their game, instead of relying on the body language of others.
How To Play Texas Hold'Em — a Brief Guide
There are many different poker variants. You can find dozens online, and some are more popular than others. First, however, we will briefly guide you on playing the most popular version — Texas Hold'Em — and how to grasp the basics quickly before you head to the live tables to stake real money.
Poker uses a standard deck of cards — 13 cards across four suits, which makes 52 in total. Starting with the most common winning hand, we will work our way up. The game begins when each player is dealt two cards. This is the choice of poker game in the World Series of Poker and the World Poker Tour World Championships.
Three cards from the pack are then drawn, and the quality of your hand depends on how your hand interacts with the cards drawn on the table. Starting from the lowest possible winning hand, we will show you what hands to look for and how you can maneuver your way into a winning position.
Even if you have a weak hand, you can aggressively raise your bets and psych out your opponent into folding, even if they have a better hand. This is down to the psychology of poker. It is one of the main reasons why professional players earn such big money.
Plenty of the world's top players know how to use these techniques to their advantage and bluff their way to a win. But conversely, they can do the same with a strong hand, applying the reverse strategy.
Poker Hands — Ranked
A high card hand is the weakest winning hand based solely on your highest card. So, if you have an ace as your highest card, this would be a winning hand if no other player has any other type of hand. However, this scenario would be rare.
A pair beats a high card. This can be a pair of any number of any denomination. Usually, this wouldn't be enough to win a game, but it's better than having nothing.
Two pairs of any hand will beat a standard pair. For instance, if another player has a pair of Kings, but you have a pair of threes and a pair of fives, your hand would win that game.
Three-of-a-kind is relatively self-explanatory. If you manage to have three of any card, this will trump any pair or double pair in the game.
A straight is five consecutive cards in any order, such as two, three, four, five, and six. They would beat any of the above hands.
A flush — this is when you have five cards of the same suit, in which case your hand is better than all of the above.
A full house combines two other potential winning hands. So, if you have a pair and a three-of-a-kind, this could set you on your way to a win, as it is mathematically challenging for another player to beat this hand.
Four of a kind — if you have four of any denomination, this is a better hand than any of the abovementioned ones.
Straight flush — if you have a sequence of five cards of the same suit, you are pretty much guaranteed to win that hand, as the only other hand you can obtain is a royal flush, which has odds of over 500,000/1.
A royal flush — similar to a straight flush but it is comprised of the highest cards in the same suit. Ten, Jack, Queen, King, and Ace. Unless you fold on this hand, the prize is yours.
Ontario's Verified and Licensed Poker Operators
According to Gambling Ontario, these are the current top poker operators in the province. We have examined them for you and looked at what they offer. They are all licensed by AGCO, which means that they are registered to provide you with a top-quality poker service in the region.
PokerStars Casino — as one of this area's leading global brand names, you can choose from dozens of tables and games. This reputable brand is renowned for its fast withdrawals and facility to bridge payments with several providers.
888 Casino — one of the oldest and most well-established gambling companies anywhere on the Internet. They have 24/7 customer support available for you if you have any questions, and with over 2,000 tables, they have 24/7 tables you can play too.
Dream Vegas Casino — it wouldn't be a complete list without at least one of these names referring to the gambling paradise in the Nevada desert. Dream Vegas Casino is a highly rated poker operator with a wide range of other casino games you can choose from too.
Casumo Casino — another highly-reputable and trusted brand in the world of online casino operators. Casumo Casino is similar to 888 Casino in that they have hundreds of possible games you can play and 24/7 support available when you need to get in touch.
NorthStar Bets — if you're looking to register for a service quickly and want to play with a casino gaming brand that is well-trusted within the sector, NorthStar Bets fits this category. It is highly rated and offers a comprehensive sportsbook if you want to switch from the poker table and try something new.
Conclusion
One of the benefits of Ontario's gambling legislation is that it is a brand-new policy that has only been brought in toward the end of 2022. It has factored in all the necessary variables to consider when weighing the positives and negatives of regulating gambling to stimulate a tax base.
Many poker players think the game is a grey area between gambling and strategy. However, you can win in many ways and use a technique to maneuver your way out of difficult positions.
Therefore, there is a reasonably strong argument that it completely contrasts some of the other casino games you can find that rely on luck.
As we discussed earlier, blackjack and roulette have no strategy. However, poker can become a profession if you have the skill. This is why many people who play poker and do not gamble on other casino games or sportsbooks, wouldn't consider themselves gamblers.
The AGCO has performed a solid public service by ensuring its watertight legislation. It protects gamblers whilst allowing providers to use the province as a platform to provide online poker services. It then ensures that even though poker players have plenty of choices, the tax base is funneled back into their province and spent to create a better society for their citizens.