In the wake of the resounding success that was the inaugural WPT World Championship, the 2022 Global Poker Award-winning Event of the Year, the poker community has been eagerly anticipating the release of the 2023 WPT World Championship at Wynn Las Vegas. Details have just been announced, and you can circle November 29 – December 23 on your calendars, when all the action will go down. The highlight will once again be the $10,400 buy-in WPT World Championship Main Event, to be held from December 12-18, which will act as the grand finale of the WPT's 21st season.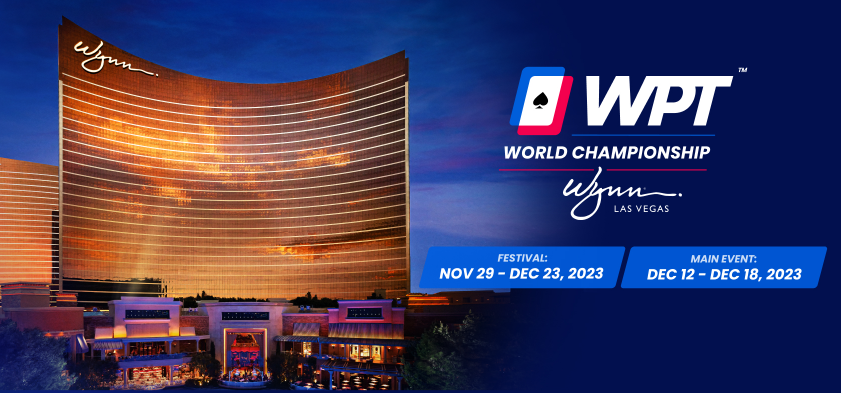 Here are the key dates:
Festival: November 29 to December 23
Seniors: December 6-8
WPT Prime Championship: December 7-12
WPT World Championship: December 12-18
WPT Ladies Championship: Decmeber 16-18
Mystery Bounty: December 18-21
The complete schedule with all events and satellites will be published in the coming months.
Pliska, Beauregard Expect Another Great Series
WPT CEO Adam Pliska stated: "The WPT World Championship festival was such an extraordinary milestone during our 20th season last year, thanks to our partner Wynn Las Vegas and the enthusiastic support of the players." He added: "It is our hope that we have started a tradition in poker that we can enhance and add to each season. We look forward to making this year's World Championship even more memorable for players."
"After paying out more than $53 million in total prize money last December, we are excited for the return of the WPT World Championship at Wynn," said Ryan Beauregard, Executive Director of Poker Operations at Wynn Las Vegas. "Due to last year's incredible turnout and the strong rapport we built with WPT, we have extended the festival dates and will create a tournament schedule to make 2023 even more memorable."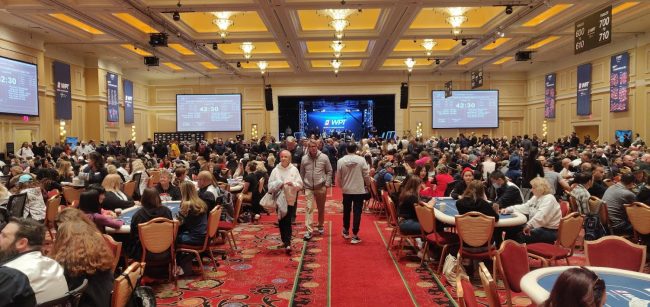 Winners of the 2022 WPT World Championship
The inaugural edition of the WPT World Championship at Wynn Las Vegas was a resounding success, with 2,960 $10K entries and a prize pool of $29 million, nearly doubling the $15 million guaranteed.
The top 370 players cashed in the tournament and the champion was Canadian Eliot Hudon, winning the biggest prize of his career: $4,136,000. Second place went to Englishman Benny Glaser, who took home $2,830,000. Rounding out the podium was Jean-Claude Moussa with a prize of $2,095,000. All six players who made the final table received at least $1 million in prize money.
For its part, the WPT Prime Championship had 5,430 $1,100 entries and distributed $5,267,100 in prize money among the top 677 finishers. The winner was Stephen Song who earned a grand prize of $712,650 and thereby  multiplied his initial investment by a factor of 650.
The ladies had their feature tournament, too, with the WPT Ladies World Championship, which boasted 578 entries of $1,100 and a prize pool of $560,660. The champion was Canadian Lina Liu, who achieved her best result on the poker circuit: $105,136. Notables near the top included Kathy Liebert who finished sixth and Jamie Kerstetter in fifth.
The inaugural WPT World Championship festival's 23 events awarded over $53 million in prize money, and the full results of all those events can be seen on the Hendon Mob database.
What can we expect for the 2023 edition? It is very likely that this year's edition will be even bigger, as those who have already played will surely come back and many new players will also join and will not want to miss the "event of the year" which attracted the attention of players from different countries. Many of them, like Dr. Josef Strazynski, father of Cardplayer Lifestyle founder Robbie Strazynski, managed to snag a seat in the premier event via WPT Global, which will surely be holding numerous satellites on their online platform throughout the year once again.
To reminisce  about last year's incredible festival, be sure to check out our top 10 highlights of the 2022 WPT World Championship article. Those of you wishing to reserve their place at the Wynn or Encore well in advance so as to be close to the action can do so by clicking here.