With the World Series of Poker quickly approaching, a lot of poker fans are feeling the excitement for the biggest event of the year and are looking forward to seeing their favorites chasing coveted gold bracelets. Not unlike in other sports, people love to cheer on their fellow countrymen, and the Irish often figure as some of the most boisterous fans out there. To get the poker juices flowing for all the Ireland supporters out there, here's a list of 7 top Irish poker pros to keep an eye on during the upcoming 2015 WSOP.
Andy Black
Hailing from Belfast and currently living in Dublin, Andy Black is the name that deserves to be mentioned first. Topping the earners list for Ireland and with 24 WSOP cashes, Black always represents a force to be reckoned with at the tables. Although still looking for his first bracelet, he has amassed just shy of $2.3 million in WSOP earnings. The lion's share of that money came from Black's fifth place finish in the Main Event back in 2005. That finish, combined with several more deep runs in the Series, makes the Irishman a very serious threat to win a bracelet in 2015.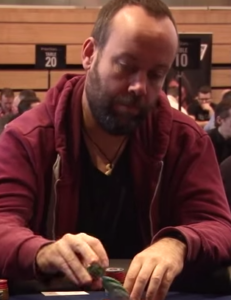 Ciaran "Big C" O'Leary
Although he is ranked "just" 15th on the Ireland All-Time Money List, O'Leary already has a WSOP bracelet to his name, which he won back in 2007. Apart from earning him upwards of $727,000, this victory also landed him a sponsorship deal with biggest Irish online poker site Paddy Power Poker (which lasted until 2009). O'Leary hasn't notched too many results since according to his Hendon Mob page [Ed. Note: As he quit poker back in 2009], but 2015 is as good year as any to stage a big comeback 🙂
Padraig Parkinson
One of the legends of the Irish poker scene, Padraig Parkinson will certainly be closely watched and rooted for by many fellow countrymen. Fifth on the Ireland's All-Time Money List and with close to $1.8 million in live tournament earnings, Padraig still has yet to taste the sweet flavor of a gold bracelet win, though he came agonizingly close twice. The first such time was in 1999, when he finished third in the Main Event. Then, in 2006, he final tabled a $1,500 Hold'em event, eventually finishing third once again. A colorful character at and away from the tables, Parkinson will certainly be interesting to keep an eye on if he makes an appearance at this year's WSOP.
Marty Smyth
Another Belfast-born WSOP bracelet winner, Marty Smyth trails only Andy Black on Ireland's All-Time Money List. His victory in the $10K PLO Championship event in 2008 earned him $860,000 and poker's most coveted trinket. Smyth hasn't had any deep WSOP runs since '08 so he's "due" to shine again. Interestingly enough, his WSOP victory is only his third-largest cash, overshadowed by his wins at the Paddy Power Irish Open in 2007 and the 2008 Sky Sports Poker Million Final.
Dara 'Doke' O'Kearney
O'Kearney may not be from a poker playing background, but nobody would be surprised to see him at this year's World Series. A former professional athlete, 'Doke' has that natural competitiveness found in most top sportsmen and the poker arena is a great place for such spirits. Despite only playing poker "on the side" during his sports career, he has lifetime earnings of $420,000. A WSOP bracelet would certainly be a welcome addition to his collection of trophies. Now that he has more time to devote to poker, he just might grab one.
Donnacha and Eoghan O'Dea
Any article about top Irish poker players would pretty much lose it's credibility if it failed to mention the proud father-son duo of Donnacha and Eoghan O'Dea. In terms of their World Series of Poker records, these two have achieved something that has never been achieved before nor repeated since: they have both made it to the WSOP Main Event final table, but unfortunately neither of them was able to translate that success into the most coveted bracelet of them all.
With all of his achievements at the felt, Donnacha has (unfortunately) become more well-known for being "epically slowrolled" at the most recent Irish Open. At least karma won out.
In any event, O'Dea Sr. had his shot at the title back in 1983 but couldn't make it further than sixth place. Twenty-eight years later, in 2011, his son Eoghan found himself in much the same spot, although he had to navigate through a much bigger starting field to get there. Not one to "overshadow" his father, he finished in the exactly same spot, getting knocked out in sixth place as well.
If both of the O'Deas turn out to play in Las Vegas this summer, they will certainly seize the attention of all Irish poker fans as their unique poker story makes it almost impossible not to root for them.