One of the more enjoyable aspects of what I do for a living is getting to go on the occasional poker trip to do media coverage. Not being a professional poker player myself, my typical "media grind" takes place at home in front of the computer each day, so it's great to have opportunities once in a while to get out and about in the live poker scene.
When 888poker announced that their first LIVE festival of 2020 would take place in Madrid I was immediately intrigued, saying to myself: "THAT would be cool to attend!" Now having booked my travel arrangements, in just a few days I'll be set to jet off to the Spanish capital. With a front row seat to all the poker action awaiting my arrival, here are five things I'm most looking forward to.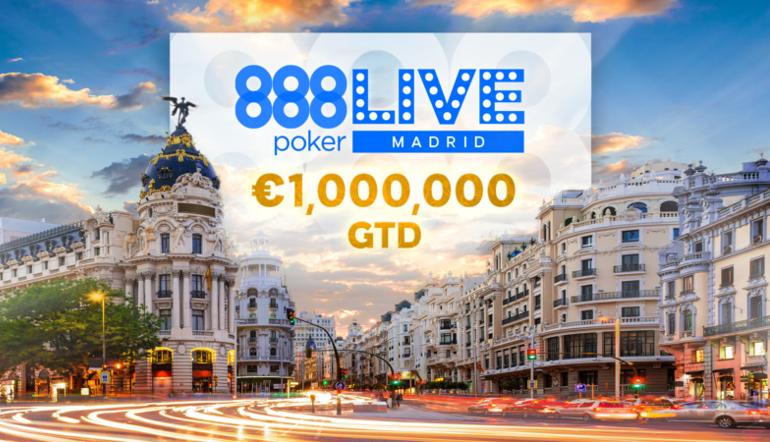 Dusting off the cobwebs
This one might seem a bit odd to some, given the amount of flying I've done in the recent past, but it's actually been a little while since I've done proper media coverage at a live poker event; since the 2019 WSOP to be precise. Sure, I took a solo poker trip to Prague in November, but that was specifically to play.
Of course, one doesn't head off on a poker media trip unprepared, and it's been fun putting together a content plan for the coverage I'll be doing. Your response to the type of coverage I usually do at live poker events has always been positive (thanks!) so you can expect similar, and it's going to be fun to "dust off the cobwebs" and produce it for you.
Attending an 888poker LIVE event for the first time
Of all the times I've gotten to travel and do media coverage of live poker events, I've never yet been to an 888poker LIVE event. It'll be a treat to see and experience things the "888poker way." The impression I've gotten both from my industry colleagues as well as from professional players who travel the world playing at marquee tournament festivals is that each operator's live poker offerings have a distinct flavor to them.
From everything I've heard and seen via articles, videos, and individual testimonials, 888poker LIVE festivals have a reputation for being fun-filled, social, memorable gatherings of poker players looking to have a good time. It'll be fun to experience that vibe in person and hopefully give you all a window into what attending one of the company's live events is like from my perspective.
Getting to know the 888poker ambassadors better
888poker is quite proud of its team of ambassadors. I've met and have had some great conversations with a few of them in the past, including Dominik Nitsche, Chris Moorman, and Kara Scott. I interviewed Martin Jacobson just over five years ago, but have never had the pleasure of an in-person meeting with him. Other ambassadors, like Vivian Saliba and Sofia Lovgren, I've met but only ever so briefly without getting the chance to properly have a meaningful conversation, to say nothing of the team's newest members, Ana Marquez and Daria Feshchenko.
Fewer and fewer people get the honor of being poker brand ambassadors these days, so if one of the industry's leading brands feels that this squad is worthy of representing them, they're clearly a very special group of people. Of course they'll be busy playing and carrying out their usual ambassadorial duties, but I specifically hope that I get time to sit with them all and get to know them better.
Visiting a new poker destination and casino venue
Aside for a brief childhood trip, passing through for a day, I've never really visited Madrid before. Getting to spend a few days in a new city is always exciting, and I hope to get out and about a bit beyond the poker room walls and do a little sightseeing in the Spanish capital. After all, what good is taking high school Spanish if you don't get to put the language to use once in a while? 😃
With that said, I've heard only great things about the Casino Gran Via, where the 888poker LIVE festival will be taking place. From all the images I've seen, it looks like a spectacular venue both inside and out. I'll of course be spending the bulk of my trip in the poker room, so I look forward to seeing if the on-felt action is really as hot-and-spicy as the country's reputation indicates it will be.
Being in my element among fellow poker enthusiasts
While I love the many benefits of working from home, it does get lonely once in a while. Live poker is by definition a social game, and part of what I love so much about traveling to spending time in a poker room is the opportunity to be around so many people who share my enthusiasm for the game.
For instance, I know that top poker vlogger (and all-around great guy) Brad Owen will be in attendance, as will veteran broadcaster (and all-around great guy) David Tuchman. Whether it's at or away from the tables, I'm definitely looking forward to a powwow with those fellas, as well as whomever from the PokerNews live reporting crew is assigned to the event; they're always great.
Finally, I tend to forego sleep on trips like these in favor of making time to sit for a few wee morning hours in cash games. Win or lose in those sessions, it's always a treat to mingle with the locals and soak up some extra poker experiences that give me great memories and stories to tell.