Online casino games come in different shapes and sizes: slots, bingo, poker, and roulette, to name a few. Although slots are really popular, card games stand out due to their portability, different variations, and a sense of competition.
Sure, you need luck to get favorable cards in blackjack and poker. But you have to rely on skills and strategies to win. That makes it competitive and intriguing.
And guess what? Competitiveness makes blackjack, baccarat, and poker more satisfying after a triumph. These titles are also profitable and easy to learn — other major reasons for their popularity.
In this article, we'll discuss some of the best online casino card games to play. Let's get started.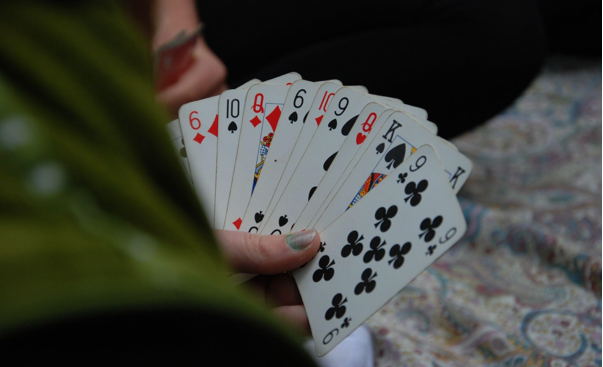 1. Poker
If you would love to make consistent money gambling online, there's no better game to play than poker. For starters, it's a game of skill; hence the potential for consistent revenue. Secondly, it comes in different variations. Finally, it can be profitable.
You need skills like bluffing and knowing when to call or fold to win. What's more, experience comes in handy in choosing which poker tables to sit at, hiding tells, and exploiting your opponents' weaknesses.
When it comes to poker variations, these are some of the most popular titles:
Texas Hold'em
Omaha Hi & Hi/Lo
5-Card Draw
7-Card Stud
Ideally, it's in your best interests to learn how each variant works. After that, you can decide the best poker game for you.
Texas Hold'em is the most popular variation. It features four stages: pre-flop, flop, turn, and the river. In the pre-flop, every player receives two cards. Starting from left to right, each player gets a chance to call or raise the blinds (bet sizes) or to fold their cards.
If you proceed, three more community cards are dealt for the flop. Now, you have five cards and a clear indication of whether you have a strong hand — high-card, all the way to the royal flush. If you proceed in the hand, you'll see a fourth community card (the turn) and a fifth (the river). At showdown, the player with the best hand wins.
With that in mind, it's critical to choose a good poker site. You'll benefit from high traffic of players, bonuses, quick payouts, and quality software.
As this Bovada Poker review explains, the best poker sites also support mobile gaming. That way, you don't have to power up your cubicle desktop every time you need to play a little bit of Omaha and Texas Hold'em.
How much money can you make in poker? The short answer is that it depends on the game you choose, the limits at the table, its rules, your skills, and your budget. That said, winners of top-tier poker tournaments can make millions.
2. Blackjack
Blackjack is one of the most popular online casino card games. Here's why. It's simple to play. You don't have to wait around for people to join your table. And importantly, you can use strategies to win.
The main goal is to defeat a casino's dealer in producing a hand of 21. A hand close to 21 but better than the dealer's hand is also a win. Anything beyond 21 is a bust — a loss.
You receive two cards facing up at the start of a game. The dealer also receives two cards, and you can view one of their cards. In light of that information, you can make the following moves:
Hit, for another card
Stand, not to receive an extra card
Double down
Surrender
Split Cards
Truth be told, the moves you make also depend on the variation of blackjack you're playing: Classic Blackjack, Perfect Pairs, Blackjack Switch, Spanish 21, or Vegas Strip Blackjack.
In Blackjack Switch, you receive two hands (four cards) at the start of a game. You're allowed to switch the two top cards to form stronger hands. In perfect pairs, the side bet involves producing cards of the same face card value, same suits, or same color.
3. Baccarat
Blackjack might be popular in Las Vegas casinos, but in Macau, baccarat rules. How does this game work and why is it so famous?
Baccarat involves six to eight decks. It also features two hands:
You can bet on the player, the banker, or a tie. The banker (1.06%), has the lowest house edge. The player comes second at 1.24% while a tie attracts a house advantage of 9.5%.
In other words, the banker is the best hand to bet on while a tie is the worst bet in baccarat. To win, you usually need a hand of eight or nine. The game uses regular cards — 2-9, 10, jack, queen, king, and ace.
Cards 2-9 hold their face values. Cards 10, J, Q, and K are worth zero while aces are worth one.
What happens if you exceed a hand of 9? Unlike blackjack, you don't lose. Let's say you get cards 9 and 5. The total value is 14. Instead of losing, 4 becomes your new hand. In other words, the tens digit is annulled.
4. Red Dog
Also known as Yablon, Red Dog is a simple game of cards. It uses regular poker cards, which is why some people call it Red Dog Poker. However, it is different from poker.
With Red Dog, you receive two cards at the start of a game. Then you have to predict the value of the third card. As an example, you receive a 2 and a 7. You need to bet on whether the third card has a value of between 2 and 7 or if it's a different value.
Red Dog is unique in a few ways. If you receive two consecutive cards, say 3 and 4, it's considered a push. You have to play the game again. Secondly, rarely do you need to raise your bet. But it's an option.
Another thing to note is that the payout in Red Dog depends on the number of values in between the two cards you receive. This is known as the spread.
To expound more, cards 2 and 4 have a one-value spread. In this case, you get paid 5:1 if you're correct. Cards 3 and 6 have a 2-value spread. The payout is 4:1. If the spread is greater than 4, the payout is 1:1.