Live dealer poker games have surged in popularity this decade, with hundreds of games spread simultaneously by social casinos around the globe.
While live dealer poker may be a bit counter-intuitive given the massive amount of players that a major brick & mortar tournament series can attract – or the 24/7 availability of traditional online poker games – live dealer poker games have etched-out a niche market that continues to grow.
In this article, we will look at the Top 3 Reasons why live dealer poker games are so popular in 2023 and why they'll likely continue to attract more customers in the years to come.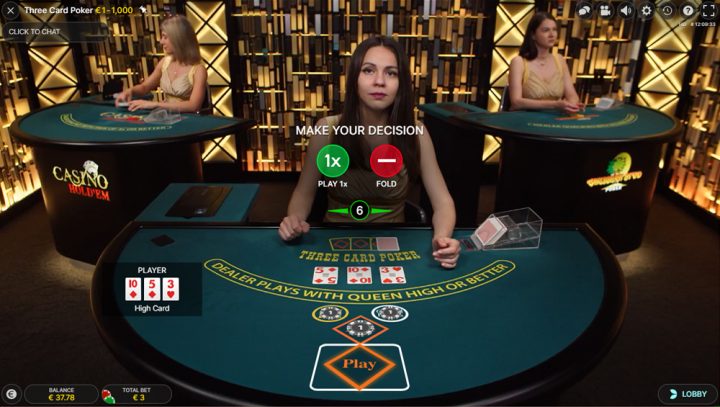 The Online Social Element of Live Dealer Poker Games
Live dealer games that are spread online by numerous operators, such as live poker at Kansino, tend to be one-table affairs.
The relatively slow pace of live dealer poker games (compared to multi-tabling traditional online poker) grants ample opportunity for social interactions.
A player can actually converse with other competitors via chat in these games, watch a real human being (in real time) deal cards, and even perform a visual prompt (aka react) upon witnessing a bet/call/raise/fold.
Socializing is any activity that a lot of card players typically don't get enough of when playing online, but live dealer poker games change that.
The Convenience of Live Dealer Poker Games
Are you on-the-go and don't really have time to intensely focus on a bunch of online poker tables?
This is another area where the live dealer format flourishes online.
You don't really need a complicated PC tower accompanied by a large monitor if you just want to play a social poker game for real money in a live dealer setting.
You can play a live dealer poker game while washing clothes, casually browsing TV or your favorite streamed content, and even while you're eating.
What's more, you can enjoy the activity conveniently from the comfort of your own home and at your fingertips by using a smart mobile device.
The compatibility of live dealer games with operating systems such as Google Android and Apple iOS is constantly improving due to how many individuals in the marketplace now make use of smart technology.
Watch Parties for Live Dealer Poker Games
Watch parties are a great way to attract a crowd to any get-together with family and/or friends.
Although unthinkable just a few years ago, live dealer poker games are a fantastic entertainment option for a house party.
Visitors can socialize as they please and take in the real money poker action on a big-screen TV that's located in a general viewing area.
And if some guests would like to get in on the action, there is a way to do that once a player has set up an account with the hosting website!
There's nothing quite like the atmosphere of live table games and a crowd. With live dealer poker games, you don't even have to leave your home.
You can simply bring quality entertainment into a social setting without having to fuss about the logistics of poker tables, poker chips, or counting out winnings, all of this can be done online!
The next time you're inviting guests over to your home, put a live dealer poker game on TV (with a computer that's capable of allowing gameplay) and you'll quickly find out that the online game itself might be the life of the party!
Live dealer poker games – as well as other casino games that are offered in a live dealer setting – can truly enhance a crowded environment.
Before long, you'll have guests asking you for poker tips and you might even attend a watch party where a live dealer poker game is featured in the viewing area!