Tis' the season for gift giving and poker players worldwide are surely chomping at the bit to join the masses in the fun sport of consumerism!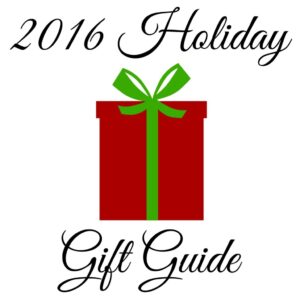 OK, we'll tone down all that marketing hype just a tad, but what's certain is that poker players (and the people who love them) are always on the lookout for a fun, poker-themed gift to purchase for the holiday season. With Thanksgiving now upon us, people have officially begun their holiday season shopping. So, at the very least, it's time to start thinking about what gifts you're going to be buying.
Here's my recommended list of poker-themed gifts you can buy for yourself, your significant other, or for a poker-loving friend. The options listed ought to cater to any budget, regardless of the size of your bankroll.
1. Global Poker League (GPL) Gear
Much like sports fans, poker fans enjoy rooting for their favorite players. Dozens of top poker players and fan favorites play for the 12 Global Poker League teams. It's only natural that poker fans hailing from Hong Kong, Berlin, Los Angeles, Las Vegas, Montreal, London, New York City, San Francisco, Sao Paulo, Moscow, and Paris would want to purchase some gear that will support their hometown teams.
And if you're from anywhere else around the world and still feel like getting a GPL hat, just choose the one you think will look best on you – all those logos are pretty sweet 🙂 .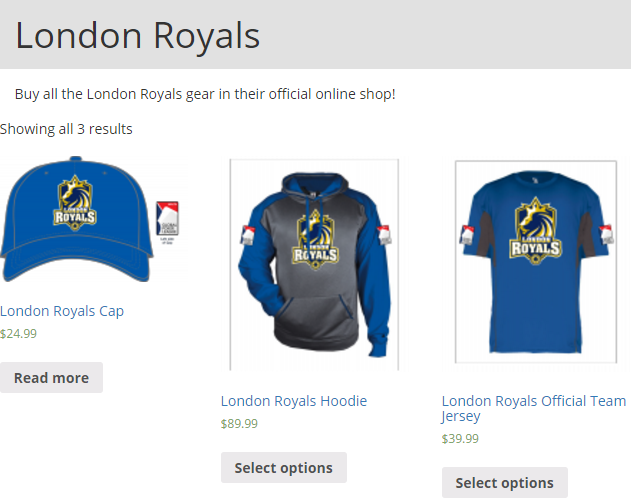 2. BBO Poker Tables
If you ever want to host a decent home game, you shouldn't have to settle for just playing on "any old table". At the very least, you want to have a dedicated poker surface, like a table-top or a mat. Want to spring for something a bit pricier? A full-size poker table would be the way to go. Of course, if you're a high roller and want to go all-out, there are lots of specialized, customizable, premium-quality poker tables out there with plenty of bells and whistles.
BBO Poker Tables offers the full spectrum of options in that regard. I got their portable poker mat a few months ago and all my buddies agree that it's taken the quality of our home games up a level.
Check Out @cardplayerlife using his BBO portable mat to host a fundraising Poker game night for #KidsKickingCancer https://t.co/bWlN79oMbB

— BBOPokerTables.com (@BBOPokerTables) October 13, 2016
Perhaps if I move to a larger place with more space, I'll be able to upgrade and get something like their Ultimate Poker Table.
Then there's their Lumen HD model, which will probably forever be out of my own personal price range, but which would be so sick to play on at someone else's house. I mean seriously, check this thing out: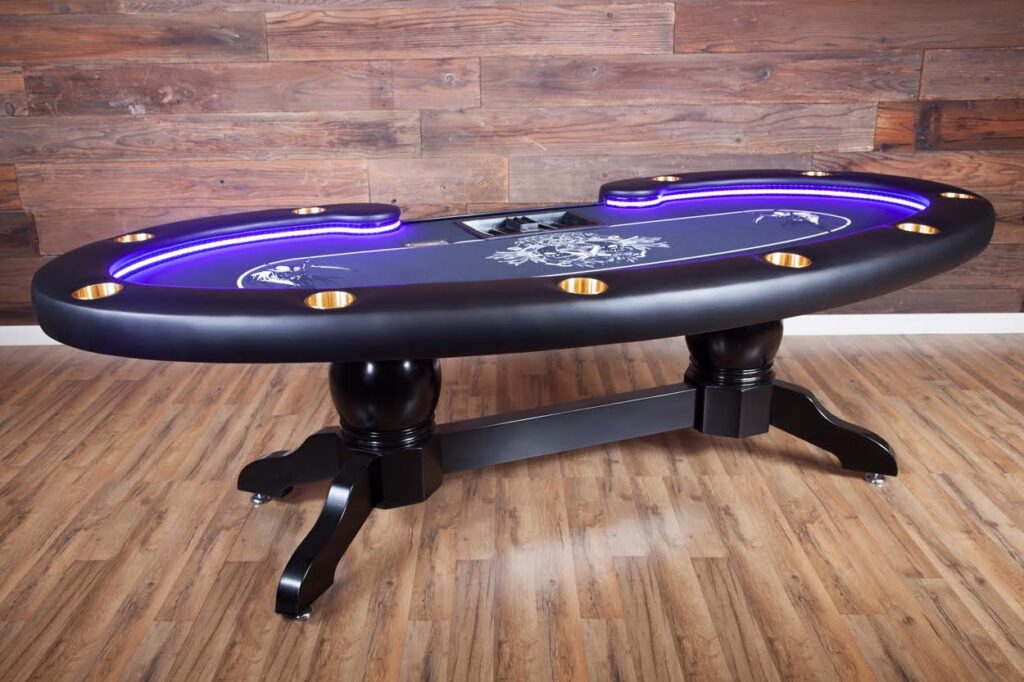 3. Any Two (Customized) Poker Apparel
Every Hold'em player has their favorite hand. For some it's the good old 10-2, in honor of Doyle Brunson. For others, it's the classic pocket aces. For you, maybe it's some random two-card combination that happened to win you a huge cash game pot or secure a tournament win once upon a time.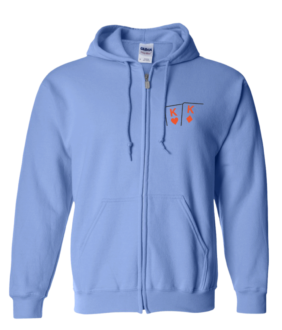 Regardless of what that hand might be, having it custom printed or embroidered on apparel instantly makes it a must-wear for any poker player.
Check out AnyTwo.biz, which allows you to create and order all sorts of clothing decorated with any Hold'em hand you'd like. Note that you can browse the site either by clothing category or "by card"!
Ed. Note: I actually got my hoodie in the mail today, just in time for the colder weather that's been starting to set in. It's perfect!
4. Life's a Gamble
There are tons of poker books out there that poker fans enjoy gobbling up, yet one of them in particular stands out as probably the best new offering of 2016. I'm talking about Mike Sexton's Life's a Gamble. Earlier this year, we not only published a review of the book, but also an exclusive video interview with the legendary Poker Hall of Famer.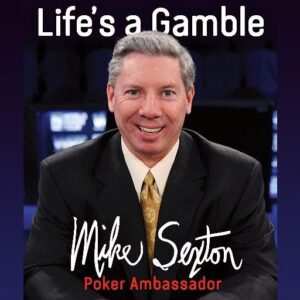 It's not a strategy book, but rather a collection of tales brought to you by one of poker's finest storytellers. It's a quick, easy, and incredibly fun read.
You can purchase Life's a Gamble direct from the publisher, D&B Poker.
5. Raiser Clothing
Raiser Clothing is a poker apparel brand for those who take poker seriously and want to show their love of the game both on and off the felt. Raiser's T-shirts, hats, and hoodies are for those who don't want to wear cheesy poker t-shirts with drawings of cartoon donkeys or "funny" poker phrases. The designs sold by Raiser are similar to popular surf and skate brands that are already being worn by millions across the world.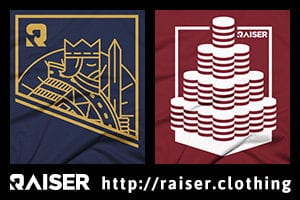 If the above description fits your poker personality, I recommend you check out the T-shirts, hats, and hoodies on the Raiser Clothing website.
6. A Card Player Cruise
For almost 25 years, Card Player Cruises (no relation to this poker site) has been combining all the fun of playing poker with the magic of cruising to exotic destinations around the world. Run by Poker Hall of Famer Linda Johnson and Women' in Poker Hall of Famer Jan Fisher, it sure seems like any poker player who has ever been on a Card Player cruise only has positive things to say about the experience.
In 2017, Card Player Cruises will celebrate 25 years in business We're hosting a $25,000 Guaranteed NLH Tournament on #harmonyoftheseas pic.twitter.com/ukmud0L3dt

— Card Player Cruises (@CardPlayerCruis) November 8, 2016
Cash games, tournaments, and all the fun a first-class cruise has to offer; what could possibly be a better gift for someone who loves to play poker?
A holiday gift like this – either for yourself, or for a beloved poker enthusiast – is certainly a splurge, but it's also the one item on our list that guarantees a lifetime worth of amazing memories.
Ed. Note: I've never been on a poker cruise, so if any of you fans out there had a really great year at the tables and want to get an awesome holiday gift for your favorite poker writer… #justsaying 🙂
7. Gifting to a Charitable Cause
While the holiday season is a time for counting our blessings, it's also a time to reflect on others who are not as fortunate as we are and who can use all the help they can get. Something I've championed for years is fundraising via running a charity poker event.
Of course, there's also the "tried and true" method of pledging money to REG, which has raised over $1.5 million since it's founding a couple years ago. Supported by a litany of professional poker players, REG makes sure that the money you give to charity gets used as effectively as possible, thus maximizing the positive impact of your donation.
I'd also like to use this opportunity to single out one poker pro who is doing something pretty remarkable in the realm of "gift giving". If you want your poker dollars to stretch that much further for those in need, I highly recommend doubling down and supporting Dan Smith's charity drive. What's certain is that if you do, you'll be making someone's holiday season quite special.