We are under 24 hours away from the start of our first ever branded live event, the Inaugural Cardplayer Lifestyle Mixed Game Festival, set to take place at the Westgate Las Vegas Resort and Casino from October 4-7.
The excitement is palpable and we're looking forward to seeing you there. Here's a rundown of what you can expect.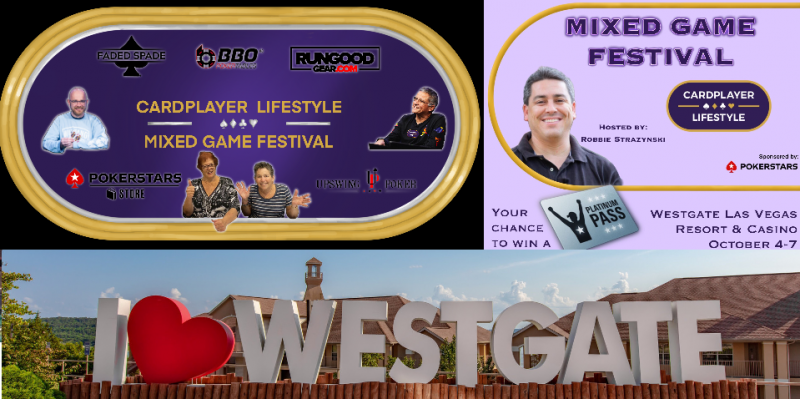 We've Got ALL the Games
From Archie to Razzdugi, you'll be able to play all of your favorite poker variants at our Mixed Game Festival. Flop Games, Stud Games, and Draw Games – you name it, you'll find it at the Westgate between October 4-7.
Our Mixed Game Guide is a bountiful resource for tips and strategies for all the games we'll play, plus it lists some excellent additional resources that can help you brush up on your mixed game skills.
We've Got a Platinum Pass
While this is the first ever live poker festival to focus specifically on mixed game play in both cash game and tournament form, our biggest draw is of course the Platinum Pass to the PokerStars Players Championship.
We're thrilled to be offering an extra $30,000 of value to our $200 H.O.R.S.E. tournament, which takes place on the festival's final day (October 7, starting at 12pm).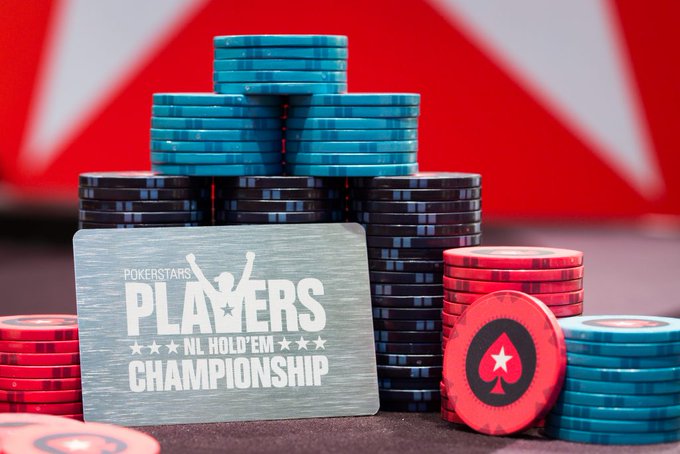 We're Expecting a Full House
All of that extra added value is sure to draw a crowd. Westgate's capacity for the $200 H.O.R.S.E tournament is 18 8-handed tables = 144 player capacity. Registration for the tournament opens promptly at 10am tomorrow, Monday October 4.
We are expecting a sellout, so we strongly advise that you register as early as possible to guarantee yourself a seat. Please note that you will need your ID as well as a Westgate players card (WOW Rewards) in order to register.
As the tournament is a freezeout, should any players bust within the first 6 levels (2 hours), alternates will be seated.
We've Got Extra Tournament Chips for Cash Game Play
Buying in to the $200 H.O.R.S.E. tournament will get you 10,000 in starting chips. That is unless you've participated in our cash games from Oct 4-6. For every five hours of cash game play you log, you'll receive 2,000 extra in starting chips for the tournament up to 25 hours for a double starting stack of 20,000.
So, if you want to get the biggest possible edge in the tournament, have an advantage over the rest of the field and take your best shot at scoring the Platinum Pass, you've got extra incentive to join us during the festival's first three days of cash games as well.
We've Got FREE Food!
A well-fed poker player is a happy poker player, and we want to ensure our poker players are happy!
Participants in our Mixed Game Festival will enjoy access to a free fruit and salad bar, located adjacent to the poker room, compliments of the Westgate Las Vegas.
*Please note that while you may drink at the tables, the food must be consumed away from the tables. Thank you for your cooperation and understanding.
We're Covered (Part 1)
Lest you think we're the only excited ones, our inaugural Mixed Game Festival has gotten LOADS of hype and press over the past few weeks. In fact, no fewer than 22(!) different poker media outlets have been kind enough to devote some coverage to our festival, for which we are exceptionally grateful. These include:
We're Covered (Part 2)
The inaugural Cardplayer Lifestyle Mixed Game Festival will be an occasion to remember, so we've got a whole crew that'll be present to document the proceedings.
WSOP $10K H.O.R.S.E. winner and Cardplayer Lifestyle contributor Chris Wallace will be on-site throughout the festival capturing professional-quality pictures that will be made available to you all for your personal use.
We'll also have a rotating cast of top-tier poker reporters, consisting of past and present contributing writers Matt Hansen, Geoff Fisk, and Mike Patrick, each of whom will be enjoying the festivities and recapping each day's highlights right here on this site.
Our Social Media Director, Chad McVean, will also be in the house, both enjoying the festivities and sharing the festival's highlights via Facebook and (primarily) via the @PokerLifeMedia Twitter feed. Be sure to follow those accounts, and you're always welcome to follow me @cardplayerlife as well. 😊
We're Covered (Part 3)
It's always a big deal when poker happenings get exposure in the mainstream media, which is why I'm thrilled and elated that Jim Barnes of the Las Vegas Review Journal will be coming together with a photographer colleague to visit our Mixed Game Festival.
Jim will be joining us on the morning of October 6, so be sure to wear your Tuesday finest, folks (and sport your Cardplayer Lifestyle patches, which I'll be distributing for free throughout the festival 😊).
We've Got Swag, Signings, Stars, and a Soft Spot for Charity
Beyond those patches, we'll be doing all sorts of random giveaways throughout the festival. Just by being present at the tables, you'll have the chance to win a vast assortment of prizes and merchandise, including playing cards, T-shirts, hoodies, gift bags, books, and more!
Plus:
Monday 11am: Dylan Linde signing his Mastering Mixed Games strategy book
Tuesday 11am: Eli Elezra signing his autobiography Pulling the Trigger
Wednesday 11am: Linda Johnson and Jan Fisher Mixed Game Q&A session
The full proceeds of Dylan's and Eli's book sales (sold at discounted rates of $20 and $10, respectively) will be donated to the Westgate Resorts Foundation, with funds to be matched by both PokerStars and Westgate.
We're Ready!
Enough with the talking… let's play some mixed game poker!
—
* If you haven't already done so, be sure to use our promo code ZCLPO21 in order to book a special room rate at Westgate: $50 per night from October 3-6 and $80 on October 7 (no additional resort fees!). Book your room at (888) 999-3836 or (702) 732-5151.