Staking players has become a huge part of the poker world. Some do it purely for profit reasons, looking to back competent players who offer good value for money. Many others, however, do it so they could have more fun sweating their favorite players in tournaments.
Whatever group you may belong to, StakeKings are the leading online platform connecting players to prospective backers. The site makes it very easy to find players offering shares in single events or tournament packages and purchase a percentage you want.
Now, you can get involved in staking with no risk involved and win valuable prizes, including a 2022 WSOP Main Event seat worth $10,000!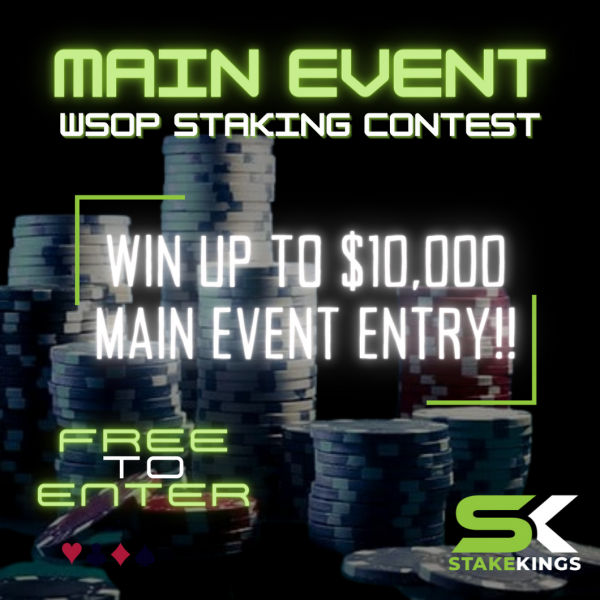 StakeKings have come up with a generous promo for new and existing users alike. Simply join the site by creating a free account if you don't have one yet, and you'll be in with a chance to win!
Back Your Favorites for the 2021 WSOP Main Event
Upon joining StakeKings, all newcomers can claim 25,000 coins from their Challenges section. The coins will be added to your account immediately and you can put them to good use.
Navigate to the Challenge Marketplace and check out available Main Event deals. The platform makes it easy to search for players by name, so if you have any favorites you'd like to back, you can see if they're on the list.
If not, you can send a request to StakeKings and ask for a player to be added. However, this option is only available to users who've made a real money stake after October 25. Every user can add a maximum of five players.
The Challenge Marketplace doesn't deal in real money. Instead, you will use your coins to purchase percentages in the players and you'll receive leaderboard points based on the success of your investments.
For every coin you win back from a staking deal, you'll receive one leaderboard point. So, if you buy 5% in a player who ends up cashing for $100,000, you'll receive 5,000 points.
It's important to note that you can only invest up to 4,500 coins on any individual player, so take your time and make your picks wisely.
25 Prizes up for Grabs – Including a WSOP Main Event Entry
Once the contest is over, everyone who makes it into top 25 spots on the leaderboard will receive prizes. The winner will receive the lion's share of the prize pool as they will get to choose between a $10,000 Main Event entry for the next WSOP or a $5,000 bonus with StakeKings.
Note that to be eligible for this prize, you will need to have placed a real money stake with the site between October 25 and November 4. If you win but don't meet this requirement, you'll still receive $500.
Other available prizes include:
2nd place: $1,000 for real money players or $100 available for everyone
3rd place: $500 for real money players or $50 for all users
4th place: $250 or $25
5th place: $100 or $10
6th – 10th: $50 or $5
11th – 25th: $10 or $1
The deadline to enter the competition is November 4, which is when the first Day 1 of the 2021 Main Event kicks off, so act now and be sure to get involved in time!
Be advised of the fine print as well: All cash prizes are issued as StakeKings credits and have 1x wagering requirements. This means you'll need to use them to buy shares in players listed on the site before you can actually withdraw the money.