Back in December, the Cardplayer Lifestyle poker blog reported that Mirimax Studios was slated to make a sequel to the best poker movie of all time: Rounders. Developments since that time have pushed back production of the movie until 2014. Aside from the studio's intention to recast Matt Damon as Mike McDermott, no confirmations have emerged as of yet regarding the casting of the film's other stars, John Malkovich (Teddy KGB), Edward Norton (Worm), and John Turturro (Joey Knish).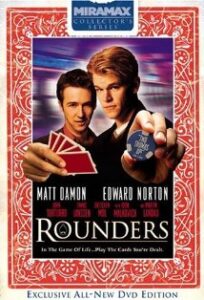 Since there's clearly still plenty of time until the new movie comes out, it's fair to wonder how the scriptwriters plan to continue the plot of the original film. Rounders ended with Damon's character getting into a cab and heading off to the World Series of Poker. Thing is, the film was released way back in 1998… well before the poker boom.
Professional poker in today's day and age is practically unrecognizable from its 1998 incarnation. There's precious little video of WSOP tournaments prior to 2000, while today's WSOP, in contrast, is practically a made-for-television event. Some stars of the pre-boom poker scene still shine brightly, namely players like Erik Seidel, Scotty Nguyen, and Phil Hellmuth, but a whole new generation of players has become rich and famous over the last decade namely due to the emergence of online poker.
With a lead character that'll clearly have aged in McDermott, Rounders 2 scriptwriters will have to bridge the long gap. My money says what they'll come up with will have something to do with online poker. To do so would be quite wise in my opinion, as it would pique the interest of the film's cult audience of poker players.
Perhaps the opening scenes of the movie will feature a flashback of McDermott making his first deposit at a site like PokerStars? Maybe the plot will have McDermott finding success in live poker only to lose his money playing online? Perhaps McDermott's live poker success would earn him the opportunity to become a famous spokesperson for an online poker room?
Bottom line: The only sure thing about Rounders 2 at this point is that this poker blogger's gonna buy a ticket to see it when it finally comes out.