Poker books are great, but there's a sub-niche within that I've come to greatly appreciate, namely poker biographies. Over the years I have read several of them, and what I specifically like about them is that they are based on real events, they are very entertaining, and they allow us to know personal aspects of the protagonists.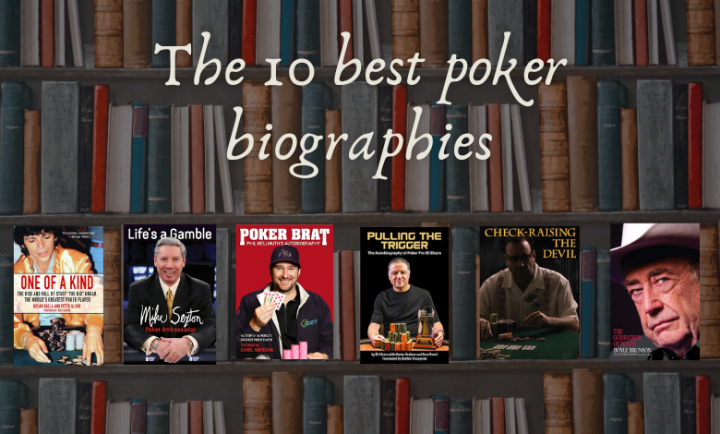 The top 10 poker biographies that I enjoyed reading the most are:
"One of a Kind: The Rise and Fall of Stu Ungar" – Peter Alson & Nolan Dalla
It is without a doubt the best poker biography I have read about one of the best players in history. Ungar is the only player to have won the WSOP Main Event three times in its freezeout format. The authors describe Stu's incredible life chronologically from his childhood, where he grew up among mobsters, until his death in the Oasis motel in Las Vegas.
"Life's a Gamble" – Mike Sexton
The legendary commentator of the World Poker Tour passed away in September 2020 and in his biography you can read funny anecdotes with Doyle Brunson, Stu Ungar, Chip Reese, Billy Baxter and Jack Straus, among other legends. He also details the creation of partypoker and the birth of the World Poker Tour.
"Poker Brat" – Phil Hellmuth
Phil is the king of the WSOP with 178 cashes, 13 second place finishes and 16 bracelets. His biography has 49 chapters in which he recounts his difficult adolescence, his first trips to Las Vegas, his relationship with his wife, his life goals and all his triumphs in the World Series of Poker.
"Pulling The Trigger" – Eli Elezra
The Poker Hall of Famer has been playing for 30 years in Las Vegas and has 72 cashes and 5 WSOP bracelets. In his biography — translated from Hebrew into English by Cardplayer Lifestyle founder Robbie Strazynski — you can learn about little-known aspects of his life: his experience in the Israeli army, his first business in Las Vegas and anecdotes of the High Stakes Poker games with Doyle Brunson and other legends.
"Check-raising the Devil" – Mike Matusow
The temperamental Matusow, nicknamed "The Mouth", has 92 cashes and 4 bracelets at the World Series of Poker. His book features a foreword by Phil Hellmuth and in 29 chapters we can read about his life, his addictions to drugs and his achievements at the tables.
"The Godfather of Poker" – Doyle Brunson
Doyle needs little introduction: two-time WSOP Main Event champion, winner of 10 bracelets, Hall of Fame inductee and author of poker's first best-seller: "Super System". His excellent biography has 52 chapters and is divided into parts: Texas, Las Vegas and More Adventures.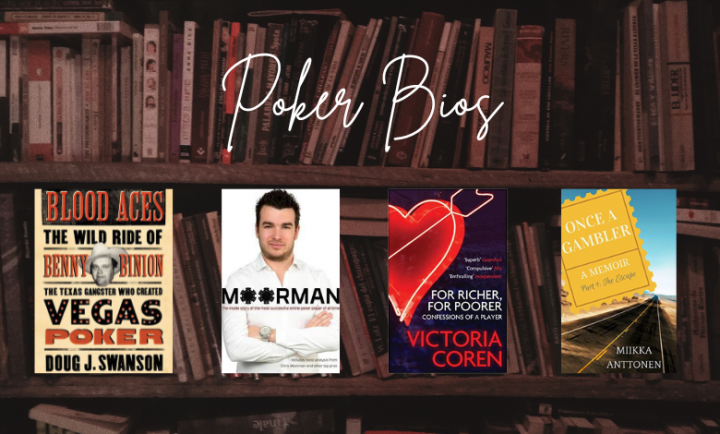 "Blood Aces: The Wild Ride of Benny Binion" – Doug J. Swanson
Benny Binion is one of the most interesting characters in the history of poker and Las Vegas. The gangster created an empire in Texas and moved to Las Vegas where he was the creator of the World Series of Poker in 1970. The excellent book is divided into three chronological parts: 1904-1946, 1947-1953 and 1954-1989.
"Moorman" – Chris Moorman
Chris is fourth in the ranking of players with the highest online earnings with $21.5 million as of this writing. On the live circuit he has earned $6.5 million with titles at the WPT and WSOP. In his biography we can read about his beginnings with bridge and pool, his experiences with staking and his trips to Las Vegas, including a night in jail.
"For Richer, For Poorer" – Victoria Coren
Vicky Coren was the first woman to win an main event on the European Poker Tour as well as the first player to win two European Poker Tour Main Events. Her memoir has 25 chapters and is divided into four parts. Though she's out of poker now, it's still a great, highly entertaining read. The digital edition costs only $1.99.
"Once a Gambler" – Miikka Anttonen
We close our top 10 list with a very entertaining biography that relatively few know about in the poker world; that of Finnish pro Miikka Anttonen, who has won $2 million online and over $286,000 live. There he tells about his beginnings in online poker where he won millions when he was very young. It is a trilogy that has the first two parts published, while we still await the third part.
Honorable mentions
If you have already read our top 10 poker biography recommendations, or if you are looking for more to check out, you might naturally consider using your leisure time for a different activity, such as playing at tax-free online casinos without registration. Alternatively, there are some "honorable mentions" of other poker biographies that you can read:
"Geeking, Grifting and Gambling Through Las Vegas" – David Sklansky
"Molly's Game" – Molly Bloom
"Amarillo Slim in a world of fat people" – Amarillo Slim
"Devilfish" – Dave Ulliott
"Johnny Moss: Champion of Champions" – Don Jenkins
"4 Bullets" – Tyler Nals
"The Hand I Played: A Poker Memoir" – David Spanier
"Poker Tilt" – Dutch Boyd
"Volatile" – Simkha Blank
"4 Bullets" – Tyler Nals
"All In" – Jerry Yang
"Pizza, Pasta and Poker" – Vince Burgio
"Confessions of a Winning Poker Player" – Jack King
"Kingkrab: From Homeless to Poker Pro" – King Krab
"From Feeding Tube to Final Table" – Jim Petzing
"Cowboys, Gamblers & Hustlers" – Byron "Cowboy" Wolford
"Hats & Eyeglasses: A Memoir" – Martha Frankel
"Poker Face: A Girlhood Among Gamblers" – Katy Lederer
"The Game of Life and Poker" – Noah T. Watry
"Forty Years a Gambler on the Mississippi" – George H. Devol (you can download it for free on Amazon)
Moreover, former poker journalist and now player Kristy Arnett Moreno is currently writing a book about her story that will talk about risk, love and poker.
***Thanks for reading! Consider RT if you liked it 🙂

This story is part of my book which is a memoir about risk, love, and poker. Trying desperately to finish the first draft (it's been years). I'm thinking about doing a prop bet of some sort. Contact me if interested 🙂

— Kristy Arnett Moreno (@KristyArnett) October 10, 2022
Of course, there are also plenty of people in the poker world whose life stories would make for great biographies. These haven't yet been written, but if they were to be, we're sure they'd be fantastic.
Players:
Daniel Negreanu: The world's most popular player with live earnings of $49.5 million
Erik Seidel: Successfully playing and winning on the live circuit for 34 years
Phil Ivey: Long considered to be the best player in the world
Jennifer Harman: Winning player for 25 years and was part of the consortium that faced banker Andy Beal
Huck Seeed: Winner of the Main Event 1996 and holder of 4 WSOP bracelets
Antonio Esfandiari: The magician who won the inaugural $1 million buy in Big One For One Drop
Scotty Nguyen: 1998 Main Event Champion and 5-time bracelet winner
Billy Baxter: Stu Ungar's backer who owns 7 WSOP bracelets
"Miami" John Cernuto: Holds the all-time record with almost 600 live tournament cashes and counting!
Industry:
Jack Binion: Benny's son witnessed almost all of WSOP history
Eric Drache: He was the creator of satellites and introduced great innovations in live tournaments
Linda Johnson: Player, journalist, consultant, Card Player Cruises owner and one of the founders of the WPT
Mori Eskandari: Producer for 20 years of the most popular poker TV shows
Jack McClelland: Executive and tournament director for 40 years
If you made it this far you now have several book recommendations for your next read. I invite you to put social media and Netflix aside for a while and immerse yourself in the pages of a good poker biography, which is one of life's little pleasures in my opinion.