PokerBROS has announced an unusual giveaway this month: 100,000 free Diamonds will be handed out if the app's most popular throwable – the poo emoji – racks up 100,000 uses in September. This might sound like a lot, but on-table animated emojis and emoticons are key to the immersive interaction at the virtual felt, and PokerBROS players certainly enjoy expressing themselves. So much so that over 75,000 poo emojis alone have previously hit avatars in a single month – enough overall to win this year's inaugural Emoji Awards.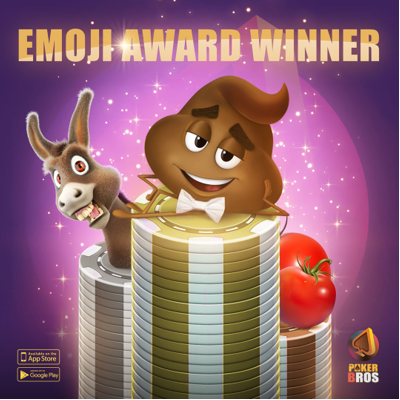 For September, players are encouraged to let fly with this emoji in particular (giving the rockets, donkey heads, tomatoes and cakes-to-the-face a short rest) with this hefty Diamond giveaway. The 100k Diamond reward will be split between 20 lucky winners when the 100,000th poo emoji has been hurled. For a chance to be one of them, players simply have to reply or comment on the initial promotional post on Twitter and Facebook or on Instagram.
For the full list of social media channels involved in this promotion (and full T&Cs), visit the PokerBROS Blog.
It is probably not a surprise to online poker players that the poo emoji is the one most likely to be thrown in any given situation. It can stand in for so many things: an eyeroll at an outdraw, a grudging congratulation for a successful bluff, chip lead jealousy.  It's quite possible that the 100,000 target will be met well before the 30th of September deadline – in which case the promotion will end then, with winners announced within 72 hours. A realistic goal, and a bumper Diamond haul to celebrate reaching it – and all to pay tribute to the king of the throwables.
Download PokerBROS for free from Google Play or the App Store and play the way you want, when you want!
Follow PokerBROS on Twitter, Facebook and Instagram for the latest news, competitions and giveaways.
*This post is sponsored by PokerBROS