In less than a month, the prestigious World Poker Tour circuit will visit the city of Madrid, Spain for the first time. The WPT Prime Madrid will be played from September 10-19 at the luxurious Casino Gran Via and the festival will feature tournaments with buy-ins ranging from €200 to €5,250 (High Roller). The Main Event will cost €1,100 to enter and will start on Thursday, September 15 featuring four starting flights.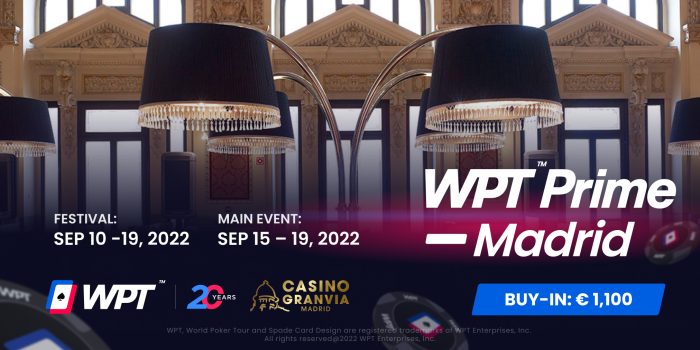 Here's everything you need to know about the festival:
Main Event Schedule
Day 1A: Thursday, September 15 at 1:00 PM
Day 1B: Friday, September 16 at 1:00 PM
Day 1C: Saturday, September 17 at 1:00 PM
Day 1D (Turbo): Saturday, September 17 at 7:00 PM
Day 2: Sunday, September 18 at 1:00 PM (until final table)
Final Table: Monday, September 19 at 1:00 PM
Main Event Structure
Re-entry: Unlimited in the first 6 levels
Buy-In: €1,100
Starting stack: 30,000 (150 big blinds)
Blind levels: 40 minutes on Day 1 and 60 minutes on Day 2 & final table
First level: 100/200 with Big Blind Ante of 200
Late registration: 6 levels
Players per table: 9 on Day 1 and 8 when money is reached
WPT Prime Madrid Full Schedule of Events
No Limit Opener: September 10. Buy-In: €400
No Limit Blurr: September 10. Buy-In: €200
Women's No Limit: September 11. Buy-In: €220
No Limit Bounty: September 11. Buy-In: €400
No Limit Survivor: September 11. Buy-In: €350
Pot Limit Omaha: September 12. Buy-In: €400
No Limit 20/20/20: September 12. Buy-In: €220
No Limit Big Stack: September 13 and 14. Buy-In: €400
Pot Limit Omaha 20/20/20: September 14. Buy-In: €220
No Limit Fast: September 14. Buy-In: €220
Main Event: September 15 to 19. Buy-In: €1,100
Mystery Bounty NL: September 18. Buy-In: €1.650
Seniors NL: September 19. Buy-In: €400
High Roller: September 19. Buy-In: €5.250
The Closer: September 19. Buy-In: €240
You can see the complete schedule via this link.
David Luzago and Matt Savage anticipate a great festival
We reached out to David Luzago, Poker Manager at Casino Gran Vía and host of the radio program "Marca Poker" and he told us: "For me, the Casino Gran Vía and the Comar Group it is a privilege to have the dean of the world circuits in our facilities. Having the WPT ratifies the objective of turning the Casino Poker Room into one of the references in Europe. We are very proud and eager to celebrate this stop of one of the most important circuits in the world."
Many players are not familiar with the imposing hall of the Casino Gran Via, so we asked him what the newcomers are going to find: "The Casino has an unbeatable location, as it is located in the center of the city on the busiest street in Madrid. It has an exclusive lounge for the Poker Room where up to 50 tables can be found. The decoration is like a royal palace with chandeliers and 8 meter high ceilings".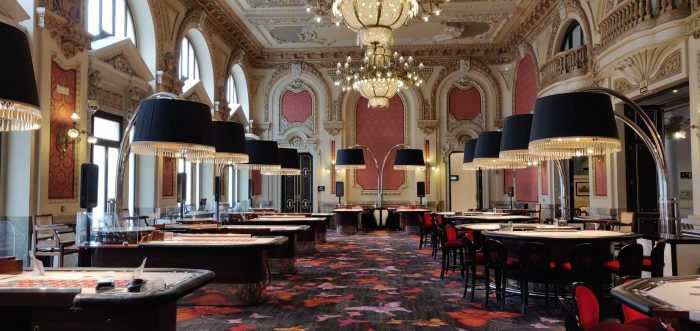 Luzago continued, "In addition to the 15 festival events, there are 9 satellites for the main tournaments and cash games (Texas Hold'em and Pot Limit Omaha) running every day. The lowest level will be €1/$3 and the highest will depend on player demand."
Madrid is a fascinating city and we asked Luzago what players can see on a day off: "The city is one of the most visited destinations not only in Europe, but in the world. It is very well prepared for international tourism as it is clean, modern and safe. The casino is located on one of the busiest streets in Europe, so the offer of leisure, museums, food and entertainment is very wide. There is also a great sports offer with the stadiums of Real Madrid and Atletico de Madrid."
When asked what sort of attendance and performance he expected to see from local Spanish players, Luzago replied that "I think the WPT Prime Madrid schedule is very attractive with a Senior, Women's, Mystery Bounty, High Roller and a Main Event with a great structure. So I think that not only the players who live in Spain will be present, but also those who decided to emigrate to be able to play online professionally. And if we add the people coming from other countries, it can be a festival that will attract a lot of people."
Matt Savage, Executive Tour Director of the WPT, will also be present in Madrid to direct the tournament. For David "it's a pride and a privilege to work alongside one of the best directors in the world to learn from him. We are fortunate to have the law of the poker world in our city for the tournament."
Real pleasure and privilege for @CasinoGranVia, and for me on a personal level, to be able to work with you, and host a @WPT PRIME event for the first time in our country. Looking for that so bad!



— David Cámara✧Luzago™ (@DavidLuzago) August 15, 2022
We asked Matt for his thoughts about the upcoming events and he shared that "I expect WPT Prime Madrid to continue the massive success we have seen at events around the world. We are so excited to bring the WPT to Madrid for the first time because the city is beautiful and it's going to be more than just a poker tournament, it will be an experience of a lifetime!"
If you are looking for a trip to visit Europe and also play poker, the perfect destination awaits you in less than a month's time.