With millions of people logging on to gaming sites each day, gambling online has become more than just a fun way to experience the thrill of your favorite online casino or poker room in the comfort of your own home, but also a way to make real money.
There are countless places to choose from online to open accounts and deposit your discretionary dollars to start playing online. As such, it can be challenging for a new gamer to find the right place to try their hand at online poker. Online poker rooms can be either regulated or unregulated, and depending on the status of the room, it can have an impact on the playing experience. You can visit this website to learn more about that.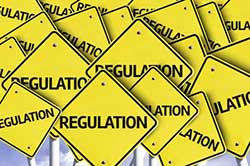 Regulated Rooms
A regulated poker room is one that operates from a physical location within a country, serving players living in jurisdictions they're legally allowed to play from and collecting state and federal taxes from players to satisfy their requirements as a business. These fully licensed rooms typically offer deposit bonuses to encourage new players, and their government registration means your winnings are tracked, registered and insured in case of issues with the game room host. One example of such a regulated poker room, for New Jersey residents in the US, would be 888pokerNJ.
The carefully managed nature of regulated online poker rooms does create some limitations when compared to unregulated rooms. Many games and game types are restricted regionally, and these games may be limited or banned outright in regulated rooms serving some areas. Gamers are also often confined to poker rooms in their home jurisdiction (i.e., ring-fencing), which would translate into much smaller player pools and potential payouts than in an unregulated room.
Unregulated Rooms
Unregulated rooms typically exist as offshore operations with foreign ownership, allowing them to offer more lucrative bonuses and promotions with the reduced tax burden. Deposit bonuses in particular can be up to 10 times as high as the available bonus at a regulated room, and rich rewards like these mean a larger player pool (increased liquidity) and thus the potential for better game selection to serve a more diverse clientele.
However, the obvious weakness of playing poker in unregulated online rooms is the lack of recourse for players who experience unforeseen issues collecting their winnings. Several cases have been documented of unregulated gaming rooms suddenly encountering legal or financial difficulties and ceasing operations with little to no notice, leaving gamers effectively robbed of their deposits and winnings. For any poker player unfamiliar with this reality, just ask around and you'll likely find that someone who was burned by Black Friday and the whole Full Tilt Poker fiasco (before the brand was purchased by Rational Group).
While the legal system of your home country may be able to provide some protection in this scenario, domestic courts often have limited capacity to pursue international disputes and so the risk of losing everything to a twist of fate is a vague but constant concern with unregulated poker rooms.