Who said learning how to be a better poker player had to be boring? Long gone are the days of those boring training videos, where some poker wizard drones on unenthusiastically in a monotone voice, unnecessarily crunching equities to the thousandth decimal point. Of course these types of videos still exist and will always serve their purpose, but training courses like these also come at a cost. A new form of poker media/content has exploded in recent years: "poker vlogs."  Poker vlogs are great because unlike the aforementioned training videos, they appeal much more to the recreational player.
What Is a Poker Vlog?
A poker vlog is produced through the medium of a camera documenting everyday life as a poker player. Poker vlogs are educational, adding insight beyond what any training video will provide, as you are able to witness the intangibles required to make it as a professional poker player beyond the basic fundamentals and GTO strategies. Poker vlogs are highly entertaining, with episodes usually ranging anywhere from 10-30 minutes in length. Did I mention they are free to watch?
READ MORE: Behind the scenes of Daniel Negreanu's 2017 WSOP poker vlog
Why Should You Watch Poker Vlogs?
Have you ever wondered what it would be like to play live poker professionally? Poker vlogs give you a bird's eye view of what the grind looks like close up, on a day-to-day basis, in its rawest form. It is not the the glamorous depiction of poker you see on TV where guys like Chris Moneymaker satellite into the Main Event and navigate their way through a large tournament field to win millions of dollars. Poker vlogs show you the good, bad, and ugly of what the grind really looks like.
Most poker vloggers are your everyday, blue collar, live low-stakes No-Limit Hold'em poker players. Poker vlogs allow you to vicariously live through each of their journeys, all of which are unique in their own right. The great thing about the current landscape of poker vlogs is that there is a wide array of choices. You have guys of varying skill levels playing $1/2 NL, $2/5 NL, 5/10 NL, $40/80 Limit, and PLO. There are also a few sickos who play the nosebleed stakes, including the likes of Doug Polk, Matt Berkey, and Daniel Negreanu.
In short, there is a poker vlogger for everyone depending on what you are looking for, and who resonates with you the most. Coming to you from the top poker markets across the US including; Las Vegas, Southern California, the San Francisco Bay Area, the East Coast, the Midwest, and South Florida, the options are endless.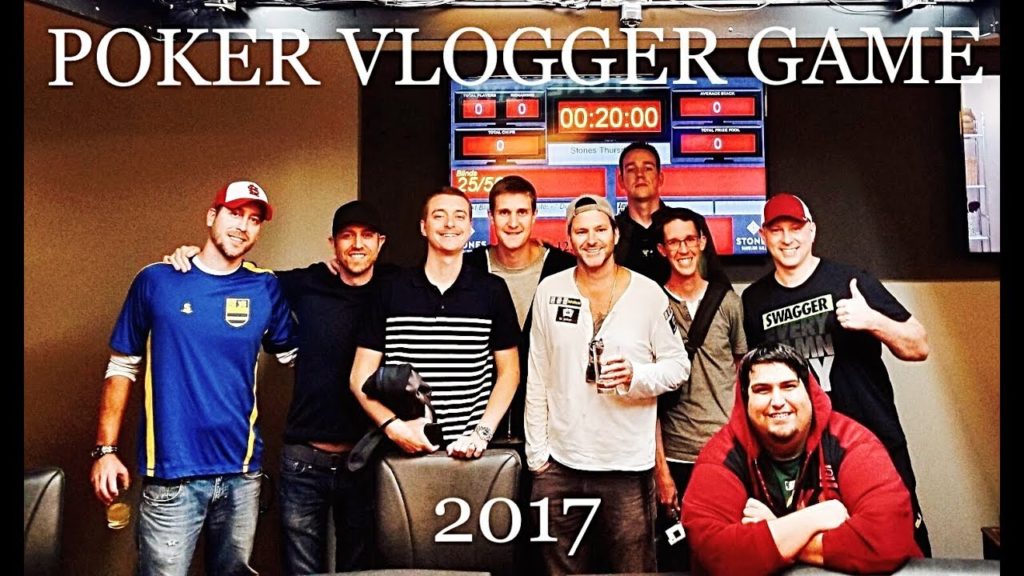 Which Are the Best Poker Vlogs?
The recipe for a good poker vlog tends to be the same across the board. A good, engaging on-camera persona with creative editing skills, quality hand histories, and of course the random moments of comedic gold. So where, and whom do I start watching, you may be asking yourself? Below I have included a few options, and cherry-picked an episode from each respective vlogger that encapsulates some of their strengths.
Andrew Neeme
Andrew Neeme is the gold standard of poker vlogs. He is the consensus top poker vlogger, as evidenced by his subscriber count of 72,000+ as of writing this article. When you do venture down the rabbit hole of poker vlogs, starting with Andrew is a pretty safe bet. When it comes to the recipe for a high-quality poker vlog, Andrew has it all. Residing in Las Vegas, NV, Andrew is a local $5/10 NL crusher, which is very respectable considering the $5/10 games in Vegas are some of the toughest in the country. He has the perfect combination of cinematography skills, editing chops, and next level hand history analysis. He is the Anthony Bourdain of poker vlogs, often taking his vlog on the road to places like San Diego, LA, New Orleans, Detroit, Sacramento, Arizona, and even overseas to Barcelona and London.
READ MORE: Interview with Andrew Neeme
Tim "TheTrooper97" Watts
You can't speak of poker vlogs and not mention TheTrooper97. Without TheTrooper97, the poker vlog boom and phenomenon might not even exist. TheTrooper97 is the OG and inspiration behind all of the current vloggers. He is the pioneer and brains behind the current format most poker vloggers follow. At one time he had a monopoly on the market, as the only vlogger for nearly two years, before other people decided to take a shot at it themselves.
READ MORE: Interview with Tim "TheTrooper97" Watts
Some of his oldest videos actually date back almost five years, but his true journey started a little over two years ago when he decided to up and leave everything in Jacksonville, Florida and head West to Las Vegas with only $2,000 to his name and a dream. I will spare you any spoilers of what happened next, but as you can imagine the evolution of his journey gets pretty interesting from there. TheTrooper97 has one of the biggest personalities of all of the poker vloggers, which makes him a very entertaining character. TheTrooper97's audience is smaller than Neeme's, with a subscriber count of 29,000+. Noentheless, TheTrooper97 is the only vlogger who pumps out nearly daily vlogs, with over 800(!) archived on his YouTube channel. He mainly plays $1/2 NL, and is still living in Las Vegas, so head over and check him out if this sounds interesting to you.
Brad Owen
Next up is Brad Owen, sitting at a cool 25,000+ subscriber base. Brad also resides in Las Vegas, and mainly plays $2/5 NL and $5/10 NL. Brad's strengths lie in his creative comedic skits that have included guest appearances from Andrew Neeme, and the infamous Doug Polk. Brad's best and most valuable attribute for viewers is his excellent hand history analysis. Brad and Andrew offer some of the best hand analysis in the game. They take you through their thoughts in game, and are humble enough to admit their mistakes afterwards. Despite being crushers, it is refreshing as a viewer to know that everyone makes mistakes, even winning players.
Where Can I Watch Poker Vlogs?
You can view poker vlogs on YouTube, or 9to5poker.com. 9to5poker is a poker vlog website dedicated to all things poker vlog-related. They host all of your favorite poker vlogs, uploaded the moment they are released, and are organized for convenient viewing if you are a poker vlog junkie like me. There are a lot of other vloggers putting out great content beyond the guys mentioned above. A few honorable mentions go to PokerPriest, Jaman Burton, Matt Vaughan, Ryan Frechette, Solve For Why, and Jeff Boski. Check them all out, and see who you like the best. Enjoy!