Written by Lauren Harrison
In the complex legal outlook of USA gambling, Poker is the only game that can take you across state lines. This unique game of skill transcends state borders, facilitating bigger prize pots and wider competition, but how and why is Poker the only real money game not limited by geography in the USA?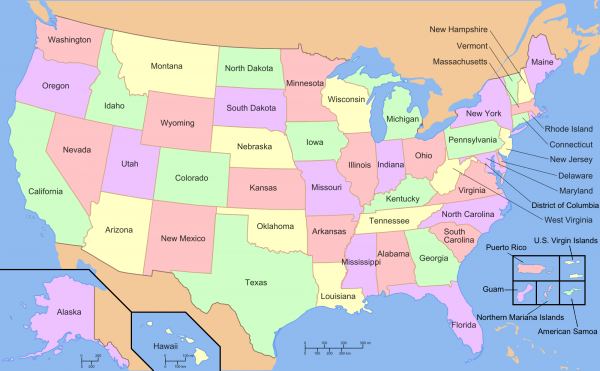 Legal Gambling Outlook in the USA
Poker hasn't had the easiest ride in the USA. Pre-2006, multiple online poker sites accepted US players, operating in the grey zone of lacking regulation and leading to a poker boom. However, on the last day of Congress' session in 2006, the SAFE Port Act was passed, which included Title VIII, the Unlawful Internet Gambling Enforcement Act (UIGEA).
UIGEA prohibited "gambling businesses from knowingly accepting payments in connection with the participation of another person in a bet or wager that involves the use of the Internet and that is unlawful under any federal or state law (termed "restricted transactions" in the Act). In short, the government cut access to poker sites and interstate online gambling by making online payments in connection with gambling illegal in states that haven't regulated the activity – which at the time was all states because of the federal Wire Act, which prohibited gambling via telephone wires and extended to wired internet connections.
Fast forward to 2011, and the DOJ re-interpreted the Wire Act, stating it only applied to sports betting, leaving states free to regulate online casinos and games of skill. Shortly after, in 2012, Delaware made history, becoming the first US state to legalize online casinos and poker, creating an inter-state compact with Nevada and forever changing the face of US poker.
Since this and the 2018 repeal of PASPA, the USA's gambling outlook has been rapidly expanding, in 2023, 37 states allow some form of gambling, with online poker permitted in seven and in-person poker games available in many.
However, unlike other forms of online gambling in the US, which, due to UIGEA, are offered exclusively to players present in the state when they gamble, there exist special agreements in place that govern cross-border poker between states that are party to the Multi State Internet Gaming Agreement (MSIGA).
Development of MSIGA
On Feb 25th, 2014, Delaware and Nevada signed the MSIGA, followed by New Jersey in 2017 and Michigan in 2022 (PokerStars became the first operator to launch multi-state poker games in MI almost a year later). West Virginia, Pennsylvania, and Connecticut are potential future parties to the compact.
MISGA allows liquidity sharing at online poker rooms in the states that are party to the agreement, which means more games, bigger prize pools, and better competition. While it's not seen a return to the pre-2006 Poker boom in the USA, it's been instrumental in re-creating the poker market. Moreover, it is the only form of online gambling in the USA allowed across state lines.
Impact of Legal Online Poker Platforms
While it's always been legal for US citizens to travel and partake in live poker tournaments and games in different states (where the activity is permitted), the rise of legal internet poker and MSIGA eliminated this in-person requirement, opening the game to a broader audience.
Online platforms operating in multiple states, like WSOP.com, BetMGM, and PokerStars, have been instrumental in uniting players across geolocations for pooled games while skillfully navigating each state's varying gambling regulations and standards.
What's more, the USA is home to some of the world's best live poker tournaments, like WSOP, which bring players together across state lines, creating a community not controlled by borders.
Why Does Poker Have Different Rules?
When no other type of casino or real money game is facilitated across state lines, why is poker the only game where interstate compacts are allowed? A large part of it comes down to viability. For poker sites to be successful, they require enough players of different budgets and skill levels to run games around the clock.
In Delaware, the first state to legalize online poker, the population is just over a million. According to the National Council on Problem Gambling, approximately 78% of the adult population in Delaware gamble, with 23% playing card games. Break that down by skill and budget, and there are simply not enough players to run a poker room successfully.
While other states have much larger populations (Nevada has 3.14m, New Jersey 9.27m, and Michigan 10.05m), once Delaware and Nevada already had set a new legal standard, it was a more shrewd move for other states to join and increase the resources and quality of the product, games, and competition.
What are the best options for players in states where poker is illegal?
Players outside of legal online gambling states often revert to offshore gambling sites, which are unlicensed, unsafe, and do not guarantee payouts. However, according to US online gambling experts Casino Cabbie, there are legal options available in these locations (Washington and Idaho aside) called sweepstakes or social casinos: https://casinocabbie.com/sweepstake-casinos/.
Sweepstakes use virtual currencies to facilitate free-play games with the same excitement and engagement as real money games and have grown in popularity over the past few years. To learn more about playing online poker from any US state legally, check out the link above.
What's Next for US Poker?
As more states legalize online casinos and poker, the US online poker market is set to grow, leading to ever more competitive poker options and prize pots.
Still, not all states that legalize online poker and casinos opt for the multi-state model. Take Pennsylvania, for example; despite rumors they would join in 2021, state regulators are still holding out, and the situation is similar in West Virginia.
That said, many states have yet to legalize internet gambling, meaning things can only get better for poker players in the US.