Cardplayer Lifestyle's Mixed Game Festival IV started off yesterday with a flurry of players coming from all over the country to enjoy the camaraderie, mixed games, and Resorts World Las Vegas premier poker room. Robbie Strazynski, owner and founder of Cardplayer Lifestyle, is hosting the festival from March 19-23. It will include cash games and two tournaments, a $260 Omaha 8/Stud 8 tournament starting at 2pm today, and a $260 H.O.R.S.E. tournament on Thursday March 23rd.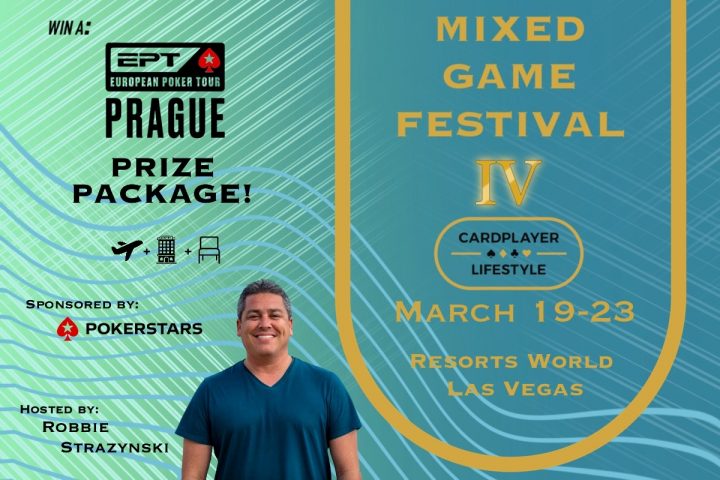 Origin of Cardplayer Lifestyle's Mixed Game Festival
Robbie created the Mixed Game Festival after thinking "I wish I could attend something like this (mixed game festival)" and he turned it into a reality. This is the fourth Cardplayer Lifestyle Mixed Game Festival. The first was held at Westgate Las Vegas in October 2021.
Robbie played his first mixed game when he was eight, with his father Josef Strazynski, and other members of his extended family. Josef taught him games such as stud, 5-card-draw, baseball, and deuces wild. Robbie's interest in a multitude of games was piqued, and now manifests itself through Cardplayer Lifestyle's Mixed Game Festivals, including this latest incarnation where poker players from as far afield as Florida, Ohio, Salt Lake City and even north of the border in Canada, have traveled to join in the fun.
Pat flew in from Canada 🇨🇦 to join us at @PokerLifeMedia #MixedGameFestival IV.

You love to hear it ❤️ pic.twitter.com/Mpqng0jqIc

— Robbie Strazynski (@cardplayerlife) March 20, 2023
Eric Potterton traveled to Las Vegas from Ohio, and decided to enjoy not just March Madness, but the Mixed Game Festival as well. It's his first festival, and his love for mixed games spurred him to join the crowd today. Cody Meyer, similar to Eric, was visiting from Nebraska, and after hearing of the upcoming event via Facebook decided to come. Alisa and Jeff Eberhard, visiting from Salt Lake City, Utah, both decided to make their way down Interstate 15 to join in the fun as well. This is Jeff's third Festival and the first time his wife Alisa has been in attendance.
Mike Serrano attended Mixed Game Festival II, also held at the Resorts World poker room, and had such a great time he made a point to come again. One of Mike's friends Brian Dowd has also attended before and brought his friend Scott Sandoval from Florida. Yesterday, Scott was one of the lucky winners of Dylan Linde's book Mastering Mixed Games. Ruth Sun from San Jose also won a copy of Linde's book and is looking forward to getting her copy signed by the author, who will be in attendance tomorrow, on Tuesday, March 21st. Copies, if not won in "book bomb pots" will be available for purchase at the discounted price of $20.
On Wednesday March 22, WSOP bracelet winner Chris Wallace will be signing copies of his book Getting Started With HORSE also at a discounted price of $25. Rounding out this trio is venerated Poker Hall of Famer, Eli Elezra, who will be signing copies of his autobiography Pulling the Trigger for a discounted price of $10.
Donations to Poker Gives
A portion of all proceeds derived from book sales will be donated to Poker Gives, a non-profit organization that distributes funds to assist military families, homeless veterans, and youth programs in Las Vegas. Originally founded by Linda Johnson, Lisa Tenner, Jan Fisher, and the late Mike Sexton, Poker Gives is a fully volunteer organization, with every dollar donated going to the cause. Moreover, volunteers donate time either cooking or handing out food that itself was donated.
The party kicked off with pizza, one of Resorts World's many contributions to the festival and very soon thereafter action kicked off at three tables, which ran concurrently for close to 12 hours.
We've got three $4/8 Dealer's Choice tables going strong at @PokerRoomRWLV, with pizza in tow! 🍕@PokerLifeMedia #MixedGameFestival IV is officially underway! 🎉 pic.twitter.com/zGZrEDw9NE

— Robbie Strazynski (@cardplayerlife) March 19, 2023
George Chao of BBO Poker Tables donated portable poker table mats to the Festival. George initially met Robbie many years ago, appearing as a guest on his podcast. The two have since become big supporters of each other's endeavors. George started his company 16 years ago in California's Bay Area after realizing there was a lack of affordable, well-made poker tables. The manufacturing was either inexpensive and poorly executed, or good quality but wildly expensive. George filled this need, and now provides 60-70% of his business directly to consumers while also working with clients such as the World Poker Tour.
Congratulations to Benjamin from Salt Lake City, first winner of our @BBOPokerTables portable table mat giveaways here at @PokerLifeMedia #MixedGameFestival IV at @PokerRoomRWLV 🎉

Thanks, as always, to George Chao of BBO for supporting our events! pic.twitter.com/VsSw06Mubt

— Robbie Strazynski (@cardplayerlife) March 20, 2023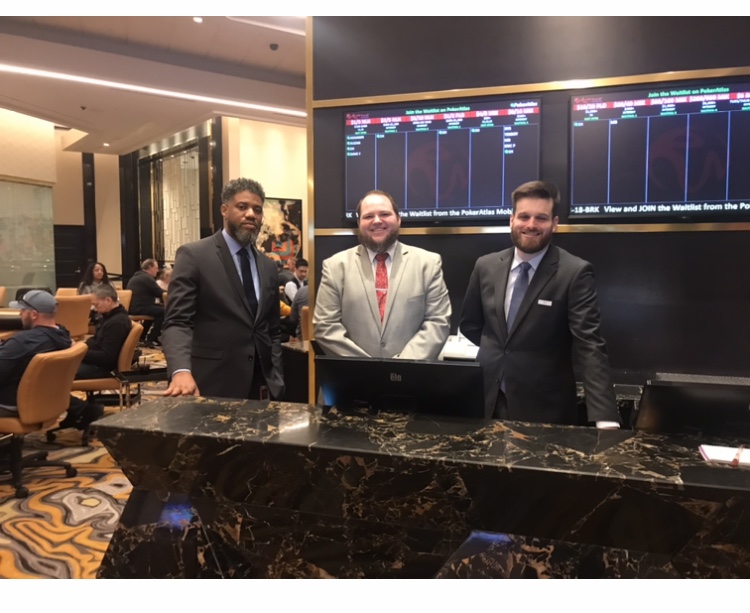 Other exciting aspects of the Mixed Game Festival are bubble protection for both tournaments, with free poker training site memberships donated courtesy of Pokercoaching.com. There will also be multiple daily merchandise giveaways courtesy of premium poker industry brands such as RunGoodGear, D&B Poker Publishing, and PokerGO.
Grand Prize Mixed Game Package for EPT Prague
The grand prize awarded to the winner of Thursday's upcoming $260 H.O.R.S.E. tournament includes an EPT Prague prize package for the winner, sponsored by PokerStars and valued at over $3,000, which will consist of:
Mixed Game tournament buy-in up to €550
Roundtrip airfare for one
Four nights' accommodation
The estimated total value of the prize package is over $3,000.
With the feel of playing in the world's best and largest home game combined with the setting of a world-class casino, Cardplayer Lifestyle's Mixed Game Festival brings together a mixture of friends you already know and friends you just met. Plus, especially in Las Vegas, you never know which vaunted poker pro or industry superstar might show up to splash around and join in the festivities.
Special guest @SavagePoker in the house at @PokerLifeMedia #MixedGameFestival IV

His first visit to @PokerRoomRWLV pic.twitter.com/gs49LPtyz5

— Robbie Strazynski (@cardplayerlife) March 19, 2023