If you're not familiar with Mike Leah by now, you're out of the poker loop. The 42-year-old Canadian (he's single, ladies!) spent 16 years in a sales/management career before leaving it behind in September 2008 to pursue his poker dreams.
Since he started playing, Leah has amassed more than $5.5 million in lifetime earnings, which puts him eighth on Canada's all-time money list. He also has a World Series of Poker bracelet, four Circuit rings, and numerous online titles.
Most recently, he completed PokerStars' "COOP" Triple Crown, i.e., winning a title in the Spring Championships of Online Poker (SCOOP), World Championships of Online Poker (WCOOP), and Turbo Poker Series of Poker (TCOOP). Leah won two WCOOP titles years ago, and in 2016 he won two SCOOP events. A few weeks ago, he completed the trifecta by topping a field of 503 entrants to win TCOOP-38 ($82 NL Single Draw 2-7) for $6,707.46.
A week before his online win, Leah, who recently became a part of the new online poker site PPI Poker, also snagged a silver "Spadie" at the PokerStars Championship Bahamas when he won Event #87: $10,000 Turbo Super Knockout for $52,740.
We had the opportunity to catch up with Leah to talk about his recent success, joining PPI Poker, and much more.
You were just down at the PokerStars Championship Bahamas, formerly known as the PCA, where you took down Event #87: $10,000 NLH Turbo Super Knockout for $52,740. A lot of people seemed disappointed with the branding change, field sizes, etc. What were your thoughts?
The field sizes there have been in a steady decline each year and this was a continuation of that trend. The cost of going, I think, is the biggest factor along with the decrease of online satellite qualifiers, which took a massive hit after Black Friday and hasn't recovered. I still enjoy going, as it's a heck of a lot nicer than Canada in January.
Well I haven't won any TCOOP's yet but did receive my winner photo's from "PCA" today so its almost like I won again pic.twitter.com/IYNLeoGUFH

— Mike Leah (@GoLeafsGoEh) January 24, 2017
Where is your favorite place to play poker in North America?
Playground Poker Club near Montreal, for sure. Everything about the place is first-class, and anyone who hasn't been should go experience it for themselves.
Where is your favorite place to play poker outside of North America?
I enjoy traveling to new places around the world to play, especially places with beaches and nice weather.  I don't really have a specific poker destination that comes to mind, but I have enjoyed most of my poker trips to places like the Bahamas, the Dominican Republic, and Aruba.
How did the opportunity to become a part of PPI Poker come about? What attracted you most to being a part of the team?
I've known Casey Jarzabek, Randy Kasper & Gene Castro for almost 10 years, so when they approached me about joining the PPI Poker team it was one of the easiest decision I've ever had. The company's co-founders, Randy & Gene, have been representing poker players for the last decade, so it's an amazing fit for them to have started a poker site where everything is geared to making it a great experience for the player.
In your own words, why should players expect on PPI Poker?  
There are some obvious benefits such as 35% instant rakeback and only 5% rake on tournaments, to unique features like Tournament Staking & All in or Fold tables. The motto of PPI is: "Where Players Rule." The player experience is very refreshing compared to most sites out there. PPI Poker really is a new site with fresh ideas, features and benefits for the player.
Aside from yourself, there are five other PPI Poker Ambassadors. Let's go down the list and you tell me what makes each of them such a formidable opponent.
Casey Jarzabek – "Big Dog" is one of the best online poker players of all time. He chopped the Sunday Million in back-to-back weeks, has over $6 million in earnings, has been ranked #1 OPR more than once, and his personality is one-of-a-kind, as you can see via his Twitch channel.
Darya Krashennikova – Darya is newer to the poker world but is coming on strong. She also has a popular Twitch channel where you can get to know her; helpful if you can speak Russian but entertaining either way. She has been tearing up the PPI Poker tournaments over the last few weeks and showing everyone she's much more than just a pretty face.
Helio Neves, Pedro Oliviera, Danny Noseworthy – I'll group them together. All three are very well respected pros that I've been battling with online for years. They're very unique players from three different countries that have all taken different routes to the top of their profession and to our team. You can play with all of us at PPI Poker where there are overlays in almost every tournament, and you can even buy action of us via the tournament staking feature.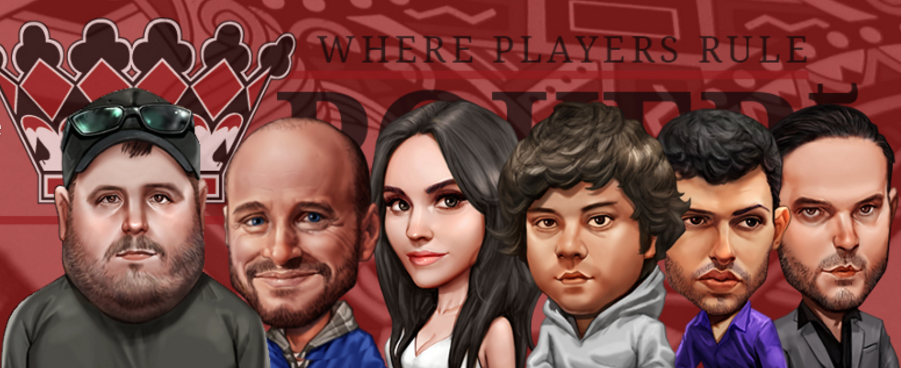 Speaking of assessing other players, you once played heads-up against Dan Colman in a major poker event. What were your impressions of him at the height of his heater, so to speak?
Yeah, Dan was on quite a heater in 2014, maybe the only player in the world that had a better year than me. It was pretty cool that we met heads-up in a major event playing for over a million bucks. He was catching a lot of flak at the time for not wanting to talk much, but he was always pleasant at the table and fun to play with (other than, of course, being very difficult to beat). We've played quite a bit over the last few years and that feeling has only increased – enjoyable to play with, but don't want to play with.
Last year you were a part of the GPL Season 1. What was your experience like? Do you feel it was a success?
Like any new venture there were/are some growing pains, but yes, I think it was a successful first season. I really enjoyed the competition and to see so many of the best players in the world compete, get involved, and really care about their team's success was very cool. It was extremely disappointing for my team, the Paris Aviators, to miss out on the playoffs by a tiebreaker, but other than that it was a great experience.
Very excited to be part of @ParisAviators & the @gpl for season I
Lets goooooo @trickyscarfy @_Fabsoul_ @elkypoker @KitBul #Allonsyyyyyyyy

— Mike Leah (@GoLeafsGoEh) February 26, 2016
Do you hope to be involved in Season 2?
Absolutely 100% hope to be involved in Season 2 so my team can improve on our performance and reach the playoffs.
Your Twitter profile says you're a "mango lover." Why you love that mango so much?
Mango is my favorite food, but it is also the name of my dog. She is an 11-year-old French bulldog and is the best dog ever. Well, a tie with her brother Cash – named after Johnny Cash –who passed away a couple years ago. I'm also a Cash lover.
Happy 11th birthday to this lil Mango! pic.twitter.com/1fbkw6vGob

— Mike Leah (@GoLeafsGoEh) October 12, 2016
What are your poker plans for 2017?
I've started the year with a pretty busy schedule planned. I just finished TCOOP and I won an event to complete the "COOP" Triple Crown, which is a pretty rare feat. I want to win a World Poker Tour event, so I'll be playing quite a few of them this year, but my #1 goal is to win my second WSOP bracelet. I'm most looking forward to the summer.
Have you had a chance to look over the 2017 WSOP schedule? If so, what are your thoughts?
I browsed through the schedule and I'm pretty excited, but I try not to look too far ahead as I play pretty much every event. My biggest challenge is to focus on the event I'm playing and not looking ahead at what's coming up.
Attention family, non-poker friends & my dog; I will be away from May 30-July 17 and all of my social media posts will be confusing to you

— Mike Leah (@GoLeafsGoEh) December 19, 2016