In yet another step forward towards his ultimate goal of Global Poker Domination (GPD), Alex Dreyfus has announced that his Global Poker Index has acquired poker superstar Phil Hellmuth.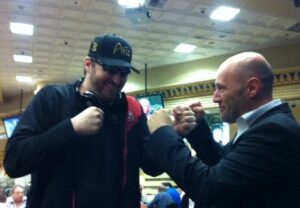 As part of the acquisition, Hellmuth's entire life, from when he wakes up in the morning until he goes to sleep at night, will be live streamed on Twitch. As per the press release, Dreyfus proudly boasted that he already had multiple teams in place to simultaneously provide running commentary on the Hellmuth stream in five languages.
It was quite difficult to squeeze additional information out of Alex Dreyfus, as he rarely gives interviews to poker media outlets, but when we asked what the Hellmuth acquisition meant to him, he replied:
Well, you know, I recently discovered that I had approximately $50 million available in some Swiss bank accounts that I had completely forgotten about. Really, it's difficult to keep track of all my money, you know?

Anyhow, I figured since I am French and, of course, arrogant, that acquiring Phil Hellmuth outright would disrupt the traditional poker sponsorship paradigm; and that is what the GPI is all about. We have already sportified poker; now it's time to 'Philify poker'!

To close, I strongly believe that our latest acquisition will finally land me one of those coveted spots on the BLUFF Power 20 rankings.

– Alex Dreyfus
Indeed, the acquisition of the "Poker Brat" represents a true coup for Dreyfus, as Hellmuth sits atop both the all-time WSOP bracelets list as well as the GPI name dropping rankings.
Hellmuth Ecstatic
The 13-time bracelet winner was absolutely thrilled about the deal. We caught up with Hellmuth yesterday while he was in transit from his round of golf with Tiger Woods on the way to the Golden State Warriors NBA game, where he has courtside seats.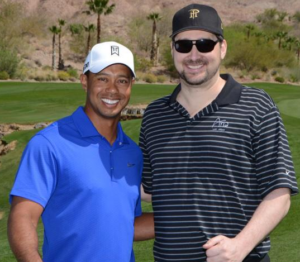 In between bites of his Carl's Jr. Mile High Bacon Cheeseburger, after telling us about a pair of recent bad beats he experienced at the Aria poker room and an invitation-only private Hollywood home game, Hellmuth exclaimed:
My buddy Floyd Mayweather called me a week ago to tell me that Alex Dreyfus was interested in acquiring me. Let me tell you, Alex is certainly no idiot from Western Europe! The man can drive a hard bargain… I might be able to dodge bullets, but even a world-class poker player like myself can't dodge Alex baby.

– Phil Hellmuth
Limited-Time Deal
Though exact details of the GPI's Hellmuth acquisition were not released to the public, Cardplayer Lifestyle has learned that the contract is set to expire on February 30, 2016.