Usually, when someone mentions poker, we think about one of the game variations played against other players. Whether it's Hold'em, Omaha, or some other variant, and whether you play it in a poker room or at home, your goal is to win chips off of other players at the table.
However, casinos have come up with several games that have its roots in popular poker variants, but are played against the house instead. Like all other table games, these have an inherent house edge so your skills can only help you so much. 3-Card Poker is one of the most popular options in this group.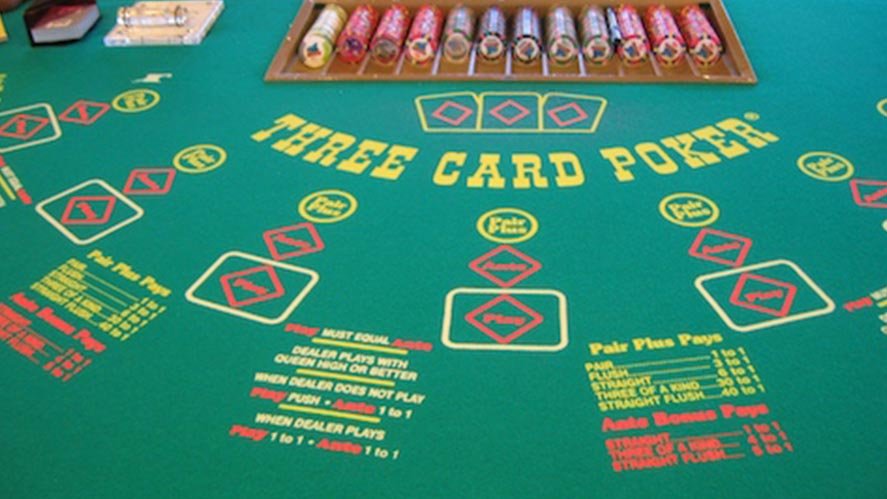 3-Card Poker is a very simple and straightforward game that doesn't force you to make any complicated decisions. It's a great choice if you're just looking to blow off some steam or have a bit of fun in the casino pit as the house edge is around 2%, provided you stick to the rather simple basic strategy for the game.
3-Card Poker Rules
While there can be several players playing at the table at any given time, your only goal in 3-Card poker is to beat the dealer. Whether you win or lose in a hand has nothing to do with what other players are dealt or what decisions they make.
To start with, you'll place the Ante wager and, optionally, the Pair Plus wager.
Once all bets are in, the dealer will give all players three cards, face down, and they'll take three cards for themselves, also face down, so you won't know what you're up against.
Once you've had a chance to check your hand, you'll decide whether you want to keep on playing or fold. If you fold, you'll give up on the chance to win the hand and the dealer will collect your ante bet.
If you want to play on, you'll need to place the Play bet, which is equal to the size of the Ante bet. After all players have made their decisions, the dealer will turn over their hand and there will be a showdown.
Payouts in 3-Card Poker
When you get to a showdown, your hope is to have beaten the dealer's qualifying hand. If they have a hand that's Queen-high or better and you beat them, you'll get paid even money on both your Ante bet and your Play bet.
If their hand is Jack-high or worse, the dealer doesn't qualify, and you'll only get paid even money on the Ante bet, while the Play bet is pushed back to you (i.e., no profit or loss).
There are also bonus payouts if you win the Ante bet with a straight or better.
The Pair Plus bet is optional and it's not tied to the outcome of the hand. You're basically betting that you'll get dealt a pair or better. If that happens, regardless of whether you win or lose the actual hand, you'll get paid on the Pair Plus bet according to the separate payout table, which usually looks something like this:
One pair: 1 to 1
Flush: 4 to 1
Straight: 5 to 1
Trips: 30 to 1
Straight flush: 40 to 1
Playing 6-Card Bonus
Another type of side bet usually available in 3-Card Poker is the 6-Card Bonus wager. For this one, you'll need to combine all six cards, your own and the dealer's, to make a hand.
Payouts for 6-Card bonus start from three of a kind and go up to a 6-card straight flush (9 through Ace of the same suit), which usually pays 1,000 to 1.
In some casinos, there is also a progressive jackpot that can be won if you get lucky and make the 6-card straight flush in diamonds, often paying six-figure amounts.
This 10% Progressive on 3 Card Poker was struck by a Straight Flush for $9,684 jackpot. #commercecasino pic.twitter.com/yuteu3FEeA

— Commerce Casino (@CommerceCasino) June 22, 2019
Basic 3-Card Poker Strategy
You don't get to make many decisions in any individual hand of 3-Card Poker. The only thing which you have control over is whether you'll continue in a hand or not once you receive the three cards.
As the general rule of thumb, if your hand is Q64xx or better you should continue. Otherwise, you should fold and give up your Ante bet. By sticking to this strategy, you'll ensure the house doesn't have the bigger edge than 2%.
Of course, like with almost all table games, side bets have worse odds than the actual game, so they're a bad idea from the purely mathematical perspective. On the other hand, they definitely make 3-Card Poker a much more exciting and dynamic game with the potential for big scores, so it boils down to what you're looking for when you sit down to play.
Either way, 3-Card Poker is a fairly reasonable table game that's not hard to learn and you can play a decent number of hands without digging too deep into your wallet. Plus, if you go on a bit of a lucky run and get dealt a few strong hands, you can still win big without risking crazy amounts of cash.