The weather is changing, leaves are turning color, and Thanksgiving is on the horizon. That means the holiday season is quickly approaching. For poker players, that means just a few weeks left to book some wins, follow through on the resolutions you made at the year's outset, and — of course — start thinking about what sort of gifts you'd like to buy yourself or your poker-loving significant other.
As part of our efforts to compile our 2019 Holiday Gift Guide for Poker Players, we made sure to search far and wide across the poker spectrum for products and services that would delight you and bring smiles to your faces. Whether you're looking to enhance your poker skills, upgrade your poker equipment, accessories, and apparel, or treat yourself to amazing live poker playing experiences, there's something for you in our guide.
Before you start perusing the offerings below, I'd just like to extend a short personal message.
PokerGO SUBSCRIPTION
PokerGO is the premier worldwide destination for watching live poker tournaments, high-stakes cash games, and original poker shows. This makes PokerGO the essential holiday gift for your poker loving friends and family.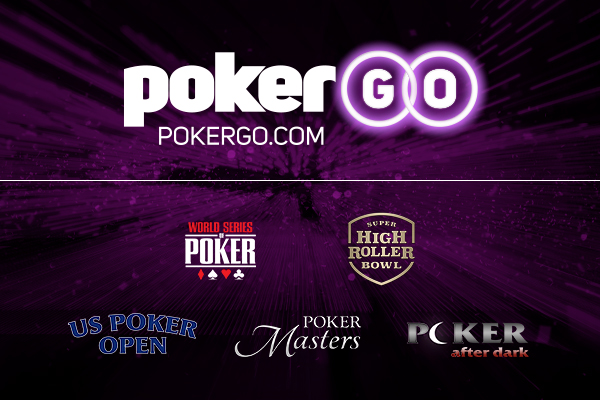 Stream the world's biggest tournaments on PokerGO like the World Series of Poker, Super High Roller Bowl, Poker Masters, U.S. Poker Open, and much more. You can also stream brand new episodes of Poker After Dark featuring legendary lineups and high-stakes action from the PokerGO Studio at ARIA Resort & Casino in Las Vegas. If you miss any of the Live action, it's all available On Demand anytime, anywhere.
PokerGO is also home to exclusive, original programming like the acclaimed Legends of the Game mini-series and all-new game show, The Big Blind. If you're in the mood to binge some poker, PokerGO has a vast library full of thousands of hours of additional poker programming.
Pound for pound, PokerGO is simply the best poker app on the planet.
Get in the game this holiday season and sign up today with code CPL2019 to save $10 off an annual subscription.
---
FADED SPADE PLAYING CARDS
Faded Spade is the new face of cards and preferred playing cards of the World Poker Tour as seen on Fox Sports TV!
Beyond WPT programming, you've also seen Faded Spade poker playing cards in play on NBC Sports, PokerGO, Twitch, YouTube and more during poker programs like Poker After Dark, Super High Roller Bowl, Poker Masters, US Poker Open, Run It Up Reno, and each new Heartland Poker Tour episode.
Faded Spade poker playing cards are known for their fresh face card designs and high quality 100% plastic that has an intentional balance of strength and flexibility.
Holiday Gift Guide Special: Use promo code CPL to order a new two-deck set and get 15% off your entire order at fadedspade.com. You may even find some brand new apparel options!
And be sure to check out the Faded Spade Podcast featuring business interviews with your favorite poker personalities at fadedspade.com/podcast.
---
BBO POKER TABLES
For over a decade, BBO Poker Tables has been recognized as the premier supplier to many of the biggest names and events in poker. From the world's top casinos to the World Poker Tour, from black-tie celebrity events like "Big Game Big Give" to blockbuster movies like Will Smith's "Focus," BBO Poker Tables set the standard. And thanks to affordable pricing, personal customization, and FREE shipping  , these elite tables are affordable for home players like you.
Thousands of enthusiastic reviews praise not just the quality of the tables but the impact on the quality of life—creating more opportunities to gather with friends and family. Whether you need a 4-player that converts to a beautiful dining table, a mini for your man cave, or an 8-footer for the family room, BBO Poker Tables has the right table for you. Owning a BBO Poker Table is like having the World Poker Tour stop at your house every time you play.
---
RUNGOODGEAR APPAREL
Gear up your loved ones! Scroll past the parody shirts this holiday season and send your poker player something they want to wear on and off the card tables.
The RunGood brand is poker's leading apparel company that has provided players items focused on comfort and style since 2012. A popular sight around the industry, you can find an assortment of hats, hoodies, and shirts online. "As a poker player, we don't make anything we wouldn't wear ourselves on or off the table." says Tana Karn, Founder of RunGoodGear. There is a reason items become out of stock, don't delay and pick up an item today.
Visit www.RunGoodGear.com and see what's happening next with the 2018 GPI Award-Winning Mid-Major Tour, the RunGood Poker Series, while picking up your next hoodie.
---
BLUE SHARK OPTICS: PRO POKER EYEWEAR
If you're looking to give a gift this season that helps the receiver win more tournaments and make more money, Blue Shark Optics are the easy choice. Blue Sharks are glasses specifically designed for use at a poker table. They shield your eyes while allowing you to see your opponents clearly which is a huge advantage. The impressive list of pros who regularly wear Blue Sharks includes Greg Raymer, Hoyt Corkins, Jeff Gross, and our own Chris "Fox" Wallace.
Blue Shark offers an impressive list of frames, and they don't just make the best glasses for poker, they also offer prescriptions and even Blue Aspis glasses for playing online. The technology in the Blue Aspis glasses is so impressive that anyone who regularly spends time on a computer, even if they aren't a poker player, should have a pair to cut back on eye strain and improve sleep quality.
When you play poker every edge is important. Blue Shark Optics provides the optical edge! Unlike dark sunglasses, our lenses are clear and non-tinted to allow maximum light penetration. Our proprietary mirror hides the eyes. We prevent eye strain, headaches, and mistakes. With thousands of satisfied customers, we are the undisputed Number One source of poker eye wear in the world.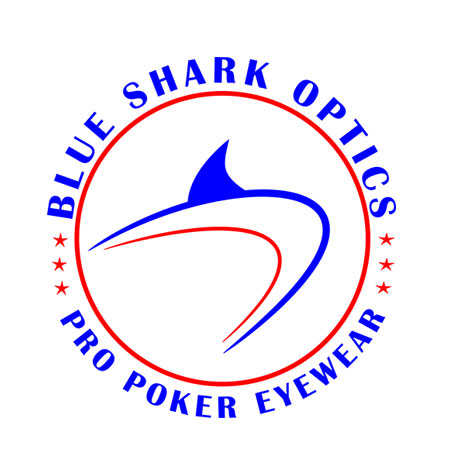 Our 30-day return/exchange policy gives you enough time to try us at the poker table.
Also available: Prescriptions, Bifocals, Readers, Fit-overs, and lens replacements.
Get the Edge at www.bluesharkoptics.com!
Holiday Special: Get $25.00 off using the coupon code Cardplayerlifestyle. Limited time offer!
---
SHIP IT POKER CRUISES
Looking for the perfect gift for your favorite poker player?  A Ship It Poker Cruise would be the gift to last a lifetime for any player, from novice to pro and everyone in between. A poker cruise gives you the perfect combination of a relaxing vacation and the luxury of a private poker room at sea. Ship It Poker Cruises not only offers tournament play but a multitude of mixed cash games as well.
On our cruises we're often joined by some of the greatest poker players, including Todd Brunson, Eli Elezra, David Baker, and more! Mingle with the legends as you try to beat them out of cash game pots. Bust 'em from our tournaments and have the opportunity to win fun swag bags and other valuable prizes!
Ship It Poker Cruises offer the opportunity to learn new skill sets as well as new games in a fun and friendly environment through beginner lessons and hand labs with our pros. Ship It Poker Cruises has the most experienced staff and the best dealers on land or sea. Our goal is to ensure that every guest has the most memorable travel and poker experience possible. Join us, get the cards in the air, and prepare to SHIP IT.
Black Friday special: 10% off our March cruise on the Oasis of the Seas if booked by November 30th. Check us out on Facebook or at Shipitpokercruises.com  or call us to book your cruise today: (918) 906-9000.
---
THE POKER DEPOT'S CUSTOM PLAYING CARDS & POKER CHIPS
Let's face it… Custom poker chips are perfect for everyone. Whether it's for that "Professional" tournament in your living room, a special event, the company you work for or your favorite poker player – personalized poker chips are a fun way to show you care!
Known for their Business Card Poker Chips, Ceramic Gaming Chips and Customized Playing Cards, ThePokerDepot.com allows you to browse hundreds of pre-designed poker chips, design your own from scratch, or request a professional design – and their free online customization allows you to personalize poker chip templates in under 60 seconds with your own images and custom text.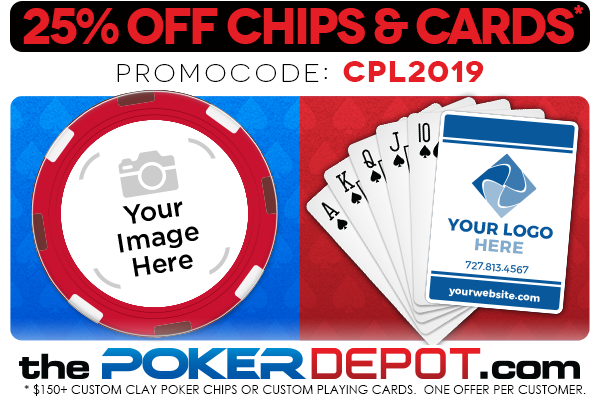 When you order Custom Clay Poker Chips on ThePokerDepot.com or Custom Playing Cards you will save 25% when you checkout with PROMO CODE: CPL2019.
The Poker Depot team has online chat support to help you create the perfect gift, whether it's Custom Clay Poker Chips, Custom Ceramic Gaming Chips or Custom Poker Chip Sets.
For more information or to redeem this offer, visit ThePokerDepot.com.
*Restrictions Apply. Must meet minimum order size requirements for promotion.  Cannot be combined with any other offer.  While supplies last.
---
SHUFFLE TECH'S ST1000 SHUFFLER
This holiday season is the perfect time to treat yourself and your home game buddies to a great, unique gift: upgrade your poker table with an automatic shuffler! Shuffle Tech's ST1000 is the premiere shuffling product on the market today. Featuring a patented shuffling process that mimics stripping, hand cutting, and riffling, it takes just 40 seconds for the deck to be ready for your next hand of poker.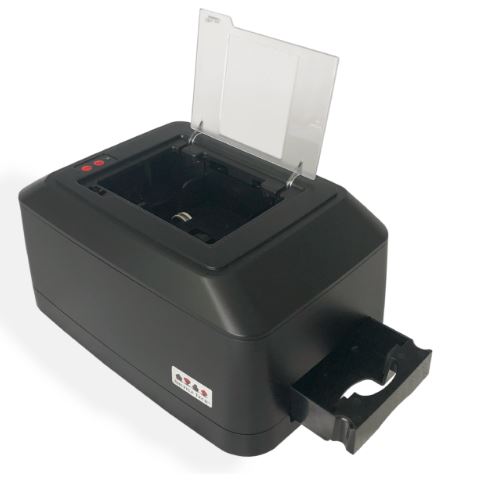 Compact, portable, and weighing just 6 lbs., the ST1000 can easily be mounted directly into your table for optimal poker play.
We ship worldwide! For more information, visit us at www.shuffletech.com.
---
ARIA POKER ROOM
Holiday season is the perfect time to take a poker vacation, and what better destination is there than the poker capital of the world, Las Vegas! Once your flight has touched down, make a beeline straight to the award-winning Aria Poker Room.
Two dozen luxurious tables await your arrival, where you can play every poker variant from Texas Hold'em to a dealer's choice mix. We've got a great cash game for you to take a seat in no matter the size of your bankroll. If you prefer tournaments, we run plenty of them every day of the week, too.
Be sure to ask for our special poker room rates ahead of your arrival, so you can reserve your stay at the top hotel and resort on the Las Vegas Strip and be right in the heart of all the action!
---
POKER TRAINING SITES & SOFTWARE
How wonderful would it be if by this time next year you had improved massively at playing poker?
While there's no magic fairy dust to make that happen, you could give yourself the gift of becoming a WINNER by studying and improving. Here at Cardplayer Lifestyle we've reviewed over a dozen of the Best Poker Training Sites to help you become a better player. We've also got the lowdown on the Best Poker Software products that can assist you with your study.
Giving yourself the opportunity to up your poker game by purchasing courses and software is by definition a great investment in your poker future. What could be a better holiday gift than that?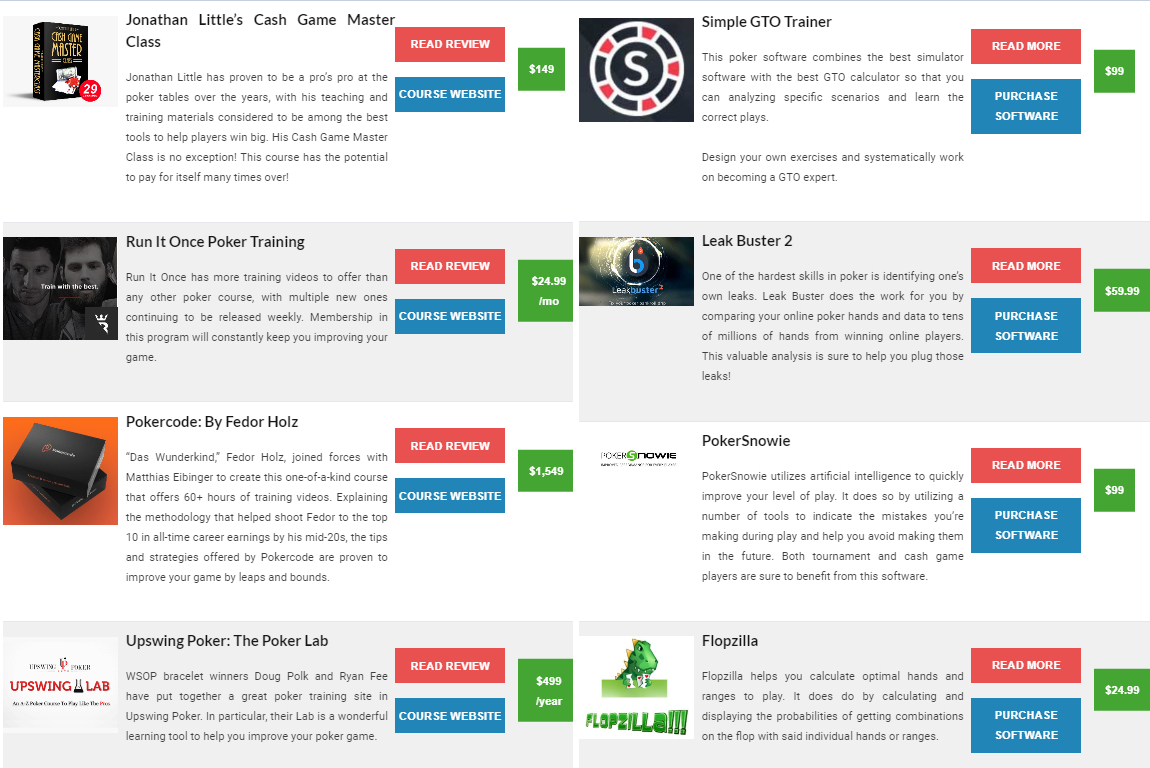 Wishing all of our readers here at Cardplayer Lifestyle a happy holiday season!