The PokerStars Players Championship (PSPC) might be new, but I'll be damned if I'm not experiencing déjà vu…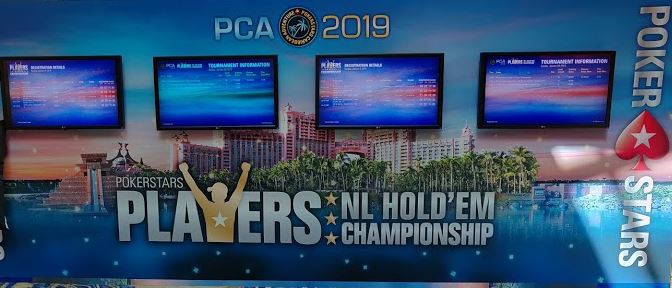 The first poker festival I ever attended was held precisely three years ago; the 2016 PokerStars Caribbean Adventure. I remember quite well the feeling of walking around like a deer caught in the headlights. My virtual "poker Twitter" universe had come alive. All the big names from televised poker were there. While I couldn't have possibly been more excited to finally have the chance to see the live poker scene up close, in person, it was simultaneously clear to me that many of the veterans on the scene, both players and media types alike, had just a bit of a "been there done that" attitude towards the proceedings. The reasoning behind the two different perspectives is obvious, but even so I distinctly recall myself saying aloud "there's no way I'll ever get used to these poker superstars just walking around and passing me in the halls."
Over the past three years, I've had the good fortune to cover many more marquee poker events all over the world. Indeed, to a very real extent, the poker fanboy in me still hasn't gotten used to all of the big-name poker players milling about an event venue while I dutifully peck away at the keyboard. Especially as I'm not in the live reporting niche, constantly traveling from one event to the next, I don't really see those aforementioned big name players too often, so the feeling still remains quite special. And yet, even I must admit that no event had ever matched the excitement of that first time.
There's Always Been One Exception
The closest any poker event ever comes to that – and I suspect this is true almost universally within the poker community – is the World Series of Poker Main Event. Each year, no matter how experienced you are in the poker world, it's the one annual event that brings the community to its feet. Everyone shows up, everyone's dreaming of winning millions, and everyone's visibly excited just to be there, have a seat, and have a shot.
Regardless of how much poker you've played or of how many times you've done event coverage anywhere around the world, you can always count on the WSOP Main Event to get everyone's juices flowing. It's by far the most exciting time of the year. Everyone becomes a kid again. Everyone falls in love with the game again. It's affectionately known as "summer camp."
I'm playing a FULL WSOP schedule.

Tired from SHRB run but nothing will stop me from going all out for the grind.

I LOVE this time of year! Feel blessed to be able to have poker summer camp in Vegas!

Playing and learning poker has been so fun this year!

— Daniel Negreanu (@RealKidPoker) June 1, 2018
A VERY Familiar Vibe
And here I find myself once again pecking at the keyboard on January 6th in the Bahamas. It's the middle of the winter, I'm nowhere near Las Vegas, and there are no WSOP logos around this venue… yet I feel precisely that kind of vibe right now. There's unmistakable electricity in the air today in Paradise Island, as the Atlantis Hotel and Resort has woken from its (intentionally) lazy year-long slumber to absolutely roar with poker activity. An astonishing 1,000+ players are competing in what's by leaps and bounds the largest ever $25,000 buy-in event in poker history.
And there it is. 1,000 players and counting!

Live updates from the #PSPC: https://t.co/YV7SBke16t pic.twitter.com/oj4CuByFFH

— PokerStarsBlog (@PokerStarsBlog) January 6, 2019
The ceremonial "shuffle up and deal" didn't just have a little extra kick; things got launched straight into the stratosphere by one of the top ring announcers to ever hold a mic.
It's time! @UFC legend @brucebuffer took to the stage to announce "Shuffle up and Deal" at the #PSPC #UFCStars
Watch the action live at https://t.co/ZarB0RN21O pic.twitter.com/WurSScSGKu

— PokerStars LIVE (@PokerStarsLIVE) January 6, 2019
A prize pool in excess of $26 million awaits those who manage to navigate their way through the field to the money, where even a min-cash could potentially constitute a life-altering sum for the some of the hundreds in contention who've Platinum Passed their way in.
Walking through the massive field today, I found myself marveling at just how many of the faces at the tables were familiar to me. I can't move even a few feet down the hallways or across the tournament ballroom without bumping into someone I know. I have to step aside as the throngs rush through on their way to the bathrooms at break time. I'm getting tapped on the shoulder left and right, and greeted by friends old and new. I've given and have been given more hugs than I can count. So many of our exchanges end "let's make sure to meet for a drink or a bite to eat."
Dare I say, it almost reminds me of… summer camp.
While it's romantic to envision the thousand-strong PSPC field frozen forever in time, at the end of the day it's still a poker tournament, so inevitably there will be bustouts. And fascinatingly, from both the seasoned pros and the Cinderella stories, the bustout reactions seem to strike an eerily familiar tone:
Busted the #PSPC and it hurts almost as bad as busting the WSOP main event. What an amazing tournament. Good job @PokerStars. Hopefully they can do this every year with this event.

— David Williams (@dwpoker) January 6, 2019
Busted out of the 25k. Big misread preflop 😑. Huge thank you to everyone who got me out here @Joeingram1 @Randi_heatlifer @PokerStars @ArlieShaban !! Really had an amazing time!! Going to relax and enjoy time with Randi, looking forward to the WSOP events and keep on practicing!

— Jeremy Hilsercop (@JHilsercop) January 6, 2019
Play It Again, Sam
For years, so many in the poker community have dreamed about the possibility of having something WSOP Main Event-like staged in the winter.
It took a Willy Wonka-like level of creativity and imagination. It took millions upon millions of marketing dollars. It took a full-on, multi-departmental, year-long team effort by everyone working for the largest online poker operator in the world. But with everything now all said and done, something incredible has been brought to the fore.
At every table, there's a buzz. Social media is going bananas. The eyes of grizzled veterans of the felt and of the poker media core alike are popping out of their sockets. And in case you're wondering as to the level of my excitement, just keep an eye on my face as I continue walking around the Atlantis over the next few days.
This is freaking awesome!
I can't quite put my finger on it, but I think PokerStars might be onto something here…
Long live the PSPC!